Blu-ray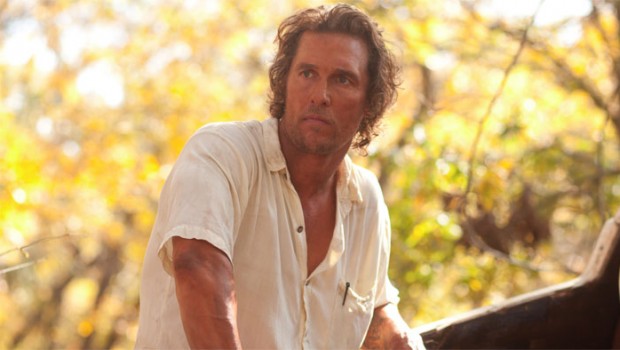 Published on October 31st, 2013 | by admin
Mud Blu-ray Review
Summary: Matthew McConaughey has definitely entered the better part of his career and has never been more charismatic than he is here in Mud.
Distributor: Roadshow
Genre: Drama
Running Time: 130 minutes
Rating: M
Reviewer: Nikki Newton-Plater
Mud may be quite the simplistic story, but it makes up for it's simplicity in it's heart and in depth characters. Fourteen year old Ellis (Tye Sheridan) and his best friend, Neckbone (Jacob Lofland) decide one morning to go and explore an island on the Mississippi River near where they live in Arkansas. They come across a boat which as a result of a flash flood in the past, has been lodged high in a tree. The two boys discover signs of human life in the boat and when they are about the set sail and leave the island, they meet the inhabitant of the boat, the enigmatic Mud (Matthew McConaughey). The boys form a friendship with Mud and help him to contact his long time love, Juniper (Reese Witherspoon). However, the truth remains that Mud killed Juniper's last love and he is therefore on the run from the authorities and those on his path know that he will eventually try to make contact with Juniper.
Mud has incredible spirit and heart. Instead of feeling like you are watching a fourteen year old on screen, you feel like you yourself are watching the film through a fourteen year old's eyes. You watch it with all the innocence and naivety of Ellis and you crave the "happily ever after" for everyone involved.  The things Ellis has to go through in order to mature over the film are heartbreaking at times, especially when it comes to his parents and when dealing with his first love. Yet, watching relationships form and watching Ellis gain confidence in himself is a beautiful thing. There are so many layers to Mud due to the incredible characters, each who has their own backstory and own unique characteristics. These characters have been wonderfully written and incredibly directed by Jeff Nichols.
The film is extremely atmospheric in every way. It truly grasps the feeling of being on the Mississippi River to the point that you can smell the water and wildlife around it. Mud is beautifully shot as it brings out the true beauty of where the boys and Mud live. Yet, even though the viewer see's the landscape as being beautiful, you can still feel the grittiness and harshness of the land. The soundtrack supports these visuals and the story well. It's mix of folk and country music is reminiscent of what you would associate the Mississippi River and the south with. It is also perfect for a character like Mud.
Matthew McConaughey has definitely entered the better part of his career and has never been more charismatic than he is here in Mud. He is a tough and bold character, but is also extremely loving and would clearly do anything for the people he loves, as becomes evident throughout the film. McConaughey is so convincing in this role and his character goes far beyond his rugged features and clothing. Tye Sheridan is very, very good as Ellis. He commands the audience's sympathy and, as said before, he has the uncanny ability to make the audience see things through his eyes and not see him as a soul removed from their own. Reese Witherspoon also does well. She is a confusing character, but confusing in a great way.
The special feature on the DVD is a featurette entitled The Making Of Mud. It is an intriguing watch as to how Jeff Nichols took on such an ambitious film location wise and a look at everyone involved journey.