Events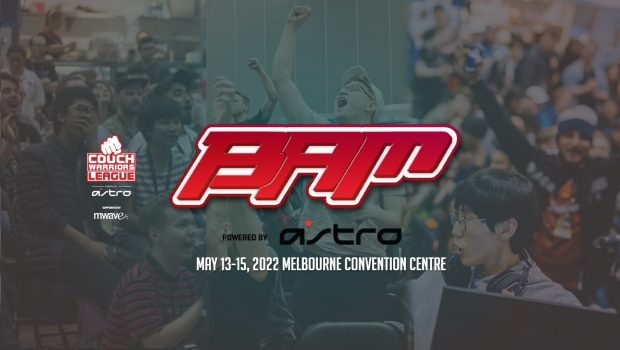 Published on April 28th, 2022 | by Admin
MUCH LOVED AUSTRALIAN LIVE GAMING EVENT BAM RETURNS IN MAY
Gaming culture in Australia has been online-only for the last two years, and now one of the first major gaming and esports events to return will bring players together in person once more.
Australia's largest major FGC (Fighting Game Community) event  BAM, returns May 13-15, 2022, presented by ASTRO. BAM (Battle Arena Melbourne) is home of amazing moments on the FGC world stage, across dozens of tournaments of every fighting flavour, including major titles Street Fighter, Tekken, Guilty Gear and Super Smash Bros.
A major tournament, a community and cultural moment for gamers, and a growing convention for all – BAM also features a PC LAN, Vendor booths, Indie Games Arcade, Cosplay and Artist Alley.  This year BAM is teaming up with community LAN event LANslide with a PC LAN events in CS:GO and Rocket League.
BAM is a must attend for fighting game fans nationwide itching to reconnect with the community, and compete in the national championships. Over 1,000 unique competitors joined the fray in 2019.
With the world tours still returning to normal schedules, BAM has a national focus this year, however points are available for Smash Ultimate and Melee players as BAM is part of this year's Smash World Tour.
As part of CouchWarriors League, which encompasses live and online events around the nation, the points table reveals the top players to watch in key titles vying for the status of national champion.
Spectator pass holders can also do more than watch the awesome tournaments, with play available in the BAM casual gaming zone, and enjoy the amazing work of the artists and cosplayers at the show.
Catch the live action at the CouchWarriors Twitch and CouchWarriors Smash Twitch.
For more information on BAM and Registration www.battlearenamelbourne.com.au
Join the community at CouchWarriorsLeague.com.au