Hardware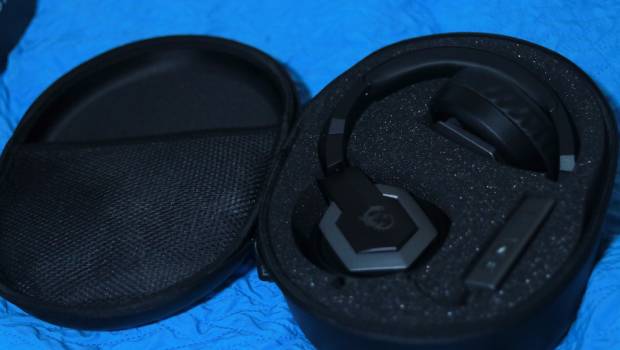 Published on January 26th, 2021 | by Tim Chuma
MSI Immerse GH61 Gaming Headset Review
Summary: For the price you can get some of the higher end over-ear headphones and just have a cheaper gaming headset. Try them out first and see if they suit you.
Overview
I'll admit to not having much luck with gaming headsets in the past, if it isn't the USB connection not working it is the hinge where the ear cups swivel breaking and it being called product damage rather than a manufacturing defect in all this is the 6th headset I have had to use this year. At one point I looked at getting some second hand pilot's headsets but that was even more expensive.
It is a bit annoying as this headset is meant to have 7.1 sound if you connect it via USB, due to an obscure system issue with Windows 10 my computer crashes when I try to do this. Luckily it still has a 3.5mm plug so I can plug it into the back of my computer and also plug it into devices such as a phone.
You can take off the ear pads and replace them with a cloth pair but it is not easy to do and I didn't want to ruin them doing so and not be able to get the old ones back on.
Gaming
I tested these with several games including War Thunder, World of Tanks, CIV VI and Project Zomboid.
For War Thunder and World of Tanks these headphones perform well and there is a lot of action in those games with everything happening at once so you need to know which direction things are coming from.
CIV VI performance was great including sharp and clear narration from Sean Bean and the sounds of battle.
It particularly important to have good hearing during Project Zomboid where sound is an important indication in both the sounds you make and the approach of your impending doom.
Music
I listen to music through my headset a lot when I am writing or doing other things on the computer and these perform well. Also for podcasts when I am doing my weekly drawing session.
There doesn't seem to be any issue with the range coming through the headphones for music and you can hear the highs and lows well.
I have quite a few headphones for listening to music and these are some of the better ones I have tried.
Phone headset
Due to this headset also having a 3.5mm plug you can plug it into a phone to use as a headset, I have used it for about 35 hours at this point and it seems to be holding up well.
I would have thought the microphone would be too short but it seems to pick up my conversation well and there haven't been any problems so far.
Also I recorded a voice message to a podcast that I listen to through it and it came up well.
Carrying case
The carrying case is a bonus and good quality it seems. Is a bit bulky to fit in a normal bag but if you are travelling and want to keep your headset safe then it would come in handy. There is a bit of extra space if you want to put a few extra things in it.
Value
These are towards the higher end of the price range for a gamer headset but still not as expensive as some of the over-ear headphones from some high-end brands.
A lot of the price for these seems to be from the carrying case which you can buy separately for about $100.
The headphones themselves sound a bit rickety and squeak when they move. If you have a smaller head they may be a bit too big for you, even on my head they are bulky.
I am concerned they have the same design flaw was the Logitech and JBL headphones at the point where the ear pieces swivel so they can lie flat in the carrying case is where they will break. I got some cheap Stealth headphones that are one solid piece that will not have this issue.
Overall
These are expensive for what they are, for this price you can get some nice high end stereo headphones if you want to use them for just listening to music, podcasts or games on your computer and get a cheaper headset for gaming and your phone. A lot of the cheaper Bluetooth headphones work well on mobile devices also.
Technical Specifications
Hi-Res Virtual 7.1 Surround Sound
Speakers Installed by ONKYO
Built-in ESS DAC & AMP
High-Quality Retractable Microphone
USB & 3.5mm Audio Connectors
Supported by Nahimic for Headset
Surround Sound Built-in ESS DAC & AMP
Quick Specifications
Headphone
 Driver
40mm Neodymium
 Frequency response
20~40.000 Hz
 impedance
32 O
 Connection
USB 2.0 or 3.5mm audio connector
Microphone
 Frequency response
100~10.000 Hz
 Sensitivity
38 dB
Manufacturer Specifications
MODEL NAME
IMMERSE GH61 GAMING HEADSET
CONNECTOR
USB 2.0 or 3.5mm audio connector
DRIVER UNIT
40mm Neodymium
SPEAKER SENSITIVITY (SPL)
107 dB
SPEAKER IMPEDANCE
32 Ω
SPEAKER FREQUENCY RESPONSE
20~40.000 Hz
PICK-UP PATTERN
Unidirectional
MICROPHONE FREQUENCY RESPONSE
100~10.000 Hz
OPERATING SYSTEM
Windows 10
CABLE
3.5mm: 1.0m
USB: 1.2m
PRODUCT DIMENSIONS (MM)
210 x 185 x 100mm
WEIGHT (PRODUCT / PACKAGE)
300g / 1216g
MICROPHONE IMPEDANCE
≦ 2.2 KΩ
MICROPHONE SENSITIVITY
-38 dB
Gallery