Blu-ray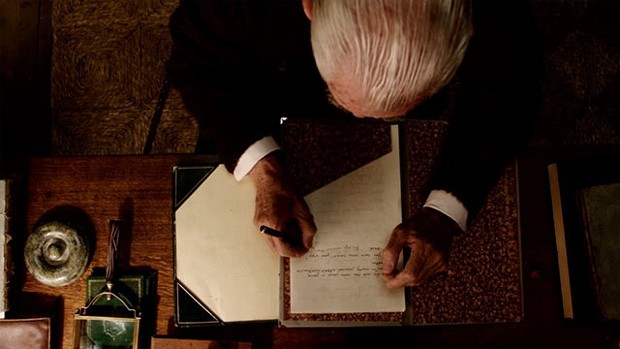 Published on February 8th, 2016 | by Rob Mammone
Mr Holmes Blu-ray Review
Summary: At the end of his life, Sherlock Holmes searches for the reason for his greatest failure, and personal redemption.
Written by Jeffrey Hatcher, directed by Bill Condon (Gods and Monsters, Chicago), starring Ian McKellen as Sherlock Holmes, Laura Linney as Mrs Munro, Hiroyuki Sanada as Tamiki Umezaki and Milo Parker as Roger Munro.
Almost from the beginning, the Sherlock Holmes tales have crossed from magazine short stories into different media. A stage play, a very early silent movie (your reviewer has a copy) were the first signs that the idea of Sherlock Holmes could safely make the transition to other modes of storytelling. Later, Holmes was recruited for the war effort during the 40s, before appearing on UK television in the 60s and 80s. Nowadays, we see Holmes stories on television again (Sherlock) and further movie adaptations (starring Robert Downey Jr). None of them, though, mine the possibility of what came after the last chronological story, His Last Bow.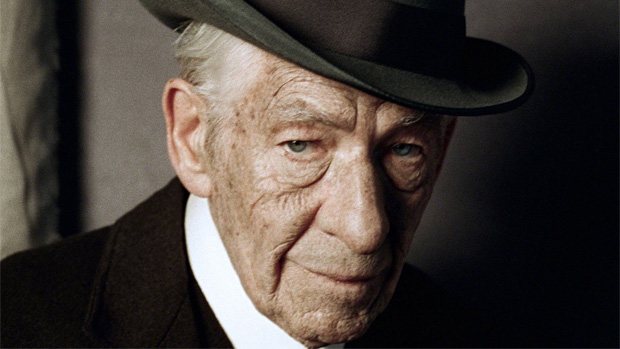 The American writer Michael Chabon does in his book The Final Solution, which mixes a very aged Holmes with the aftermath of World War II and the Holocaust. The movie, Mr Holmes, does much the same, set just after the end of the war, but takes an interior journey into the character.
Set partly in 1947 and partly in flashback prior to the Great War, Mr. Holmes depicts its lead character as an aged man, facing the reality of encroaching dementia. Reading the stories, you're quickly made aware that Holmes regards himself as a calculating machine, developing and honing his intelligence and powers of observation to discern the deepest of mysteries. So, when his faculties begin to fail him, Holmes begins a process of trying to reverse the effects. This effort sees him journey to post-War Japan, where he finds a nation coming to terms with defeat and the horrors of atomic bombs. In one stunning sequence, Holmes and his guide almost stumble into the outskirts of Hiroshima, a blackened wasteland in which people are trying to rebuild their lives.
In the stories, Holmes' last case is His Last Bow; a story set on the eve of the Great War involving defeating the machinations of a German agent. The story has added poignancy given Arthur Conan Doyle's son died as a result of his service on the Western Front. In Mr Holmes, it's a different last case, that of the investigation of a wife under suspicion by her husband, that drives Holmes into retirement beekeeping on the Sussex Downs. Holmes cannot remember the particulars of the case, which in part fuels his efforts to reverse his condition.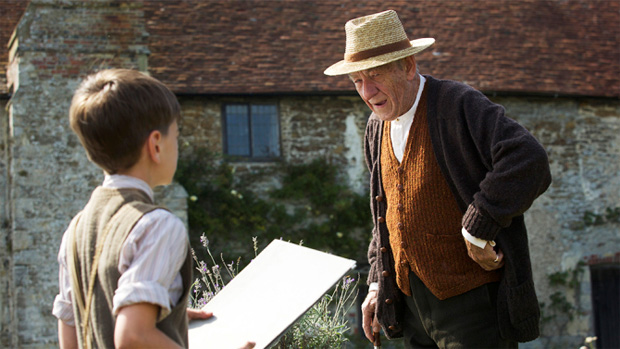 McKellan is brilliant in a dual role of a younger and older Holmes. The younger Holmes is a master of his craft, and his arrogance leads him into a tragic, fatal error of judgement. The older Holmes is a more reflective figure, fighting to keep the pieces of himself together in the search for personal redemption and understanding of what went wrong all those years ago. McKellan is an actor of poise – his performances are still points on the screen that leave you suspended, waiting for his next movement to propel the narrative. His depiction of a broken Holmes, searching his failing memory, is poignant and sad, and the anger he displays at his failure to remember feels true.
Supporting Holmes is Laura Linney as his housekeeper Mrs Munro, and her young son, Roger. Left widowed after the war, Mrs Munro is well aware of Holmes' failing health, and makes plans to ensure the financial future of herself and her son. Holmes, on the other hand, has come to rely on her, and sees a little of himself in Roger, who in turn takes an interest in detection and beekeeping.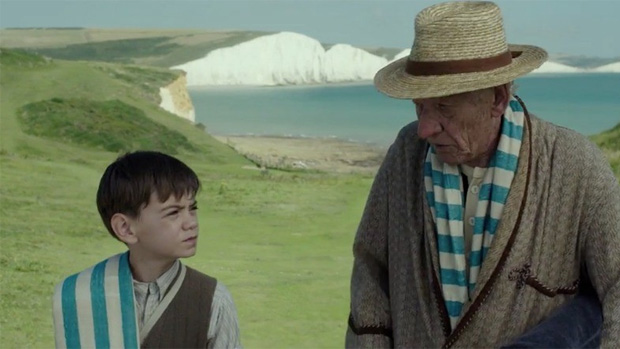 It's to Hollywood's very great discredit that an actress as fine as Linney isn't afforded the starring roles as often as she deserves. There is a quiet grace to her performance here, a woman raising her son on her own who is well aware of the precarious nature of her circumstances should Holmes die. She matches McKellan in the acting stakes and when the two appear on screen together, it is an acting masterclass for the viewers.
In essence, those expecting Mr Holmes to be about unravelling a great mystery will come away a little disappointed. What they will find, however, is something more important – a personal mystery – how a man past his prime, haunted by a shadowy memory of a terrible event he is desperately trying to remember, comes to terms with himself and his legacy. Mr Holmes is a fine drama, a fine character piece, and a fine demonstration that quality acting need not depend on glitz and action.
Visuals: the lush visuals of coastal England are depicted here in beautiful textures on this blu ray release. Tones of blue and grey predominate, matching the mood and tone of the movie. Of special note is the depiction of the remains of Hiroshima, a devastated ruin from which new growth is tentatively emerging.
Audio: one of the joys of the blu ray format is the clear replication of the audio experienced in the cinema. The clarity of the sound is immaculate here, and makes the soundtrack a real joy to listen to.
Extras: there are no extras.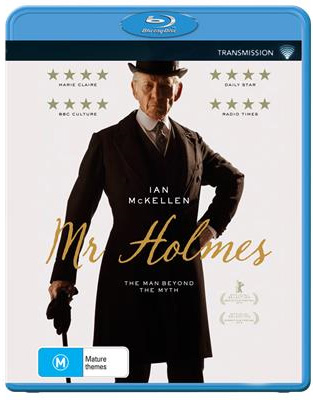 Blu-ray details
Director – Bill Condon
Actors – Ian McKellen, Laura Linney
Film Genre – Drama
Label – Universal Sony Pictures P/l
Audio – English (DTS-HD 5.1)
Region Coding – B (Blu-Ray)
TV Standard – PAL
Rating – M
Year of Release – 2015
Primary Format – Movies/TV – Blu-Ray