Hardware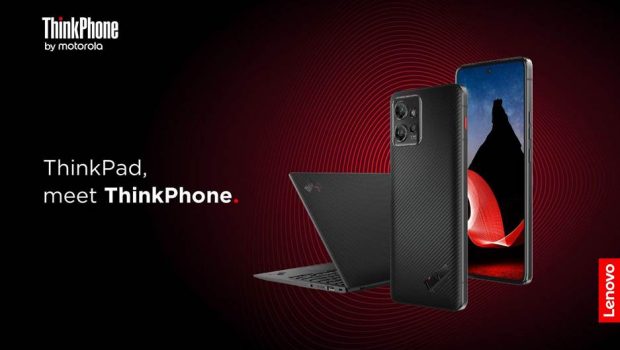 Published on March 30th, 2023 | by Adrian Gunning
Motorola launches three new smartphones – ThinkPhone, moto g53 5G & moto e13
Mobile communications leader Motorola continues to push the boundaries in smartphone innovation with the announcement of three new devices today:
The ThinkPhone by Motorola redefines smartphone and PC integration to transform the way you do business. RRP $999, available in Carbon Black at JB Hi-Fi and Lenovo.com.au. On sale from 30 March 2023
The moto g53 5G combines superfast performance and beauty in one stunning device with an edge-to-edge display. RRP $329, available in Ink Blue at JB Hi-Fi, The Good Guys, Officeworks, Big W and Lenovo.com.au from 18 April 2023. The moto g53 5G will be available at Telstra from 26 April 2023 on Telstra Prepaid plans RRP $269
The moto e13 has a sleek, lightweight design and offers multidimensional audio-visual experience at an incredible price point. RRP $149, available in Cosmic Black at Telstra on Prepaid plans from 9 May 2023. Available at Optus on prepaid from 26 April 2023
Each of the new devices come with incredible design and outstanding smartphone features to address consumer pain-points and offer the latest and greatest in technology, at varying price points.
Kurt Bonnici, Head of Motorola for Australia and New Zealand said, "While Motorola is seeing strong momentum in the consumer channels across the globe, with the introduction of the ThinkPhone by Motorola, we are now making substantial inroads into the enterprise segment and making this available direct to consumers. There are millions of Lenovo ThinkPad users in Australia and the ThinkPhone now enables those users to experience a seamless PC-to-smartphone connection with the same trusted reliability and quality of the Lenovo Think products."
The new moto g53 5G and moto e13 are equally exciting. These two franchises are where Motorola began to move the industry forward by making the latest tech innovations more accessible and affordable. Motorola continues to transform the way people discover, use and connect through technology such as Introducing new security features Moto Secure and Family Spaces and integrating the te reo Māori language on the handset interface of devices launching from 2023 as part of our ongoing commitment to revitalise indigenous languages and close the gap with digitally inclusive technology."
ThinkPhone by Motorola: Think together
ThinkPhone by Motorola arrives with a powerful set of premium specs and design drawing on a unique combination of Motorola's leading mobile innovation and Lenovo's long-standing reputation in serving businesses to bring customers security solutions. ThinkPhone by Motorola integrates seamlessly with a ThinkPad and embeds several security enhancements for an unmatched business device experience for individuals and enterprises.
Designed with a lightweight aramid fiber, an aircraft-grade aluminium frame and Gorilla® Glass Victus™. With IP68 certification2, the device is designed to withstand dust and water immersion with a depth of up to 1.5 meters for up to 30 minutes preventing any unnecessary system downtime caused by accidents. The ThinkPhone also has the iconic, customisable Red Key, beautifully crafted on the side to provide immediate access to the most critical business and field apps or instantly integrate the mobile and PC experiences.
With ThinkPhone, customers will have a complete suite of security and support features that deliver seamless protection and full manageability backed by ThinkShield for mobile. The superior security platform with underlying fundamental security policies, features, specialised hardware, software and processes that ensure the security of the entire device.
Additionally, the ThinkPhone arrives with Moto KeySafe, a separate processor running on Android, that adds an additional layer of security to better protect the most sensitive data in the smartphone. It isolates PINs, passwords, and cryptographic keys, storing them in a tamper-resistant environment protecting the data from the inside out.
To help consumers take full advantage of all the security features on offer, Motorola has introduced the new Moto Secure App. Moto Secure is a go-to destination for all the vital security and privacy features held on today's smartphones. Users can now manage network security, control app permissions, and even create a secret folder for their most sensitive data. From making sure that downloads are safe to adding an extra layer of protection, Moto Secure keeps threats at bay.
With smartphones often bridging the gap between work and play and handsets sometimes being shared among users Motorola is introducing Family Space, a designated "safe space" on the handset where kids can learn and play. Family Space enables parents and guardians to set limits on screen time, control which apps are accessible, and even create multiple profiles, ultimately promoting healthy digital experiences, helping keep unwanted or inappropriate content away from little ones, and giving everyone the opportunity to explore on their own.
ThinkPhone by Motorola introduces Think 2 Think connectivity powered by Ready For3, a set of productivity experiences that allows end users to enjoy seamless device integration between ThinkPhone and a ThinkPad. The Think 2 Think experiences include: seamless phone and PC connection over WiFi enabling easy file drop and app streaming between devices. Unified clipboard and notifications, instant hotspot leveraging ThinkPhone's 5G connectivity4 and advanced webcam thanks to its powerful cameras.
Everything on the ThinkPhone was engineered with productivity in mind, Motorola has worked with partners, like Microsoft, to bring the best productivity experiences. The ThinkPhone will launch with Microsoft 365, Outlook, and Teams mobile apps preloaded making it easier to get started.
Powered by the Snapdragon® 8+ Gen 1 Mobile Platform for peak performance, users can open things instantly and even the heaviest workflows run smoothly. Plus, ThinkPhone is equipped with 5G technology and Wi-Fi 6E compatibility that provides the fastest internet speeds.
ThinkPhone arrives with a large 6.6" FHD+ display supporting 144Hz refresh rate that amplifies content, from complex dashboards to endless email threads. And with a large battery, users will receive over 36 hours of battery life5 helping them stay connected even when on the road. When it's time to recharge, the ThinkPhone comes with a 68W TurboPower universal charger that can power up for the day in just minutes of charging. This lightweight, pocketable charger is so powerful that it is also capable of powering a laptop or any USB-C device. The ThinkPhone also supports 15W wireless charging for added convenience.
The ThinkPhone has an incredible 50MP Ultra Pixel camera that delivers premium image quality on every video call no matter the lighting conditions. This flagship Ultra Pixel camera is ideal for bringing to life even the tiniest details by capturing photos with 32x more focusing pixels, more accurate images of projects, notes, and sketches—all with incredible clarity and detail. Leverage the ThinkPhone camera alongside the ultra-wide camera to fit more in the frame, advanced subject tracking and zoom capabilities for a more advanced webcam experience.
moto g53 5G: Beautiful shots, blazing speeds
On a mission to deliver more meaningful innovation and make new technology and features accessible to more people across the world, Motorola pioneered the premium mid-tier segment with the moto g family. The new moto g53 5G has been carefully crafted to bring consumers a beautiful design, built to capture stunning photos and provide an immersive, multidimensional sound experience.
The advanced 50MP camera system with Quad Pixel technology snaps brilliant details day or night and there is a dedicated Macro Vision camera for extreme closeups. The 5000mAh battery will keep users powered throughout the day even at blazing fast 5G speeds.
Powered by the Snapdragon® 480+ 5G Mobile Platform and 4GB of RAM, the moto g53 5G leverages 5G networks to deliver blazing fast speeds. Download favourite shows in seconds, stream videos effortlessly, and keep up with social networks in a flash. Plus, with 4GB of memory, apps and information stay ready in the background so everything runs smoothly.
A gorgeous 6.5" 120Hz display provides a stunning view from edge to edge creating an 85% screen-to-body ratio that is perfect for movie watching, game immersion or video chats that bring you closer than ever. The Dolby Atmos® multidimensional sound and stereo speakers transform the audio experience with improved bass, cleaner vocals and more clarity than ever. The 120Hz refresh rate makes switching between apps seamless, playing games and scrolling feel smooth and easy on the eyes.
The moto g53 5G also comes with ThinkShield for mobile, the new Moto Secure App, Family Spaces enabled and new te reo Maori language through an update.
"With the current economic uncertainties and increasing pressures on many Australians, moto g53 5G can help get lightning fast 5G speeds into the hands of those who want to benefit from the capabilities of the 5G networks around them without spending thousands of dollars on their next smartphone." said Bonnici
moto e13: Slim, stylish, spectacular
Easy to carry and designed to deliver, the latest addition to the moto e family, moto e13, offers a sleek, lightweight design, immersive audio-visual experience and an ultra-wide 6.5" HD+ display, while packing in a massive 5000mAh battery to power through the day.
Take stunning photos with the moto e13's 13MP AI-enabled camera system and 5MP selfie cam, the intelligent features automatically enhance photos for a more professional finish in an instant. Movies come to life with the moto e13 6.5" HD+ display offering sharpness and clarity, and the spatial sound of Dolby Atmos® revealing greater depth and details for a more immersive, multidimensional audio-visual experience.
The moto e13 also supports 2.4GHz and 5GHz dual-band Wi-Fi frequencies6, giving users more options for smooth connectivity. Plus, Bluetooth® 5.07, enables access to faster data speeds, longer wireless range and improved power efficiency. Whether searching the internet, plugging in a USB Type-C 2.0 for optimal multitasking or pairing a wireless device, users can enjoy smooth integration across networks and devices.
Get a power boost with the moto e13's octa-core processor, fast efficient performance that enhances video chats and AI photo capabilities for a streamlined experience. The long-lasting 5000mAh battery ensures users can make the most of their day without worrying about running out of power.
The ThinkPhone by Motorola and moto g53 5G run a clean version of Android 13 with no clunky software skins or duplicate apps.  With Android 13, there are more ways than ever to make your Android look and feel like yours. My UX enables consumers to personalise the way their phone works, controlling the handset with simple gestures, customising entertainment settings and creating a look that's one in a million. The moto e13 comes with the latest Android 13 Go edition.
The moto g53 5G and moto e13 will be the first devices to come with the new te reo Māori language support. In addition to having the ability to input and display Māori language characters, Motorola is providing a broader Common Language Data Repository (CLDR) meaning that from the moment a user sets up their device, they can select the language and navigate for a richer experience.
"Together with the Lenovo Foundation, Motorola is proud to be partnering with UNESCO to digitise endangered indigenous languages over the next ten years. Our plans to include te reo Māori on the handset user interface of all Motorola devices this year further highlights Lenovo and Motorola's commitment to help close the gap in digitally inclusive technology and inspire more action towards the revitalisation of indigenous languages," said Kurt Bonnici, Head of Motorola, Australia and New Zealand.
Product availability
ThinkPhone by Motorola: RRP $999, available in Carbon Black at JB Hi-Fi and Lenovo.com.au. On sale from 30 March 2023
moto g53 5G: RRP $329, available in Ink Blue at JB Hi-Fi, The Good Guys, Officeworks, Big W and Lenovo.com.au from 18th April 2023.
The moto g53 5G will be available at Telstra from 26 April 2023 at $269
moto e13: RRP $149, available in Cosmic Black at Telstra on prepaid plans on 9th May 2023 and Optus on prepaid from 26th April 2023.