Hardware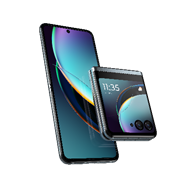 Published on June 2nd, 2023 | by Adrian Gunning
Motorola announces new motorola razr and edge devices
Mobile communications leader Motorola continues to push the boundaries in smartphone innovation with the announcement of three new flagship devices today.The highly anticipated launch of the new motorola razr family devices is set to disrupt the foldable market with the introduction of the motorola razr 40 ultra and motorola razr 40. The powerful new edge 40 is also planned to launch in Australia in the coming weeks.
Each of the new devices blends style and premium features to deliver an innovative mobile experience. All have been carefully crafted to meet the needs of modern consumers chasing a balanced smartphone experience at the intersection of style-driven self-expression and cutting-edge technology.
Continuing Motorola's partnership with Pantone, the new motorola razr 40 ultra and motorola edge 40 are both available in Pantone Color of the Year 2023, Viva Magenta.
Kurt Bonnici, Head of Motorola Greater Asia Pacific said, "No one knows more about foldable devices than Motorola. We invented the first flip phone and launched the first razr in the early 2000's. Razr quickly became an icon; a fashion statement and something of a status symbol. As we continue to innovate, the razr continues to bridge that gap between technology and fashion. We understand that consumers are changing the way they use their devices and also that innovative design and form factor are paramount to enhancing their experience.  With the new razr 40 ultra we have once again set new standards for foldables, with a very useable and engaging 3.6" outside display the largest external display of any razr phone.1
"Our ongoing partnership with Pantone allows us to combine our technology-driven innovation with Pantone's mastery in colour trends, further empowering individuals to express themselves through the convergence of colour and tech. Additionally, we are proud to announce that Motorola will be donating from the sales of our new motorola razr 40 ultra and motorola edge 40 in the 2023 Pantone Color of the year, Viva Magenta, to Breast Cancer Network Australia, who work tirelessly to ensure that Australians who are affected by breast cancer receive the very best care, treatment and support."
Kirsten Pilatti, CEO, Breast Cancer Network Australia said, "Breast Cancer Network Australia (BCNA) is delighted to be partnering with Motorola.  This partnership will help ensure BCNA is there with vital information and support for more people affected by breast cancer."
motorola razr 40 ultra: largest, most advanced external display1
The new motorola razr 40 ultra, RRP $1,4996, has a modern, ultra pocketable design  supporting the powerful Snapdragon® 8+ Gen 1 Mobile Platform and supports ultra-fast 30W TurboPower charging4 and wireless charging5 to keep up with you during your daily activities. When flipped closed its thin design supports a fully useable 3.6" outside display, the largest external display of any flip phone.1 
With Flex View technology users can stand the device at multiple angles enabling new ways to interact, capture, and create. Users can angle the device to sit independently allowing them to easily view recipes while cooking, follow an exercise coach online, video chat with friends handsfree etc. Taking handsfree capabilities to the next level, the new razr can also be used as a tripod, leveraging AI face tracking, impressive gesture capture and auto-smile capture2. Previews on the large external display capture stunning images and videos.
The motorola razr 40 ultra introduces an exciting new photo booth feature that will transform group photos. Say goodbye to racing against the timer as Flex View technology and high-quality cameras enable users to showcase different poses in four perfectly timed pictures, all triggered by a simple open palm gesture.
And with the new Spatial Sound by Moto, you get an enhanced audio experience like nothing else. Whether you're listening from your speakers or headphones, your movies, games and music feel more immersive as sound fills the space around you. Combined with the multidimensional sound of Dolby Atmos® and stereo speakers, you'll listen to your favorite songs with greater depth, clarity and detail
Reimagined Iconic Flip Design
With the new razr 40 ultra, Motorola reimagines an iconic piece of nostalgia in a modern, infinitely flexible design. Flipped closed, the phone folds completely in half, with the top and bottom edges aligning perfectly for a gapless, ultra-sleek look. Flip it open to reveal an ultra-smooth, full-sized pOLED display.
Always a pioneer in the foldable space, Motorola introduces a redesigned teardrop hinge with this new razr, comprised of the industry's first dual-axis tracking that minimizes the size of the system. This hinge system combined with Ultra-Thin Glass makes the foldable nearly creaseless when the display unfolds, resulting in a seamless look and smooth feel.
Versatile Camera System: ideal for content creation 
The razr 40 ultra was built with content creators in mind, and packs in a powerful 12MP main camera sensor using Instant Dual Pixel PDAF for a faster, more accurate performance, no matter the lighting conditions. Capture photos with beautiful soft-focus backgrounds thanks to a wide f/1.5 aperture that lets in more light, and OIS eliminates unwanted shakes, so photos are always crystal clear. The external display allows users to utilize the main camera for selfies, or to give friends a preview of their poses. Users can also flip open the razr 40 ultra and use the 32MP camera for selfies and video calls handsfree. Complimenting the 12MP main camera  is a 13MP ultrawide + macro vision lens that allows for wide angle shots that fit 3X more into the frame than a standard lens.
The motorola razr 40 ultra flips the script on what's possible on the external display, so users can do more with the closed device. Responding to messages, getting directions, and staying up-to-date has never been easier thanks to unique features like custom panels to prioritise what matters most, providing easy access with a simple swipe.
An Apps panel provides access to almost any app including a number of engaging games from Motorola and GameSnacks, and music fans will enjoy the dedicated Spotify panel to control playback or change their tune all without unfolding the device. Staying true to Motorola's personalisation features, users can customise the home screen with colourful live wallpapers, Moto clock designs and arrange the panels to suit their style.
All features can be enjoyed on a 3.6" pOLED external display or propped open in Flex View, with refresh rates up to 144Hz, scrolling through websites is seamless and with the highest resolution in its class7 content is brought to life in a billion shades of true-to-life colour.
The iconic design of the razr 40 ultra features a combination of glass frame with a matte finish back cover and bold colour options: Infinite Black, and Glacier Blue the Pantone® Color of the Year 2023,3 Viva Magenta, a shade that is exclusive to Motorola devices. Powerful and empowering, Viva Magenta brings razr back to its stylish roots with a modern twist.
The motorola razr 40 ultra is equipped with the powerful Snapdragon 8+ Gen 1, which fuels all the unique features while enabling performance boosts such as advanced AI, fast refresh rates and 5G connections. The device is powered by a long-lasting battery that is larger than the previous generation, and supports ultra-fast 30W TurboPower charging4 and wireless charging.5
motorola razr 40
The motorola razr 40, RRP $9996 , features the same incredibly smooth and vivid internal display, teardrop hinge and iconic form factor as the razr 40 ultra. While the most noticeable difference of the new razr 40 is a smaller external display, it maintains all the features expected from a high-end smartphone.
The new razr 40 comes with a distinct and stylish look, combining Gorilla Glass and a premium vegan leather. It's easy to grip, soft to the touch and in partnership with Pantone comes in three beautiful colourways: Sage Green, a contemporary green tone; Vanilla Cream, a true off -white classic and Summer Lilac, a mystical purple shade.
This device features the highest resolution sensors of any motorola foldable in both front and rear camera systems. An impressive 64 MP main camera and OIS helps users capture crystal-clear photos and selfies in any light while the 13MP Ultrawide and Macro Vision lens ensure that no matter the subject, from breathtaking wide-angle shots to extreme close-ups the razr 40 takes the shot. The 32 MP front camera provides incredible clarity and detail to transform video calls.
motorola edge 40
The motorola edge 40 combines elegance and performance to offer a stylish phone with powerful specifications. One of the thinnest in its class (7.58mm), the motorola edge 40 features a borderless curved glass display and curved rear inlay joined by a precision-cut, sandblasted aluminum frame. This combination offers both beauty and comfort as it nicely fits the contours of users' hands, making it pleasing to hold and easy to grip. Beyond its submersion in style, the premium design includes IP68 protection1 to protect against an accidental dunk under fresh water81, so it's ready to accompany users on all of life's adventures.
Kurt Bonnici, Head of Motorola Greater Asia Pacific said, "Introducing the motorola edge 40 highlights Motorola's continuous commitment to delivering state-of-the-art technology to the market. Whether it's revolutionizing power, performance, cameras, display or design, our edge devices continue to challenge the limits of conventional flagship smartphones in the affordable premium and mid tier segments.
The motorola edge 40 presents an ideal fusion of elegance and convenience, showcasing its exceptional photography capabilities through its state-of-the-art camera system alongside a captivating cinematic experience for enhanced entertainment. The rapid charging is a key feature to ensure reliability while on the move and with the added value of a charger and case included in the box."
Fantastic photos with a cutting-edge camera system
The motorola edge 40 offers a 50MP hi-res camera system that includes the widest aperture available in a smartphone (f/1.4), capturing beautiful, detailed photos. This means users can enjoy better pictures in low-light environments, a naturally soft focus background for a professional touch and faster capture speeds to effortlessly freeze action.
The Ambient Light Sensor immediately sets exposure so photographers don't have to worry about missing a fleeting moment when opening their camera. A 13MP ultrawide camera with Macro Vision completes the rear camera system, letting users fit more in the frame or get closer to their subject, and a 32MP hi-res selfie camera guarantees excellent group or solo shots in all lighting conditions. The motorola edge 40 also comes with an array of new video and camera enhancements like Horizon Lock Stabilisation, Video Portrait and Vlog Mode to support all manner of content capture.
A cinematic experience for enhanced entertainment 
The motorola edge 40 delivers a 6.55" pOLED display that features borderless curved edges for an all-encompassing view, complete with Full HD+ resolution for a sharper picture with less pixelation. Along with HDR10+ certification and DCI-P3 colour range photo's appear more vivid and true to life. When gaming, scrolling or multitasking, users can also take advantage of a fast and fluid 144Hz refresh rate to smoothly navigate their device.
Blazing-fast charging and consistent performance offer reliability when on the go
When it's time to recharge, consumers can rely on 68W TurboPower™ charging to get power for the day in just 10 minutes2,3, and enjoy a long-lasting 4400mAh battery that can connect at 5G speeds4 and keep up with busy routines. For added convenience, they can free themselves from cords with 15W wireless charging (wireless charger sold separately).
The motorola edge 40 is also equipped with the MediaTek Dimensity 8020 chipset, offering seamless connections to blazing fast 5G4 and Wi-Fi networks and powering everything from high resolution videos to smoother gaming. All with faster CPU & GPU speeds and greater power efficiency compared to the previous generation.
Enhanced audio and powerful performance 
All three devices offer an enhanced audio experience with Dolby Atmos®. This creates a richer multidimensional audio experience that brings out more depth and clarity through the devices' two large stereo speakers or headphones. The new Spatial Sound by Moto fills the space around the user making the audio-visual experience more immersive than ever.
Motorola's unique software experience                                      
All three new devices run on Android 13 and come with unique Motorola experiences including: simple gestures, custom entertainment settings and the ability to personalise the device through MyUX. Both devices offer an extensive suite of security features, including ThinkShield for mobile, Moto Secure, and Moto KeySafe. Consumers can also unleash the full power of their smartphones with Ready For wireless connection6 and PC compatibility7.
Product availability
motorola razr 40 ultra:
RRP $1,4996 available in Infinite Black, Viva Magenta, Blue Glacier
Pre-order from 13 June 2023 and available online and through all major retailers from 10 July 2023
motorola razr 40
RRP $9996 , available in Sage Green, Vanilla White and Summer Lilac
Pre-order from 10 July  2023 and available online and through all major retailers from 21 July 2023
motorola edge 40
RRP $699 available in Eclipse Black and Viva Magenta
Available online and through all major retailers from 10 July 2023
Based on the following features not found in other vertical flip phones: 3.6″ screen size, up to 144Hz refresh rate and 1056 X 1066 resolution.
Auto smile capture can recognize up to 5 faces/people in the same frame.
PANTONE Color identification is solely for artistic purposes and not intended to be used for specification. Refer to current PANTONE Color publications for accurate color. PANTONE and the PANTONE Chip Design are the property of Pantone LLC in the United States and/or in other countries. © Pantone LLC, 2023. All rights reserved. This is an authorized PANTONE product manufactured under license by Motorola Mobility.
TurboPower™ charging capable only with Motorola TurboPower™ charger; compatible 33W TurboPower charger included inbox, though device has 30W maximum charge capability. Motorola TurboPower™ 33 charger does not increase maximum device charge capability. Battery must be substantially depleted; charging rate slows as charging progresses. All battery life claims are approximate and based on the median user tested across a mixed use profile (which includes both usage and standby time) under optimal network conditions. Actual battery performance will vary and depends on many factors including signal strength, network and device settings, temperature, battery condition, and usage patterns.
Both TurboPower and wireless charger sold separately.
Pricing varies by retailer and carrier; to be communicated by retailers and carriers upon availability
Based on the following features not found in other vertical flip phones: 3.6″ screen size, up to 144Hz refresh rate and 1056 X 1066 resolution.
IP68 water resistant: Liquid damage not covered under warranty. Water, splash and dust resistance were tested to IP68 standards under controlled laboratory conditions. Withstands immersion in up to 1.5 meters of fresh water for up to 30 minutes. Resistance will decrease as a result of normal wear. Not designed to work while submerged underwater. Do not expose to pressurized water, or liquids other than fresh water. Do not attempt to charge a wet phone. Not waterproof.