Hardware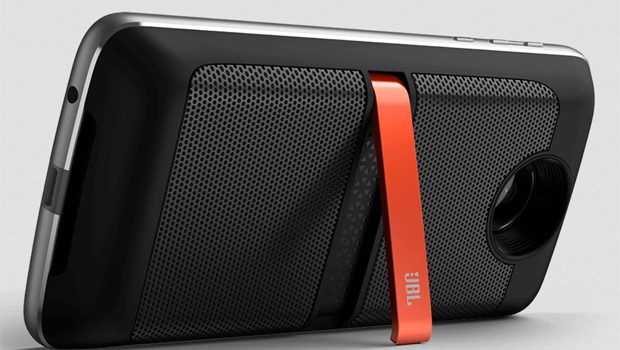 Published on June 11th, 2017 | by James Wright
JBL SoundBoost Speaker Moto Mod Review
Summary: JBL SoundBoost Speaker Moto Mod provides a true audio boost for your Moto Z phone!
The JBL SoundBoost Speaker is another Moto Mod for the Moto Z family of phones and basically gives these smartphones access to a more powerful speaker (6W) simply by clipping this device onto the back of the phone. Although the speaker that comes with the Moto Z is adequate for most things, if you want to listen to music or play games for higher quality audio, headphones are required or you could just clip on the JBL SoundBoost Speaker Moto Mod.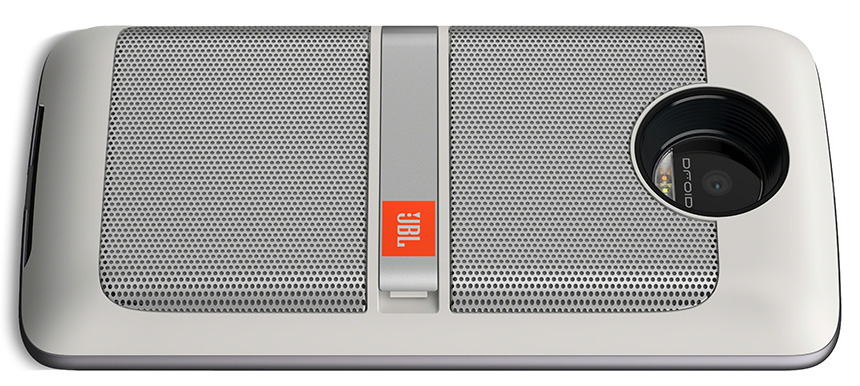 Specifications
    High-quality JBL audio
    Listen in a snap
    Built-in kickstand
    Built-in battery
    Speakerphone
    Number of speakers: 2 speakers @ 27 mm diameter, stereo sound
    Speaker power: 3W per speaker, 6W total
    Frequency response range: 200 Hz—20 kHz
    Loudness: 80 dBSPL @ 0.5 m
    Speakerphone support: Yes
    Integrated battery: Yes
    Battery size: 1000 mAh
    Battery life: 10 hours
    External charging: USB Type C
    Charge rate: 1A, 5W
    Dimensions: 152 x 73 x 13 mm
    Weight: 145 g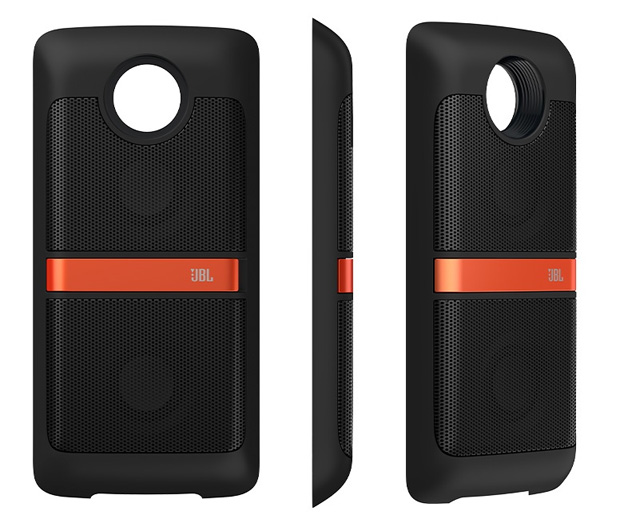 Out of the box, the design of the JBL SoundBoost Speaker is quite minimalist and gives the user a true stereo speaker but also full access to your Moto Z once this Moto Mod is installed. Once installed on your phone, it does slightly increase the size and weight but if you're looking for louder and clearer audio, the JBL SoundBoost Speaker really delivers.
According to JBL, the inbuilt battery lasts around 10 hours and there is a button on the speakers to inform the user with coloured lights of the amount of charge left. Charging can also be done via the USB Type-C connection or through the phone itself. When installed on your phone, you do have access to the Moto Z camera on the back of the phone and to increase the audio, you just use the volume control on the phone itself. Furthermore, it even doubles as a speaker phone.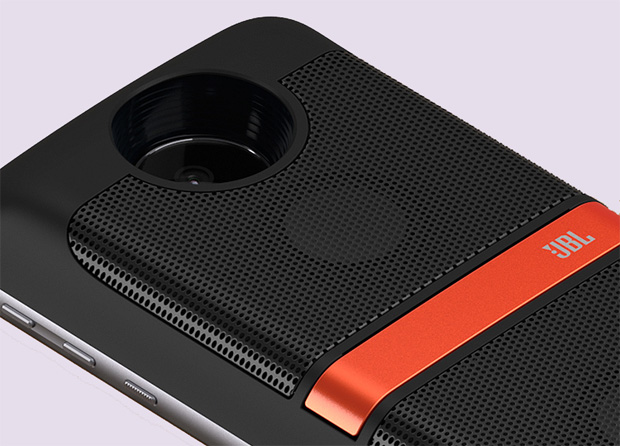 In terms of audio, the JBL SoundBoost Speaker offers a good range of levels, good bass and minimal distortion which was more evident when the volume was at it highest. Given that each speaker is 3w, it definitely proves that sometimes bigger is not better. We tested this product with a wide variety of media formats and games.
Games such as Injustice 2 really belted out the sound effects as did games such as Final Fantasy which really made the experience more enjoyable. Sure, headphones are great but sometimes you just want to play without these accessories. Movies sounded decent as did YouTube clips but where it shined was through music and we tested a variety of genres which produced some exceptional audio quality. All in all, it's quite a clever accessories for your Moto Z, especially for music lovers.
Final Thoughts?
With a recommended retail price of $159.00AUD (June 2017), the JBL SoundBoost Speaker Moto Mod is a very impressive piece of technology which really expands the capabilities of the Moto Z and offers some equally good audio.