Hardware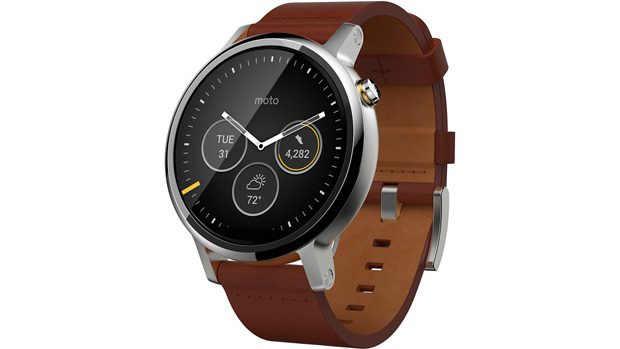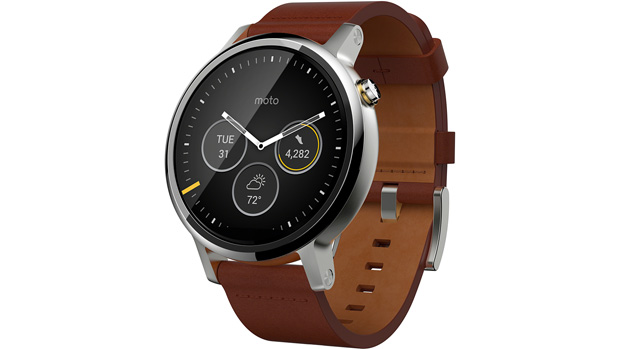 Published on August 28th, 2016 | by James Wright
Moto 360 Review (2nd Generation)
Summary: The new 2nd generation Moto 360 is an interactive and elegant timepiece but just be warned that the battery life is a little on the small side.
The Moto 360 is one of the world's most stylish smart watches and the first thing that you notice is its elegant circular design, leather band and exceptional screen quality. Basically it looks like a high-end timepiece and definitely has a wow factor with its design which even sports a stainless steel body and weighs in at just 49 grams.
This Motorola watch also retails for $479.00AUD (Sep 2016) and comes in two different sizes (42mm and 46mm) with a 300mAh battery, wireless charging, heart rate sensor and is dust and water resistant. Furthermore, it supports Wi-Fi which increases the distance opposed to traditional Bluetooth devices and it even allows you to play music without your phone by syncing a Bluetooth headset. It's truly a 'smart' watch!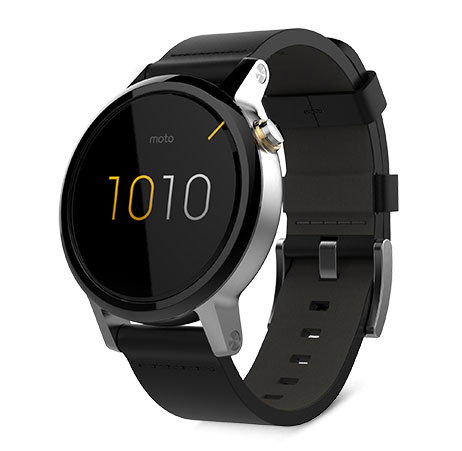 Setting up the Moto 360 is very easy and once you turn the watch on, it takes you through a simplistic installation wizard that requires you to setup the language, agree to the privacy settings and then pair it with your smart phone. In order to use the Moto 360, you do need to download Android Wear (which can be a bit of a drain your phone) and once it was paired, it did download an update for the watch.
Once paired, there is a simple tutorial for the user that teaches you how to navigate the smart watch via swipes and its only button. The only issue I had with the installation process was with Google Now as it was informing me of network errors but eventually it installed onto the Moto 360. Another great option is that it automatically updates and then gives you additional tutorials if needed.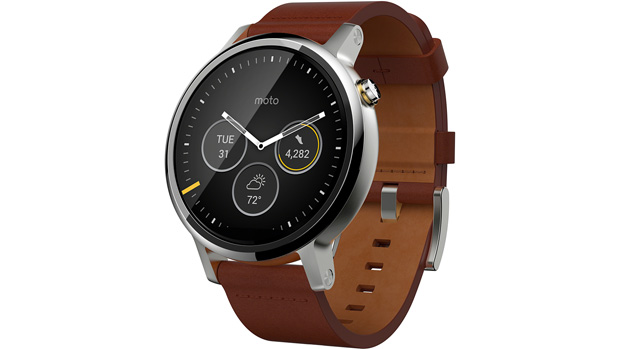 As mentioned, the display on the Moto 360 is exceptional which has a resolution of 320 x 290 (250ppi) which boasts exceptional clarity and vibrant images, even in bright light. It even comes with an ambient light sensor that with its backlit LCD also supports an auto-brightness feature which helps minimise the battery. The only strange aspect about the watch is that the screen does not fill the entire bezel because at the bottom, there is a black bar. Nonetheless, it' s a moot point because of how stylish it looks.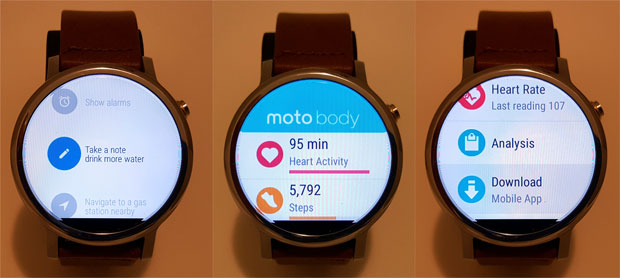 As it's a touch screen which is quite responsive, navigating the smart watch was quite easy and thankfully not convoluted at all. Each of the menus and settings make sense. There's also a number of different watch faces that you can install, however I did prefer the more classic timepiece look myself. Nonetheless, other apps can be installed to increase the useful of the product. Furthermore and like most smart watches, it allows for push notifications like Facebook, even the ability to change music and answer calls.
However the highlight for me is being able to use voice commands directly from the watch thanks to Google Now. For example, by saying take me to 100 Smith St Melbourne, it will load Google Maps on your phone and then a small GPS map will appear on the Moto 360. Or for example, what is the capital of Japan and thanks to Google Now, it will display the answer on your smart watch. The watch is also powered by the Qualcomm Snapdragon processor which does make it quite responsive, however there were a few times when I had to swipe another time in order to access the watch.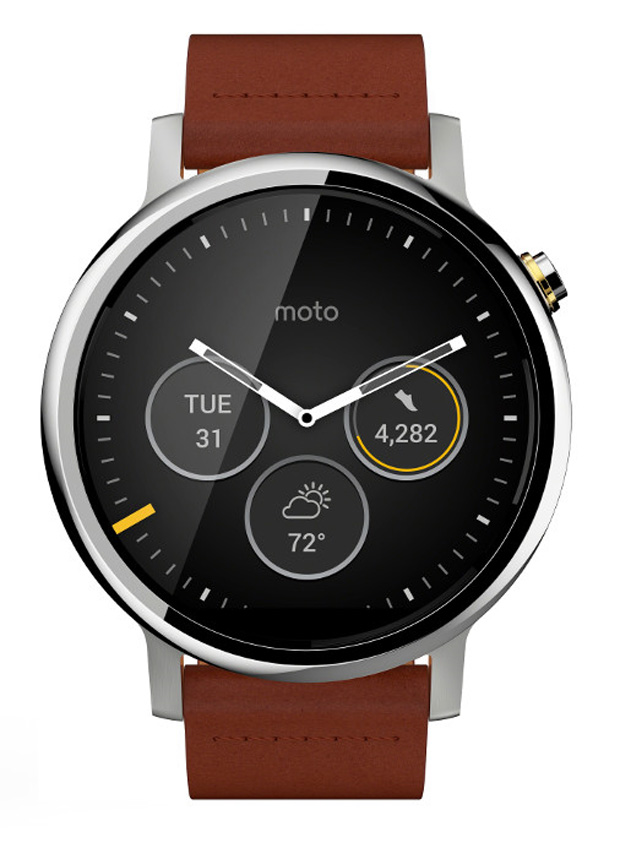 The battery on the Moto 360 is a 300mAh batter which supports wireless charging thanks to Qi technology. This means you don't need to plug anything into your watch and all you do is rest is on the charging cradle and presto, it immediately begins to charge. You just need to connect the cradle into a USB port or via a mains charger which unfortunately is not included. Wireless charging is amazing!
For sport lovers, the Moto 360 not only tracks your steps for the day thanks to gyro/accelerometer but also your heart rate but once again, it's not as accurate as a dedicated heart strap but even so, it still does an exceptional job. To maximise the fitness aspect of this smart watch, Motorola suggest you should wear the watch every day to monitor your statistics in conjunction with the Moto Body app.
The Moto Body is also a coaching app which also calculates how much exercise you need to complete each week. The first day I wore this watch, I clocked up 17,000 steps so I easily met by 10,000 quota but it's great that this product can be used to improve your overall fitness. Given that I'm quire reliant on smart devices, I love the prompts and motivation it gives me.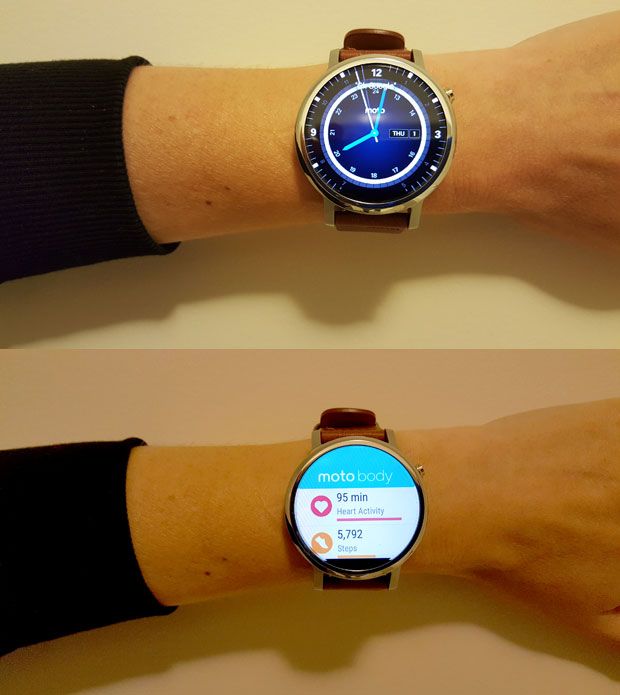 Like with most smart watches the battery aspect isn't the greatest but you can easily get two days charge from everyday use like receiving notifications, using Google Now and navigating music via your smart phone. According to Motorola, the battery of this watch should last in excess of 50+ hours but thankfully the wireless charging of the Moto 360 really makes this process non-existent because all you do is place it on the charging cradle and presto… charging commences. All in all, a very smart product from Motorola!
Final Thoughts?
If you're looking for a very stylish smart watch that is not only powerful but boasts some great features, especially the voice commands, then the Moto 360 really delivers on this front. Add in a heart sensor plus a pedometer and the ability of wireless charging and this makes the Moto 360 quite a useful product. I loved the notifications on the watch, including phone calls and text messages plus emails. It's also a good size and all in all when matched with Android Wear, it makes it quite a usable product but just be warned that the battery life is a little limited if you use this product regularly as on your phone as well!
Moto 360 (2nd Generation) Feature
Display
Corning® Gorilla® Glass 3
Backlit LCD
Mens 42 mm and Womens: 1.37" (35 mm), 263ppi (360 x 325)
Mens 46 mm: 1.56" (40 mm), 233ppi (360 x 330)
Watch case dimensions
46 mm diameter by 11.4 mm high
42 mm diameter by 11.4 mm high
Processor
Qualcomm® Snapdragon™ 400 with 1.2 GHz quad-core CPU (APQ 8026)
Adreno 305 with 450 MHz GPU
Sensors
Accelerometer, Ambient Light Sensor, Gyroscope, Vibration/Haptics engine
Battery
42 mm: 300 mAh – Up to 1.5 days of mixed use with Ambient off. Up to a full day of mixed use with Ambient on.
46 mm: 400 mAh – Up to 2 days of mixed use with Ambient off. Up to a full day of mixed use with Ambient on.
Memory
4 GB internal storage + 512 MB RAM
Connectivity
Bluetooth® 4.0 Low Energy
Wi-Fi 802.11 b/g
Microphone
Dual digital mics
Styles
42 mm Silver / Metal band
46 mm Silver / Cognac leather band
Available styles vary per region