News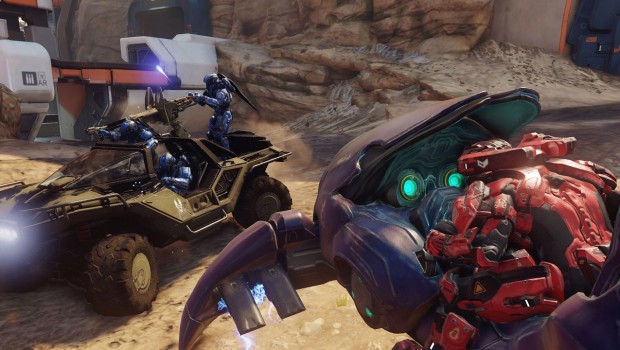 Published on June 16th, 2015 | by admin
More Xbox news: Halo's Warzone revealed, new Xbox One UI, and more
The Xbox team just wrapped the first episode of Xbox Daily: LIVE @ E3. We revealed more news about Halo 5: Guardians, Gears of War: Ultimate Edition, the new Xbox One UI, and more; we also showed more trailers and hosted interviews with Phil Spencer and a few gaming elites. Additional details are on Xbox Wire here, along with the following highlights and more:
Halo 5: Guardians – 343 Industries' Josh Holmes and Bonnie Ross unveiled the all-new multiplayer mode, Warzone and world-premiered a new behind-the-scenes video.
Phil Spencer – Phil participated in a live interview and talked about the biggest news from the Xbox briefing and answered fans' top questions.
Gears of War: Ultimate Edition – The Coalition's Rod Fergusson debuted an exclusive trailer, discussed the process of modernizing the first Gears of War, shared details on the multiplayer beta, and briefly touched on Gears of War 4.
Xbox One backward compatibility – We took a closer look at Xbox One backward compatibility for Xbox 360 games.
New Xbox One experience – We world-premiered the new Xbox One experience and showed for the first time Cortana in action on Xbox One.
Fable Legends – Lionhead Studios' David Eckelberry announced a new Fable Legends hero and debuted exclusive footage.
Rare Replay and Sea of Thieves – Rare's Craig Duncan and Adam Park introduced Sea of Thieves and Rare Replay and recapped the studio's rich legacy.
Beyond Eyes – We debuted an exclusive behind-the-scenes video documentary from tiger & squid showing what it took create this beautiful indie game for Xbox One.
Elite: Dangerous – We world-premiered exclusive gameplay footage and the new PVP mode.
The Behemoth – We offered a first look at an old favorite with Castle Crashers Remastered and the creators detailed their new title, Game 4.
World of Tanks – TJ Wagner from Wargaming.net made exclusive announcements about the Xbox One beta and release dates for World of Tanks.
The second live episode of Xbox Daily: LIVE @ E3 airs on Wednesday at 9:00 a.m AEST on Xbox One, Xbox 360, and Xbox.com.