Comics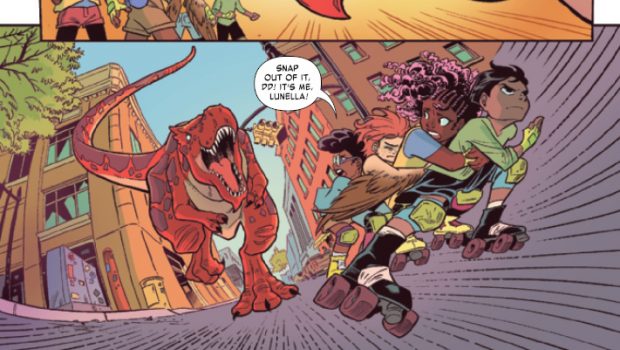 Published on January 16th, 2023 | by Tim Chuma
Moon Girl #2 Review (2022)
Summary: More aimed at younger readers but still a fun story and worth reading if you like this character.
Moon Girl has worked out her roller derby team mate OMG Olivia is actually a Kree in disguise looking to mind control people. She just has to work out how to stop her with the help of her other team mates and Devil Dinosaur. When Olivia decides to change tactics and starts using haircare products it is members of the general public in danger. Back at her lab they get a sample of the product but Devil Dinosaurs ends up eating it and then turns on them when they go outside, only to be captured by the government so no more people can be harmed. Can Moon Girl rescue him and stop OMG Olivia?
I have enjoyed other issues of this comic even if I did not read all of them. It has just the right mix of story and silly things like Wolverine having to disguise himself as a cute animal with a big head, much to his own revulsion.
Even though there has been a couple of issues in this storyline it is still easy enough to pick up what is going on and this does seem to be aimed at younger readers so there is that to consider too.
Worth a look if you are a fan of this character and if you want something lighter and entertaining.
Comic details:
Writer: Jordan Ifueko
Penciler: Alba Glez
Cover Artist: Ken Lashley
Publisher: Marvel
Published: January 11, 2023