Comics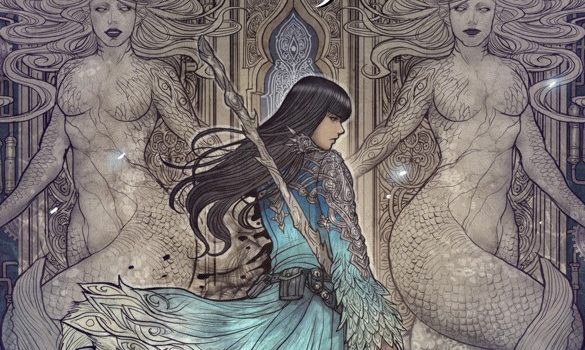 Published on February 22nd, 2017 | by Dana Folkard
MONSTRESS #10 REVIEW
Summary: Dark and sinister plot developments and wonderful art to match.
4.5
Ominous and shrouded in mystery!
Maika's quest to find the Isle of Bones continues. Abroad a small boat in dangerous waters and shrouded in an evil fog with her companions, Kippa and Master Ren, Maika must navigate their safe passage and confront an ancient evil in order to unlock the mystery of her past.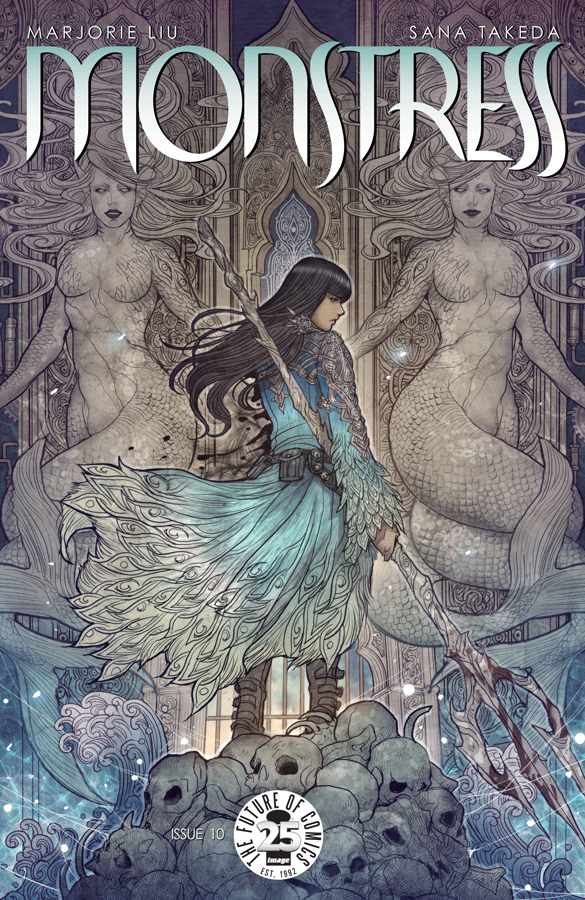 Monstress #10 begins on an ominous note, as Maika and companions are adrift on perilous waters. Things are looking grim as they are surrounded by the haunting spectres of sea ghouls, tortured souls that are trapped and cannot rest. Master Ren is greatly troubled by what he sees, and this can only means ill news as it's never a good sign when a Necromancer is worried about the dead. Their attention is quickly diverted when they are accosted by a band of the Blood Queen's personal guard, requesting that they halt their quest and return to be delivered to the Queen. However, sea ghouls intervene, leaving Maika to barter for safe passage with the Ferryman, an ancient creature made from the bones of a long dead god. Spooky, right? Once on the island, things begin to unfold, revealing much to Maika and her companions, whilst at the same time adding more mystery to this cryptic puzzle. The question still remains, will the Daughter of Doom discover the answers that she has been seeking on the Isle of Bones?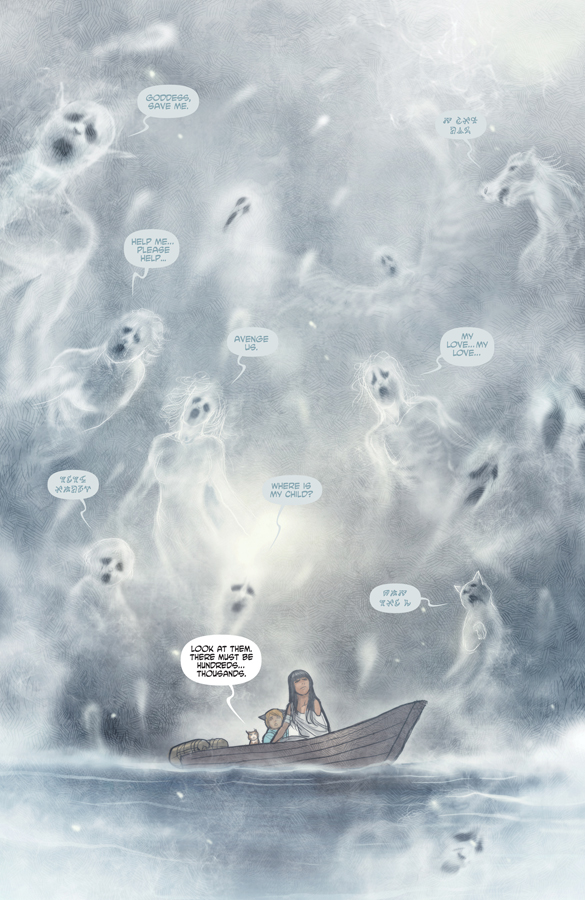 This issue of Monstress gives me the creeps…in a good way! It's full of mystery, sinister undertones and wicked plot developments. From the opening pages, I could tell that this was going to be a gritty issue. We've been waiting for Maika's arrival on the Isle of Bones for quite some time now and I have to say, it doesn't disappoint. Marjorie Liu does a great job at creating a sinister tone that is steeped in a lot of mystery. Everyone seems to be on edge, Ren, the Monstrum, Maika and yes of course, Kippa as well. Poor wee Kippa. Maika is constantly growing and going through some interesting changes. We have seen her evolve into a hardened woman, hell-bent on finding the answers that she seeks about her mother. I find that that is clever character development by Liu and it coincides with changes that the Monstrum is going through as well. With each issue we learn more about this curious abomination and it's dark past. All of it is somehow linked and I believe that this is the beginning of a lot of revelations to come. I can't wait to see what we will discover.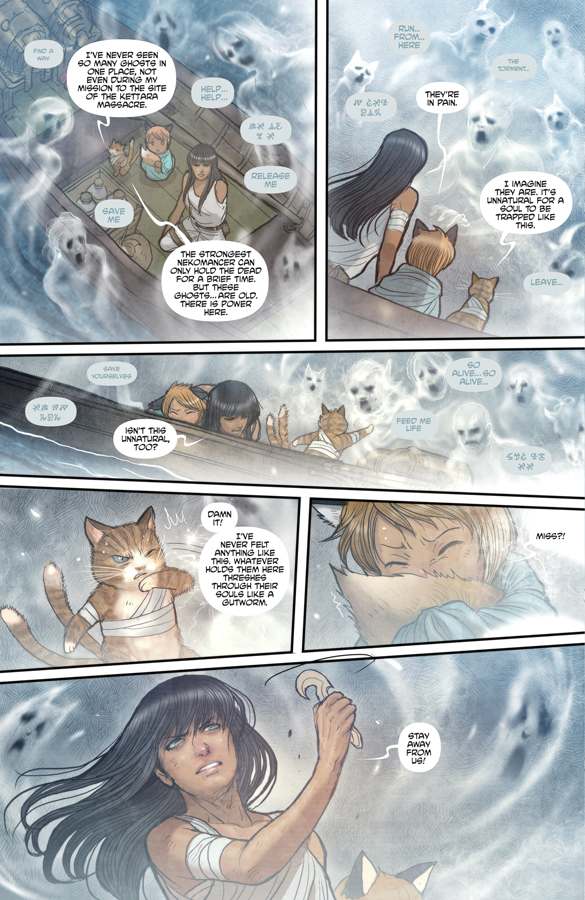 Sana Takeda's art is beautiful and complex. She reinforces the sinister tone of this issue with, filling it with all sorts of loathsome looking creatures. I particularly like the Ferryman, a creature who is a mass of jumbled bones that makes it hard to distinguish it's face from it's body. It looks formidable and ancient and is definitely a monster that commands attention and respect. The island itself is diverse filled with so much detail. There is a lot to take in and observe and I found myself pausing on many of the pages to absorb everything in each panel. I find that Takeda's art perfectly reflects the rich history and lore that Liu has created for this world. The colouring also heightens the eerie quality of the island, as everything appears to be bathed in a ghostly and ethereal light. It almost feels like we are looking through a filter into some kind of magical dreamscape.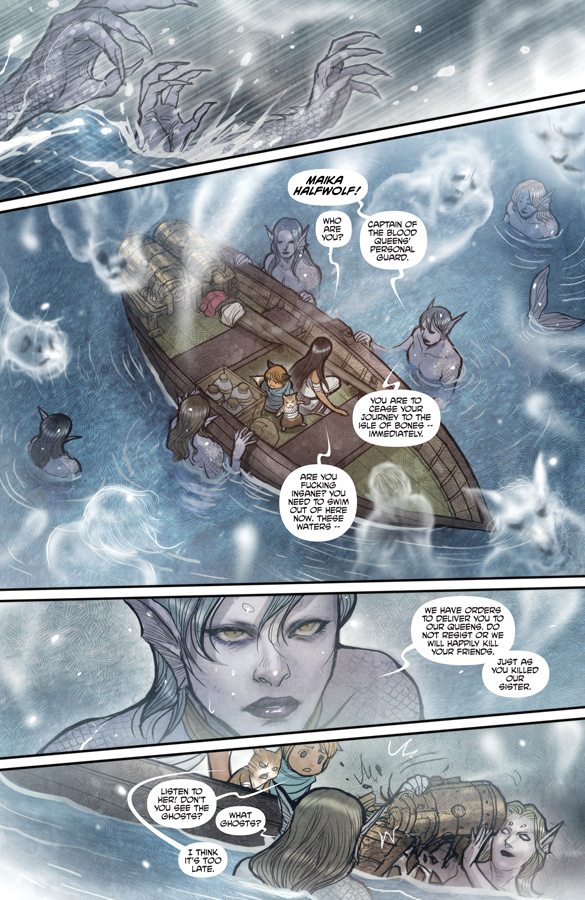 Monstress #10 is creepy as all hell. We are finally on the Isle of Bones with Maika and confronted with multiple unsettling and curious developments. We are revealed a lot, whilst still having so much of the story shrouded in mystery. I'm excited to see where the next issue will take us and what will be revealed as things progress. I'm curious to see whether Maika will get the answers she's been looking for from the strange and unknown Lord Carrion.
I'm giving this issue 4.5 out of 5 stars!
Comic Details
Title: Monstress #10
Publisher: Image Comics
Creative Team: Marjorie Liu, Sana Takeda
Reviewer: Dana Folkard