Comics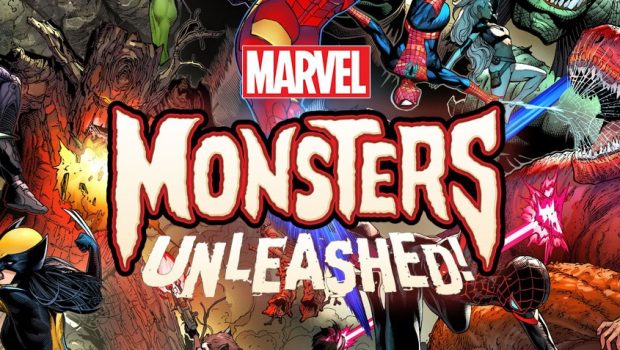 Published on December 1st, 2016 | by Dana Folkard
MONSTERS UNLEASHED Unleashes Monster-Sized Launch Party Events!
Run if you can! Hide if you must! Monsters have invaded the Marvel Universe! Nothing can prepare heroes across the globe for Monsters Unleashed! But you can be prepared! To coincide with the highly anticipated release of MONSTERS UNLEASHED #1, Marvel is bringing widescreen action and epic destruction to your local comic shops with MONSTERS UNLEASHED LAUNCH PARTIES. Not only is your local comic shops the place to be on January 18th to get your hands on the oversized first issue, but you'll also be able to get your hands on some special items exclusive to these launch parties – including the all-new Monsters Unleashed Sketchpad!
To ensure the launch of MONSTERS UNLEASHED is a sales success, each retailer opting in to the event will receive an Monsters Unleashed Party Kit, containing exclusive promotional materials and sales tools to assist their efforts. Retailers interested in participating should check their Marvel Mailer for info on how to opt-in by 12/5, ensuring they receive access to these promotions.
Marvel is pleased to announce an exciting new promotional item to aid retailers in sales on Monsters Unleashed. Participating retailers will have access to the first-ever Monsters Unleashed Sketchpad, a 64-page book featuring a glossy cover jam-packed with monstrous coloring pages and blank sketch pages. Perfect to unleash your inner artist or take to your nearest comic convention!
"Monsters Unleashed is very much a celebration of artists, from the visionary artists of yesterday who created these wondrous monsters, to the A-List talent drawing the series today" says Marvel SVP Sales & Marketing David Gabriel. "We wanted to honor that legacy with a brand-new promo item which ties into the story and characters of Monsters Unleashed in some very interesting ways. And maybe just inspire a new generation of artists."
All qualifying retailers will receive the following as part of the Monsters
Unleashed Party Kit:
Monsters Unleashed Invitational Postcard
Deep Ordering Discounts
Access to Exclusive First Looks & Previews
Monsters Unleashed Sketchpad (Bundle of 25)
Monsters Unleashed Lithographs
Monsters Unleashed Adams Party Sketch Variant
Downloadable Cake Toppers
But that's not all! Retailers who qualify will also be eligible to order the MONSTERS UNLEASHED #1 Adams Party Variant! Witness the mayhem of one of Marvel's
mammoth monsters, as only legendary artist Art Adams could render!
Retailers are encouraged to check their Marvel Mailer and Diamond Daily for more information about Monsters Unleashed and Monsters Unleashed Launch Parties. Run if you can, hide if you must! They are here. Don't miss the event spectacle of 2017 when MONSTERS UNLEASHED #1 makes landfall at your local comic shops on January 18th!
MONSTERS UNLEASHED #1
MONSTERS UNLEASHED LAUNCH PARTY OPT-IN
Written by CULLEN BUNN
Art & Cover by STEVE MCNIVEN
Teaser Variant by GEOFF DARROW
Variant Cover by KEN NIIMURA
Hip-Hop Variant by MIKE DEODATO
Movie Poster Variant by FRANCESCO FRANCAVILLA
New Monster Variant by STEVE MCNIVEN
Monster vs. Hero variant by MIKE MIGNOLA
Party Variant by ART ADAMS
Party Sketch Variant Also Available
Video Game Variant Also Available
FOC – 12/5/16, On-Sale – 1/18/16