Events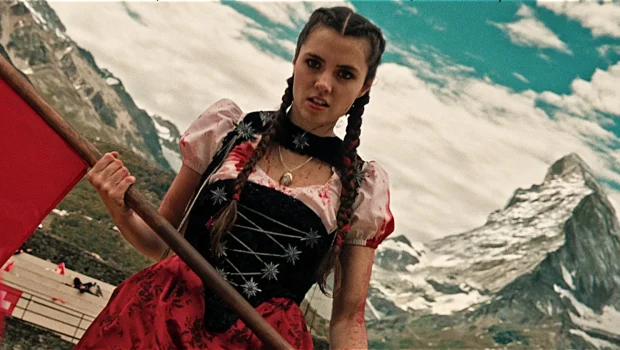 Published on November 28th, 2022 | by Tim Chuma
MonsterFest 2022: Mad Heidi (2022) Review
Summary: Death by cheese and death to cheese. Does what is says on the tin.
Twenty years after mad dictator of cheese President Meili (Casper Van Dien) has taken over the country through cheese, innocent Heidi (Alice Lucy) is living a simple life in the mountains hooking up with Goat Peter (Kel Matsena) much to her grandfather's annoyance. Her world is shattered when Goat Peter is arrested for selling illegal cheese and then brutally executed by Kommandant Knorr (Max Rüdlinger), come on it's in the trailer it is hardly a spoiler, her grandfather is seemingly killed and she is sent to a brutal women's prison.
As you would expect she hatches a plan for revenge in between being brutally tasered by the guards and beaten and given swirlies by other prisoners. Of course the evil president is going to get it, that is hardly something you can't see coming from that point.
This was a crowd funded production that started off as concept and a poster and then developed from there. It was a big hit when it premiered and seems to be going around the festival circuit and is available to buy from the creators.
It is very violet but it is in the form of cartoon violence and people being killed by boiling cheese in many different absurd situations. People have super strength and can rip people to pieces or cut them in half with halberds and such.
Alice Lucy is nice enough as Heidi but Casper Van Dien seems to be having the most fun as President Meili and just nails the role. There is not really that much light and shadow here but there sorts of films have stock characters for a reason.
There were a lot of cheers in the screening for this movie and I would recommend watching this with a group of friends or at least in a public screening if you can as you get more out of it watching it with an audience.
A fun movie even if it is super violent, looking forward to the supposed sequel that they tease at the end also.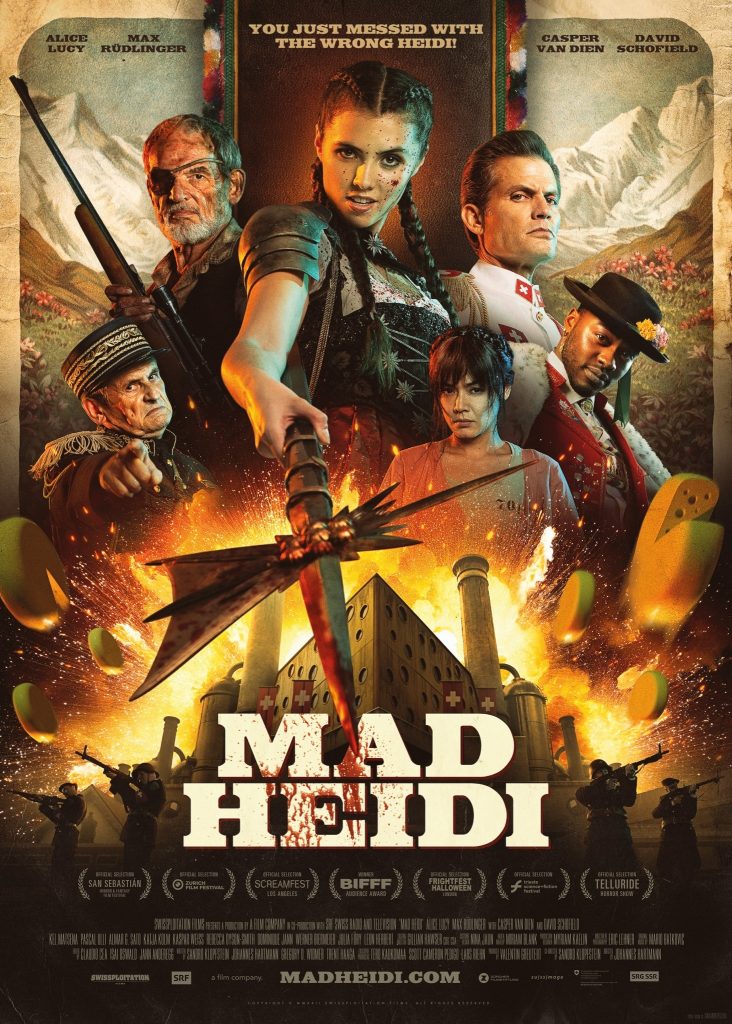 Film details:
Director: Johannes Hartmann, Sandro Klopfstein
Writer: Sandro Klopfstein, Johannes Hartmann, Gregory D. Widmer, Trent Haaga
Starring: Alice Lucy, Max Rüdlinger, Casper Van Dien, David Schofield, Kel Matsena, Pascal Ulli, Almar G. Sato, Katja Kolm, Kaspar Weiss, Rebecca Dyson-Smith, Dominique Jann, Werner Biermeier, Julia Föry, Leon Herbert
Genre: Comedy/Action
Country: Switzerland
Length: 92 min
Trailer