Events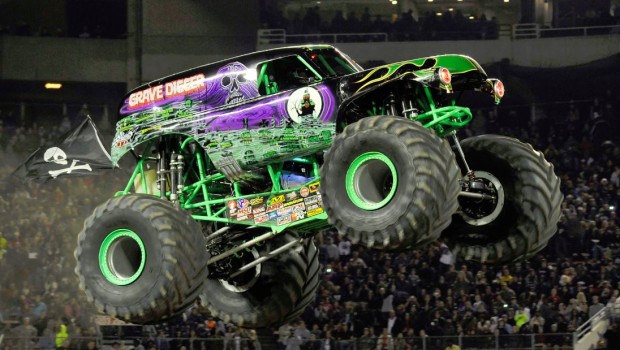 Published on July 24th, 2015 | by admin
MONSTER JAM® MAYHEM RETURNS TO OZ ONSALE NOW
MONSTER JAM® MAYHEM RETURNS TO OZ ONSALE NOW
PERTH NEW TO THE TOUR AND READY FOR FIRST BOLT OF MONSTER JAM MADNESS 
Monster Jam® returns to Australia this October with tickets on sale now but this time, THE SKY'S THE LIMIT! The 5000 kilo superstars of Monster Jam will take over the entire month on a four city Oz tour, jam-packed with mind-blowing stunts, awesome power and spectacular pyro.
Last year over 150 000 Aussies took part in history as Monster Jam brought its first ever national tour to Australia, including the award winning Sydney event which was honoured with the prestigious "Best Guest Event of 2014" by The Stadium Business Awards.
This year, the tour reaches even further as Perth* has been added to the national jaunt! The month long tour will kick off at Brisbane's QSAC at Nathan on Saturday night October 3, Melbourne's AAMI Park, with two huge shows on October 10, Sydney's ANZ Stadium on October 17, and the first-time-ever visit to Perth's Domain Stadium* on Saturday night, October 24.
Tickets go on sale nationally now through Ticketek (Sydney/Melbourne) and Ticketmaster (Brisbane/Perth*) priced from $25 for children and from $40 for adults.
New to the show will be a massive Donut Competition and Sky Wheelie battle, in addition to the ever popular Monster Jam Freestyle and Racing showdowns, all set to deliver an awesome night of intense family entertainment. Plus, don't miss your chance to see the trucks, meet the drivers and get their autographs at the Party in the Pits. Pit Passes run for $15 but have limited availability.
Up to 12 of Monster Jam's biggest stars are ramping up for destruction down under with iconic names such as Grave Digger®, 11-time world champion Max-D℠, current Monster Jam World Finals® Racing Champion, Metal Mulisha and the hot pink, Madusa® all confirmed to compete.
New competitors for 2015 include fan favourite, Zombie® with Bari Musawiir at the wheel; Team Hot Wheels® Firestorm® driven by Scott Buetow; driving Monster Mutt® Dalmatian, Candice Jolly, and many more set to compete for the title of Australian champion.
Two of Monster Jam's most famous family members from the Anderson clan, founded by Dennis Anderson, creator of Grave Digger, have also been announced to join the Australian tour with brothers Ryan driving Son-uva Digger® and Adam piloting his father's legendary truck, Grave Digger.
The stars of the show are the Monster Jam trucks – massive racing machines up to four metres tall and four metres wide, powered by octane-injected engines emitting 1500 to 2000 horsepower. They sit on enormous, hand carved tyres that take 50 hours to cut and are more than 1.7m high.
Built for short, high powered bursts of speed, the powerful Monster Jam beasts perform breathtaking stunts and can accelerate from 0-100kph in under three seconds.   They literally fly – covering up to 50m in a single leap or 12m skywards.   They are into destruction, racing and ripping around custom designed tracks, with Monster Jam last year crushing more than 3000 cars, buses, caravans, boats, large trucks and even airplanes in their 350 shows around the globe.
SHOWTIME Australia's biggest stadiums will become Monster Jam playgrounds, dumped with 7500 tonnes of dirt, to create a centre stage of spectacular jumps and obstacles.  A huge family day out, it kicks off with Party in the Pits when event goers get unparalleled access to drivers, can see the Monster Jam trucks at close range, and explore the obstacles they'll eventually destroy.
Show time kicks off with Monster Jam® racing where trucks compete in a head to head combat.   Two trucks race per heat, facing each other and the ticking clock, to cross the finish line first with the least number of penalties.
After intermission, the show explodes with freestyle Monster Jam, jammed packed with high-horsepower acrobatic chaos. Each driver has a maximum of 90 seconds to push their truck to the extreme in a mechanical spectacular of high jumps, donuts, backflips, wheelies and frenzied manoeuvres.
A world-class stunt spectacular that electrifies crowds, entertains families and brings audiences to their feet, Monster Jam has played to four million fans in 350 shows in 135 cities in the last 12 months.     This year's October Monster Jam tour covers Brisbane, Melbourne, Sydney and for the first time, Perth.   Rev up for the action and get your tickets now…
Monster Jam – Australian tour dates
Saturday, October 3                                        Brisbane – QSAC                          Show time: 7pm **
Saturday, October 10                                     Melbourne – AAMI Park           Show time: 2pm** and 7pm
Saturday, October 17                                     Sydney – ANZ Stadium              Show time: 7pm**
Saturday, October 24                                     Perth– Domain Stadium            Show time: 2pm** and 7:30pm
** Indicates shows preceded by "Party in the Pits" – $15 entry, booked in advance with show ticket. "Party in the Pits" starts at 10am in Melbourne and Perth and 2pm Brisbane, and Sydney
Ticket prices
Children from $25.00*; Adults from $40*
*Transaction and credit card fees may apply
Tickets available through the following agencies:
Sydney, Melbourne shows             Ticketek   www.ticketek.com.au/monsterjam or 132 849
Perth, Brisbane show       Ticketmaster www.ticketmaster.com.au/monsterjam or 136 100
For more information on the Monster Jam, log onto http://www.monsterjamonline.com.au