Events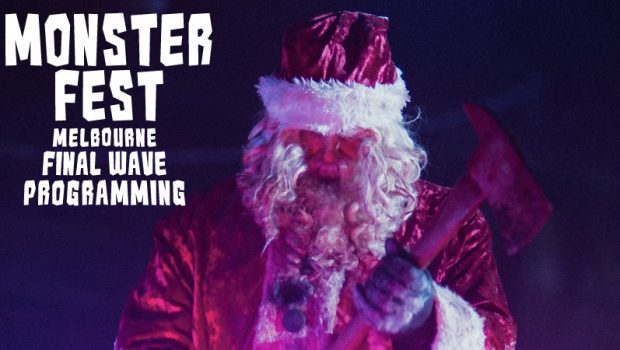 Published on November 9th, 2022 | by Adrian Gunning
MONSTER FEST 2022 | Melbourne | Final Wave Programming
With two weeks to go before the 2022 edition of MONSTER FEST launches at Cinema Nova in Melbourne, Monster Fest is pleased to share the Final Wave of Programming including SHUDDER Presents Opening & Closing Night Films along with the release of all ticketing.
Monster Fest returns from November 24 to December 4 with the latest must-see genre and cult cinema programming from around the world along with some key repertory features.
Yuletide terror abound in our Opening Night Film, CHRISTMAS BLOODY CHRISTMAS, the latest feature from acclaimed genre filmmaker and Monster Fest alumni Joe Begos (VFW, BLISS, THE MIND'S EYE), where a toyshop robotic Santa malfunctions and carries out a Christmas-sacre that is destined to become a festive favourite.
Filmmaker Jason Eisener (HOBO WITH A SHOTGUN) crafts an action-packed, hilarious and gory coming-of-age sci-fi/horror hybrid in our Closing Night Film, KIDS VS. ALIENS, where an already out-of-control house party is invaded by intergalactic gatecrashers, hellbent on death and destruction.
Award-winning shorts filmmaker James Vinson makes his feature debut with SLANT, a darkly comical and highly stylised thriller that follows Derek (Michael Nikou), a journalist on the cusp of breaking a career-making story that will put his life and those around in danger by doing so.
Humans by birth have an instinct to survive but how far would you go to survive? Guillaume Nicloux's brutal, nihilistic and gripping LOCKDOWN TOWER will have you asking that very question as the inhabitants of a tower block faced with a mysterious void surrounding them are forced to survive by any means necessary within the complex.
Hi, I'm CHUCKY, wanna' play? Filmmaker Kyra Elise Gardner's documentary LIVING WITH CHUCKY presents a playful and personal look at the experiences of key talent from the CHILD'S PLAY films and what it means to be part of such an enduring genre franchise.
Kat Ellinger & Dima Ballin's ORCHESTRATOR OF STORMS: THE FANTASTIQUE WORLD OF JEAN ROLLIN is a fascinating, passionate and academic exploration of the Eurocult auteur's life and oeuvre.
Jean Rollin's sophomore feature and first to be composed in colour, LA VAMPIRE NUE (THE NUDE VAMPIRE), is a lurid and surreal blend of horror and erotica, that follows Pierre (Olivier Martin), a young socialite who falls for a mysterious beauty (Caroline Cartier) that may very well be a vampire.
Following the success of ALVIN PURPLE and ALVIN RIDES AGAIN in the 1970s, a refresh of the franchise came in 1984 however the subsequent film found neither commercial nor immediate audience favour and in the years since has been lost to the obscurity of VHS. Monster Fest is proud to present MELVIN: SON OF ALVIN, an unheralded Ozploitation classic and the sole theatrical feature of director John Eastway in an all-new 2K Restoration.
As an advanced civilisation whereby information and emotion can be conveyed across the globe within a micro-second by a device contained in a pocket of clothing, how greater has humanity grown in the past forty years? With crime on the rise, a devastating war underway and cultural divide never being greater, you be the judge. Monster Fest presents a 40th Anniversary of Sheldon Renan's provocative, controversial and genuinely chilling documentary THE KILLING OF AMERICA.
DEAD END DVD Presents FRIDAY NIGHT MONSTER FEST-RIVIA, a special in-cinema event where individuals and/or teams compete for a bounty of prizes and the glory of being a FRIDAY NIGHT MONSTER FEST-RIVIA champion.
Revered Reverend of all that is is irreverent, Dick Dale, returns to Monster Fest with a fresh slate of the most-twisted, gross out and hilarious short films from around the world in the 2022 edition of TRASHARAMA.
Rounding out our Final Wave of Programming are four Short Film Programs.
FEAR FATALE is a program of short films helmed entirely by women filmmakers.
STUDENT SHORTS presents the finest and scariest shorts from film schools around the country.
THE MONSTROUS MONSTER FEST MELBOURNE SHORTS SHOWCASE, as the title suggests is a shorts program yielded from Melbourne's finest offerings.
From stop-motion to digital design, Monster Fest is pleased to present the inaugural (RE)ANIMATED SHORTS, a program comprised of animated shorts.
The aforementioned programming joins our already announced line-up of THE PRICE WE PAY, MEGALOMANIAC, THE OFFERING, MAD HEIDI, ON THE EDGE, RIBSPREADER, ALL JACKED UP AND FULL OF WORMS, EATING MISS CAMPBELL, THE COST, BAD GIRL BOOGEY, EMPTY POCKET, SUBJECT, LADY TERROR, THE HONEYSUCKLE SISTERS, a 40th Anniversary Screening of FRIDAY THE 13TH PART 3 in 3D and a Special Event 100th Anniversary of F.W. Murnau's NOSFERATU live-scored by THE NARCOLEPTOR.
Inspired by the art nouveau movement, in particular the film posters of Jean Rollin, this year's captivating Monster Fest poster art was meticulously designed by illustrator-extraordinaire Lily McDonnell from MyBeautifulMonsters.com.
For Festival Guests, Session Date/Time & Ticketing:
WHERE:
Cinema Nova
380 Lygon St
Carlton VIC
WHEN:
Thursday 24th November –
Sunday 4th December
WEBSITE:
TICKETS:
VIP Pass – $325
The VIP Pass is valid for 25 sessions including Opening Night, Closing Night and Special Events at Monster Fest from Thursday 24th November to Sunday 4th December 2022. It cannot be used for multiple tickets to the same session or for sessions that run concurrently.
10 Film Pass $150
The 10 Film Pass may be used for any 10 Monster Fest film sessions from Thursday 24th November to Sunday 4th December including Opening Night, Closing Night and Special Events. It cannot be used for multiple tickets to the same session or for sessions that run concurrently.
5 Film Pass $80
The 5 Film Pass may be used for any 5 Monster Fest film sessions from Thursday 24th November 24th to Sunday 4th December including Opening and Closing Night but excluding Special Events. It cannot be used for multiple tickets to the same session or for sessions that run concurrently.