Films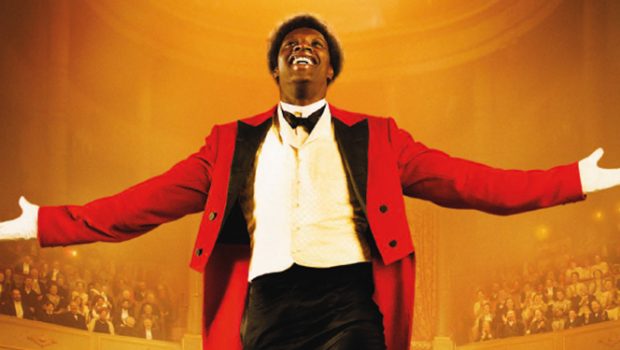 Published on June 28th, 2017 | by Damien Straker
Monsieur Chocolat – Film Review
Reviewed by Damien Straker on the 19th of June 2017
Transmission presents a film by Roschdy Zem
Produced by Éric Altmayer and Nicolas Altmayer
Written by Roschdy Zem, Cyril Gely, Olivier Gorce and Gérard Noiriel
Starring Omar Sy and James Thiérrée
Music by Gabriel Yared
Cinematography Thomas Letellier
Edited by Monica Coleman
Running Time: 110 minutes
Rating: M
Release Date: the 29th of June 2017
Monsieur Chocolat is a French film that depicts the real story of the circus performer Rafael Padilla (played by The Intouchables' and Samba's Omar Sy) who in 1886 is working in a dingy circus tent, where he partakes in an ugly, racist show before an audience. Throughout the film, everyone refers to him by his unfortunate stage name 'Chocolat', named after his dark skin colour, when he'd prefer to be treated like a person and called by his birth name.
The character he is expected to play is a cruel and ugly stereotype, but he still performs the role with gusto, humour and interest. Each night Rafael emerges as a cannibal who snarls and rages at the crowd as though he is an exotic novelty. Adults openly reel and little children reach for their parents at the sight of him. Rafael persists with the role because it's his profession and his way of surviving for another night. This is after all a grubby area of mud, caravans and small fires shared with the other circus oddities, not a glamorous show.
Rafael's role changes though when he's approached by a struggling circus clown named Footit (James Thierrée). Footit has been told that his act is dying and he'll be finished unless he can reinvent himself. He seeks out Rafael as he's keen to try the first black and white circus duo. Once Rafael agrees, Footit teaches him how to work together before the audience. Footit is a gloomy, one-dimensional character throughout the film. He loves no one and until the film's touching ending he is only interested in money and being famous, particularly after he and Rafael are scouted and hired for a major show at the Nouveau Cirque in Paris.
Directed by French filmmaker Roschdy Zem, who effectively employs grit, the film commences as quietly funny before evolving into a deliberately ugly expose of how fame and misrepresentation dissolves a person's self-worth, culture and identity. Once the film's critique is transparent it transcends the conventionality of its rags-to-riches montages and light comedy to become more emotionally powerful and intentional scene for scene. There's a clear change in mood from a success comedy to a downward spiral of cultural standards.
The film's comedy is okay but basic at first with the circus performers chasing each other, falling over or kicking each other in the butt for easy laughs—those were the times. However, after Rafael is unfairly imprisoned and racially attacked, one of the film's toughest sequences to watch, he talks to an inmate who changes our impression of the show and not for the better. This sequence shows that the film is strongest as a political drama.
The man notes that despite Rafael and Footit landing a major gig in Paris it is Rafael who is always the target and the one being struck down during the comedy routine for the entertainment of mostly wealthy white people. To further awaken Rafael from the illusion, he describes Footit as his white master. This strikes a chord with the Cuban-born Rafael, who escaped slavery to become a labourer, and whose own father was humiliated as a servant while working for a white family (a footnote that is shown in brief flashbacks).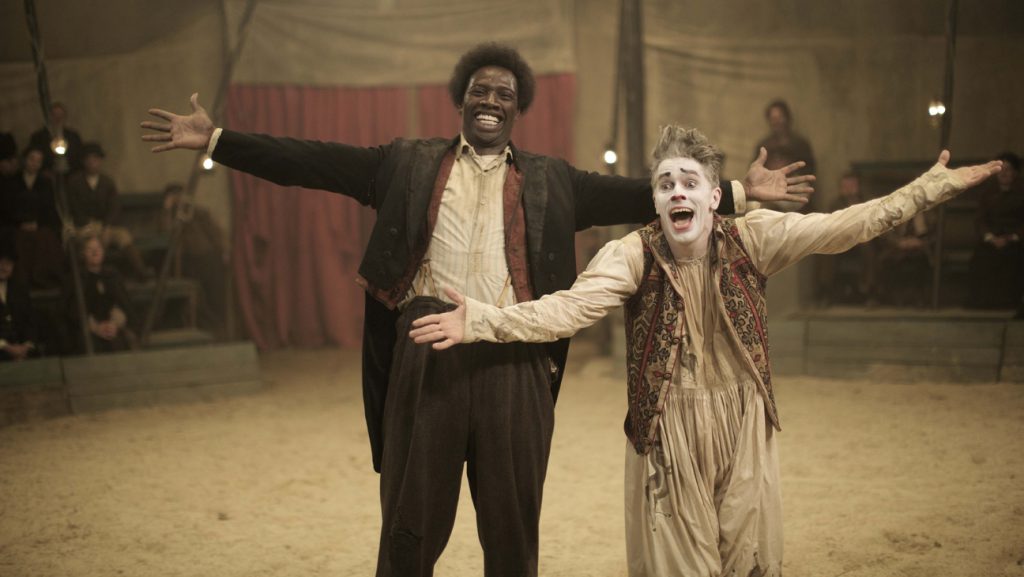 Conventional staples of the 'flawed artist' subgenre mount on top of one another in the script, including Rafael's shambolic alcoholic state, his failure to sustain any meaningful relationships with women, and gambling his money away; however, each of these narrative tropes implies that he hates his current life despite verbally denying that truth. This is one of the few understatements or subtleties unearthed in the story because Monsieur Chocolat is not thematically deft. It's concerned with magnifying the brutality of fame and racism.
The story is most affecting in showing the inescapability of racism throughout all the arts. There is a powerful, upsetting scene where Rafael and Footit are shown their latest promotional poster and discover that Rafael has been drawn as a disgusting monkey caricature. It's also noted how Rafael is paid far less than Footit, which further strains their friendship and professional life. This inequality is the start of a larger narrative statement about racism protruding through low-brow culture, such as clowns and slapstick comedy, but then also filtering into supposedly high-art culture, specifically the theatre.
The puerile racism of the circus spurs Rafael to try his hand at theatre, which he believes will restore his self-worth as a human and a performer. Yet despite excelling in a stage production of Othello, becoming the first real black man to play the title character, it doesn't shield him from savage racial taunts by an audience at the end of the production. This climaxes the thematic line about how low- and high-brow culture are both poisoned by bigotry, which diminishes the quality of the work itself and the humanity of the artists.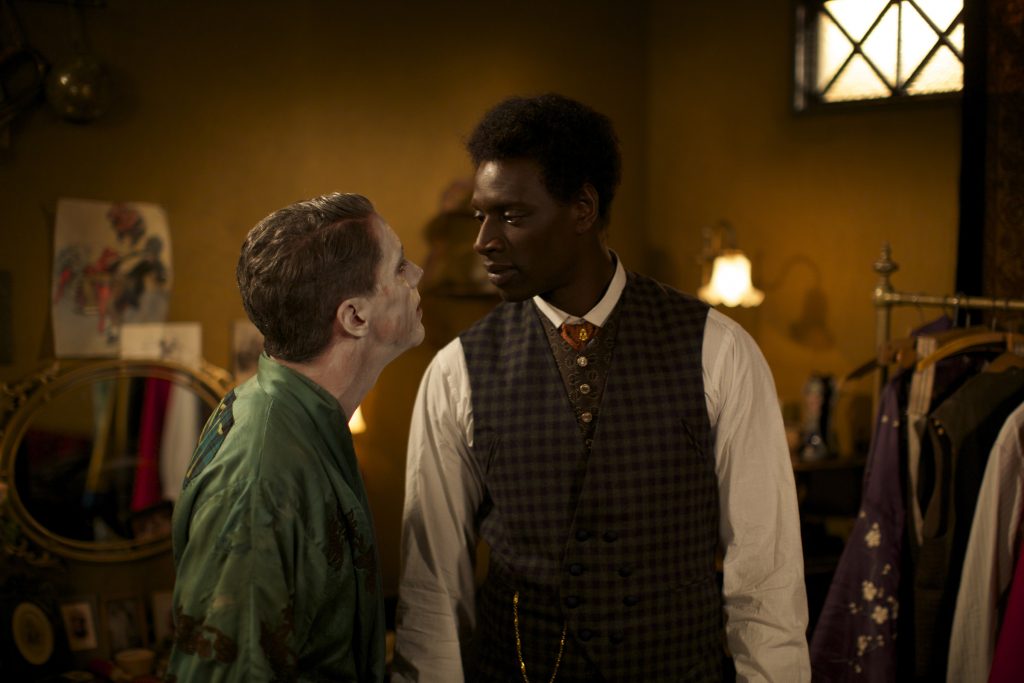 The film is enhanced by a visual and dramatic grit, starting with the decor of the downbeat circus tent and rough costumes, followed by the unshakeable racial attitudes protruding through high and low art; these are the staples propelling the film's dramatic motor. Two attack scenes, where in prison Rafael is scrubbed to "whiten him up", and another where a debt collector smashes his hand, are examples of the film's visceral charge, which is how the content should be presented to have a strong emotional impact.
There's an acuteness to this film's timing given the number of recent think pieces and discussions analysing Hollywood's contemporary struggle with cultural representation. There are fewer grotesque caricatures than before, but racism is still present only more subliminal. One example is how Asian actors are overlooked in favour of white ones, as was the case with Ghost in the Shell recently. Middle Eastern actors are also understandably tired of being cast as terrorists. Studios are sometimes held hostage by Internet parasites who lament women or people of colour for being cast in their next favourite comic book movie.
Representation is a personal issue as much as a political one. One only needs to look at this film's leading actor Omar Sy. Once again, he exudes a colossal presence on screen, effortlessly playing Rafael as funny and broken, thereby further complementing his major box office hit in The Intouchables (2011). However, he still hasn't landed a lead Hollywood role yet. He has only had small parts in X-Men: Days of Future Past (2014) and Jurassic World (2015). Considering Monsieur Chocolat's subject of racism and representation, it's clear why the director chose this story for contemporary audiences and why he wisely cast Omar Sy. Although it is not a subtle film in handling its thematic content, it remains an affecting and important one.
Summary: Although it is not a subtle film in handling its thematic content, it remains an affecting and important one.