Games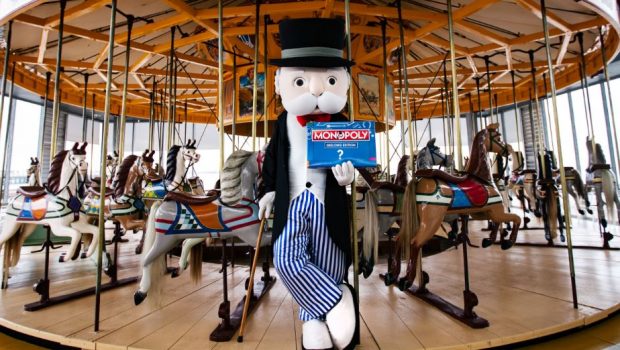 Published on April 18th, 2019 | by Admin
MONOPOLY SET TO MAKE LOCALS 'BAY-SIDE' THEMSELVES WITH GEELONG EDITION JOY
Geelong is the second largest Victorian city and a huge part of Australia's history, and now the region is being commemorated with its very own official Geelong MONOPOLY board.
From October, Geelong locals will be able to play the world's most popular board game in a way that pays tribute to their hometown.
From today until September, fans can voice which locations they would like to see featured on the board via the official Geelong MONOPOLY Facebook page or by email, with prizes up for grabs to fans who include the hashtag #GeelongMonopoly.
The edition will see locally themed squares replace Mayfair and Park Lane from the original London MONOPOLY board and include customised 'Community Chest' and 'Chance' playing cards, making the entire game a true Geelong experience.
Winning Moves, manufacturers of the official Geelong version of MONOPOLY under license from Hasbro, say the game will be on shelves from November.
Marc Dragicevic, representative from Winning Moves said: "We can't wait to bring the Geelong MONOPOLY board to the people. We want to do everything possible to make this custom board an accurate portrayal of what locals enjoy about the city, so we would love for everyone to get on board and send us their recommendations of what they would like to see included. The area is known for urban precincts, quality produce, surf and sand, and family friendly events and festivals, so make sure you have your say about what you want on the board. Whether it's the National Wool Museum, The Carousel, The Mill Markets or Cunningham Pier, everything has an opportunity to be featured on one of the coveted squares!
"This edition will be everything you love about the traditional board, adapted in a way that the people of Geelong will enjoy for decades to come. Plus, we want to make this board as community minded as possible, so between now and the release date there will be lots of opportunities for schools, groups, and individuals to get involved in the making of this game.  Being proudly born and bred in Geelong, I'm very excited to bring Monopoly to my hometown" Marc adds.
MONOPOLY first hit the shelves in 1935 – since then it has been played by more than 1 billion people. Today, it is played in 114 countries and enjoyed in over 47 different languages.
The new MONOPOLY: Geelong Edition will be available from November from leading toy retailers across the region.
MONOPOLY © 1935, 2018 Hasbro. All Rights Reserved.
Geelong locals can suggest their top properties from today until September. Suggestions can be made on the Geelong MONOPOLY Facebook page (www.facebook.com/GeelongMonopoly) or by emailing marc.dragicevic@winningmoves.com.au