Hardware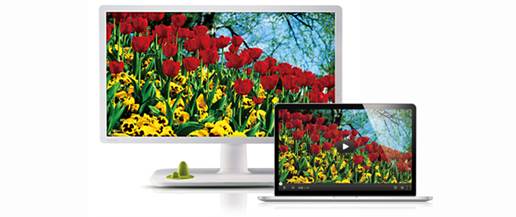 Published on July 30th, 2014 | by admin
Monitors never looked so good… new range from BenQ – available now
Pure White, or Black and Beautiful…
BenQ's new line up of monitors covers all bases
Sydney, Australia, July 2014:     Known as visual technology specialists, BenQ is a brand producing computer monitors and display screens with an impressive checklist of features, quality colour reproduction and outstanding visual aesthetics.  Their latest monitors to be released serve to strengthen this well-earned reputation – sleek, fluid and designed to feel at home in any contemporary décor, these monitors are no black boxes.   
VW2235
The V2235 in fact is not black at all, but pure white.  It embodies simple living and eco-friendly sophistication and offers a clean, crisp finish with no markings, branding or coating of any kind.  The V2235 responds to a call from corporate enterprise for more attractive looking computer hardware, to promote a sense of style and fashion in the contemporary office environment. It's stylish, minimalist appearance also fits well in the urban environment, where computers are more commonly being positioned in common areas of the home such as kitchens and family rooms. 
A 'VA' panel, the VW2235 is a perfect companion to the MacBook, faithfully preserving the colour quality of a Macbook display so that users can enjoy the view of their Macbook on a larger screen.  Offering true 8-bit colour performance, 3000:1 native contrast ratio for colour depth and Flicker-free technology ensuring eye comfort when viewing content on the monitor, the V2235 will retail for RRP $179.00.  
GL2760H
If a black monitor suits but aesthetics are important, the new BenQ GL2760H is 27 inches of style with a slim, sleek bezel and a dynamic contrast ratio of 12M:1.  Offering Flicker-free technology for eye comfort and an impressive response time of 2ms, this 16:9 LED monitor delivers audio-visual enjoyment second to none.

The GL2760H's ultra-high dynamic contrast ratio of 12M:1 adds colour depth and definition to darkened and complex motion pictures, producing the brightest whites to the darkest blacks in perfectly rendered detail.  Picture performance is smooth and clear whether you're watching a movie or playing video games.
The monitor's fast response time of 2ms equals speed without the smear.  Fast-moving action and dramatic transitions will be rendered smoothly, without ghosting.  Control your gaming destiny with the GL2760H which will retail for RRP $285.00.  This monitor is ideal for office or home use, and is particularly suited to anyone wanting a monitor catering well to a variety of entertainment pursuits. 
VZ2350HM
Modern and sleek in appearance, the VZ2350HM is an IPS panel encased within a slim bezel design, yet what it lacks in bulk it delivers in rich and exquisite visual performance.
Featuring a 20M:1 Dynamic Contrast Ratio to add depth and definition to darkened and complex visuals, the VZ2350HM perfectly renders the most incredible picture while Flicker-free technology provides the added peace of mind of eye comfort while viewing it.
The latest HDMI high-speed multimedia interface makes the VZ2350HM very convenient allowing the user to enjoy digital entertainment effortlessly even with additional multimedia equipment in the future.
The VZ2350HM will retail or RRP $199.00.   
These new monitors from BenQ are all now available. 
For stockist details or further information, visit the BenQ website at www.BenQ.com.au or call 1300 130 336. 
RRP:
VW2235:                                $179.00
VZ2350HM:                           $199.00
GL2760H:                               $285.00