Comics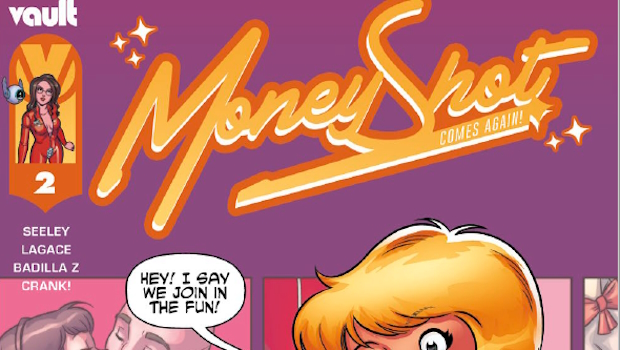 Published on June 26th, 2023 | by Chris O'Connor
Money Shot Comes Again #2 Comic Review
I don't remember where I first encountered the character of Cherry Poptart but she's been around since 1982… so it's possible I discovered her in my youth. In Money Shot Comes Again she's not really the star… but is an interesting "star" in a field of parodied famous characters.
The basic story is the XXX-plorers are traveling through space on a mining platform when they are attacked by a bunch of very familiar looking (but very much parody versions) characters. Doing what they do best, they "engage" their would be attackers and… well… "make love not war"? Meanwhile Cherry has been turned into a Billionaire's AI and she just might be smarter than she's given credit for.
Writing
It's a parody (they make that very clear)… so there's a lot of room here to just have fun. The characters attacking the crew are indeed familiar, but only up to a point… because, you know, lawsuits exist. But because those characters are parodies of big pop culture figures… it opens things up for some gags that do elicit a few giggles. Amongst all the intimate action there are some quite sweet elements that could seem out of place but are worked nicely into the story… that and villains we can all love to hate (egotistical billionaires who think they can do whatever they want).
Artwork
Yes there is sex here… there we go, that's out of the way. The visuals aren't super realistic though so it's not quite as "graphic" as it could be (though it is still quite full on in parts). The style is actually quite playful which suits the tone very well. The colours are generally bright and warm (with suitably cool tones thrown in for some of the space scenes), which all keeps the comic clearly in the "just having fun" realm and never really risks dipping into gratuitous porn (again… there is definitely sex here… it's just that it's kind of "cartoon" style).
Final Thoughts
Clearly this is going to only be for a niche audience. But if you don't mind a bit of adult fun and are ok with your comics mixing sex and humour… this might just be a title you want to check out.
Publisher: Vault Comics
Writer: Tim Seeley
Artist: Gisele Legace
Colourist: Carlos Baddila Z
Cover Artist: Gisele Legace, Carlos Baddila Z
Genre: Adult, Erotic, Comedy
Format: 28pgs, FC, Series
Release Date: 7th June 2023