Events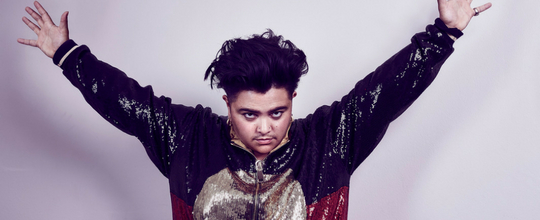 Published on May 25th, 2018 | by Admin
Mojo Juju : Native Tongue (8 -11 August) in Arts Centre Melbourne's Big World, Up Close series
Australian music trailblazer Mojo Juju pulls back the curtain on the raw, honest and intrinsically political stories behind the songs in her third album, Native Tongue, in a live performance at the Fairfax Studio from 8 – 11 August as part of Arts Centre Melbourne's Big World, Up Close series. Through the telling of her family history and her own personal experiences Mojo Juju, an Indigenous Australian Filipino singer-songwriter and guitarist, will explore her relationships with Elders and ancestry and how that informs her own identity. The intimate look at the stories behind the songs will also feature guest artists from the album.
Since cutting her teeth and making a name for herself on the Australian touring circuit in the late 2000s, Mojo Ruiz de Luzuriaga, aka Mojo Juju, has been many things to many people. She's been a troubadour, a soothsayer, a shapeshifter and a darn good songwriter. Now, after a decade honing the art of storytelling, she's made the boldest move imaginable, she has decided to finally just be the story.
Contemplating her mother's Indigenous heritage, her father's experience as a Filipino immigrant and her own place in the cultural landscape of modern Australia, Native Tongue is show about self-discovery, revealing the true stories that inspired the songs from her latest release.
"To know who you are, you must know where you've come from. We've all heard it before but this really started to resonate with me,'' says Mojo Juju.
"As I watched my grandparents grow older, watched them pass away, I felt a pressing urge to know their stories, to discover my own roots. I started to think about the importance of oral tradition, how many cultures use song and storytelling to pass down their histories, to share the knowledge, culture and identities of their foremothers and forefathers."
"Native Tongue is a journey of self-discovery, a reconnection to culture and a connection to family and community."
Stylistically Mojo Juju's music is a blend of live instrumentation and electronic production, a way of stitching together the traditional, contemporary and future culture. Part organic and part machine, it has a heavy focus on the human voice. The house band includes Mojo's brother, Steven Ruiz de Luzuriaga, Yeo and guest artists include Mirrah Fay-Parker, Joshua Taveres, Ileini Kabalan and the Pasefika Choir.
Native Tongue is part of Big World, Up Close  – a powerhouse performance series showcasing the most compelling new works from across the globe. Tapping into urgent energies from Africa to the Middle East and Australia's own shores, each piece in the series reveals profound and personal stories told by vital voices in music and theatre. Launched in 2017, Arts Centre Melbourne's contemporary winter performance series features works that are created by artists from diverse backgrounds that promote conversations around pressing cultural and political issues. In addition to Native Tongue, the Big World, Up Close program features TAHA, the award-winning lyrical story of the life of Palestinian poet Taha Muhammad Ali and The Fall by The Baxter Theatre Centre from Cape Town.
"…soulful, powerful and mesmerizing." Australian Stage
"…a pocket rocket with a huge voice. " The Age
Arts Centre Melbourne and the Australian Music Vault in association with Russall S. Beattie present
Mojo Juju: Native Tongue
Dates: 8 – 11 August 2018
Time: 8pm
Duration: 90 minutes (no interval)
Arts Centre Melbourne, Fairfax Studio
Book:  artscentremelbourne.com.au or 1300 182 183
Creative Director / Musical Director / Performer: Mojo Juju
Band: Steven Ruiz de Luzuriaga and Yeo
Guest performers: Joshua Tavares, Mirrah Fay-Parker, Ileini Kabalan and the Pasefika Choir
Director / Producer: Russall Beattie
Producer: Craig Ridgewell
Videographer: Cesar Rodrigues
Dramaturge: Rebecca Church