Events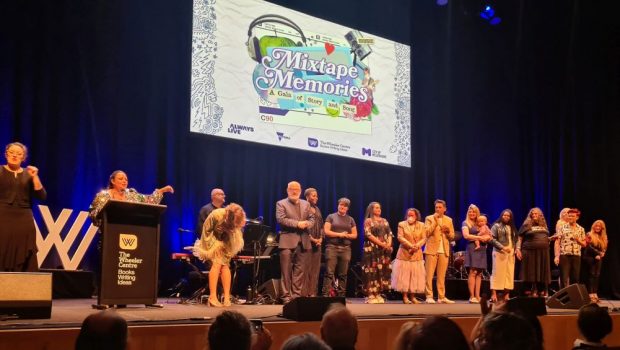 Published on December 8th, 2022 | by Tim Chuma
Mixtape Memories: A Gala of Story and Song Review
Summary: I was glad to finally make one of these and will be booking in the future as soon as tickets go on sale. Not sure if it will be this format or different next time.
Melbourne Recital Centre, Tuesday 6th December 2022
Featuring: Myf Warhurst, Claire G. Coleman, Carly Findlay, Mawunyo Gbogbo, Paul Grabowsky, Jess Hitchcock, June Jones, Sam Keevers, James McLean, Loretta Miller, Tamara Murphy, Rhys Nicholson, Amy Remeikis, Em Rusciano, Cash Savage, Ben Shewry, Fran Swinn, Thndo
I had always wanted to go to the Wheeler Centre end of year events but it is a busy time of year for me and they always seem to sell out before I could get a ticket even when I could get a ticket.
For this year it was a bit different than the usual "Show of the Year" format with Casey Bennetto with Myf Warhurst hosting and someone telling a story of a song that meant something to them and then a musician singing the song.
There were a few surprises in the show not the least Loretta Miller appearing on stage as I had not read the website and did not know that Georgia Mooney was no longer doing the show.
I would normally make sure I know at least one performer in a line-up before I book a ticket and that did have that and also a second one with the fill-in. Strangely enough with the previous line-up it still would have been two.
A lot of the people who did the speaking parts had books but Myf mainly talked them up at the end. Was a good variety of spoken word pieces on the song they were passionate about. No contest the funniest ones were Carly Findlay's on Savage Garden and Em Rusciano's on John Farnham.
Myf got to go first with her story about Sherbet on countdown which got a lot of laughs. Also her dress looked great and really contributed to the gala atmosphere.
In the "I never expected them to do that" was Cash Savage doing "Always look on the bright side of life" from Life of Brian in a version that surely you will not hear again.
I did like Amy Remeikis dressing up as Brittney for her spoken word and was half expecting her to do a karaoke version of the song but June Jones stepped up for that. Was good to finally see her as I missed her album launch.
Rhys Nicholson's piece was funny and sweet and Loretta Miller did well considering how short notice it was. She also got to do backing singing for a couple of the other artists.
I did not expect Ben Shewry from Attica to know so much about music, it was a funny story. The instrumental by the Mixtape Memories band was a good lead in to the first break.
The serious point of the night was Paul Grabowsky talking about Archie Roach and his relationship with him as a person and musician. Jess Hitchcock played a cover of Ruby Hunter's song with Archie Roach looking down from the screen.
I didn't really think there were any flat spots except some people behind me started muttering during some of the artists, zip your lip!
The big finish for the night was Em Rusciano's whirlwind story about seeing John Farnham on Hey Hey Its Saturday when she was 8 and getting to go see him with her dad at the Melbourne Sports and Entertainment Centre. She also got to sing the song and got everyone to get their phones out to use as a torch, only thing it finished a bit too quickly so she did the chorus again.
Was a great night with a variety of different people involved that normally would not do this sort of thing and a chance to see a lot of different musicians I had not seen and now will be considering to go see. Well worth getting a ticket if you see the Wheeler Centre's end of year showcase advertised again.