Books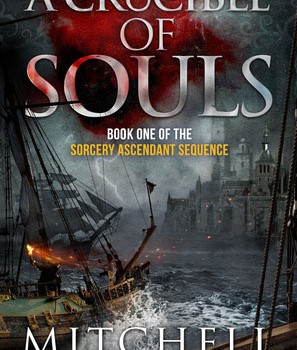 Published on August 3rd, 2015 | by admin
MITCHELL HOGAN signs six-figure global deal with HarperCollins for bestseller A CRUCIBLE OF SOULS
In 2009, Mitchell Hogan quit his job in banking to write and self-publish A Crucible of Souls. He sold over 30,000 copies and won the 2013 Aurealis Award for Best Fantasy Novel. He has since signed a six-figure global deal with HarperCollinsAU and HarperCollinsUS to have his series published in print.
When young Caldan's parents are brutally slain, the boy is raised by monks who initiate him into the arcane mysteries of sorcery. Caldan vows to discover who his parents were, and why they were violently killed.
The search will take him beyond the walls of the monastery, into the unfamiliar and dangerous chaos of city life. With nothing to his name but a pair of mysterious heirlooms and a handful of coins, he must prove his talent to become apprenticed to a guild of sorcerers.
A Crucible of Souls is the acclaimed first instalment in the epic Sorcery Ascendant Sequence. An epic tale in the vein of Patrick Rothfuss and Peter V Brett, A Crucible of Souls combines magic, malevolence, and mystery.
About the Author
When he was eleven, Mitchell Hogan was given The Hobbit and The Lord of the Rings to read, and a love of fantasy novels was born.
When he couldn't stand putting off his dream anymore, Mitchell quit his job and finished the first draft of A Crucible of Souls. It won the 2013 Aurealis Award for Best Fantasy Novel and was listed as one of the Best New Series by Audible for 2014. Mitchell lives in Sydney, Australia, with his wife, Angela, and daughter, Isabelle