Comics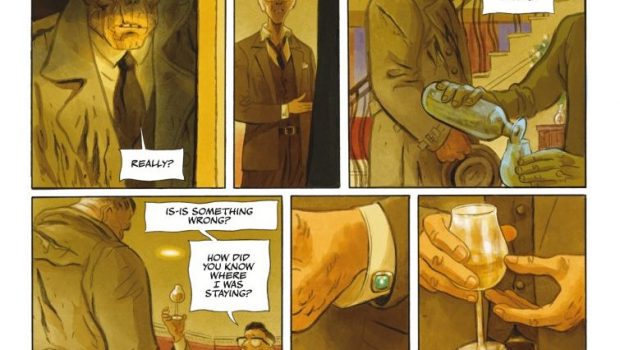 Published on May 1st, 2023 | by Tim Chuma
Mister Mammoth HC Review (2023) @darkhorse
Summary: Mister Mammoth seems like he has been around for a long time even though this is first story, the sign of a well-written character and excellently developed plot. Well worth your time.
Mr Mammoth is the world's greatest detective and a seven foot tall pacifist covered in scars as he refuses to fight no matter what. Despite his fame he does not have that good a lifestyle but a nice easy job has come in that has more clues that might solve the secret of his childhood. I don't really want to say much else in regards to the story as it is best you know as little as possible going in.
The character is set up as having a rich backstory and having been involved in solving a lot of cases and taken a lot of licks but it is taken as read and they don't really go into it as such. It is an all-new character that you are meant to take as read that they have a lot of history.
The artwork does match the hard-bitten nature of the story and is dark but not too dark that you do not see all the detail of the artwork. The characters do look unique even the side characters that only appear once in the story. It would be quite easy just to fall back onto the noir tropes and make everything monotone but this manages to have some colour in it in the brighter moments of the story.
Overall the story seems pretty robust and it seems to line up with the character motivation that you would get why he would go to so much trouble not to fight if he was created to do so. The greatest evil is not the one in the jackboots it is always someone who looks like a meek accountant and wants to "square things away" on the balance sheet.
I have seen this book being called existential, although I wouldn't call it that. It certainly is unique and well worth checking out if you like crime and mystery stories with a unique bent and not just a rehash or true crime or other tropes that have been run into the ground.
Book details:
Writer: Matt Kindt
Artist: Jean-Denis Pendanx
Cover Artist: Jean-Denis Pendanx
Genre: Fantasy, Crime, Action/Adventure
Publisher: Dark Horse
Publication Date: March 29, 2023
Format: FC, 128 pages; HC, 7″ x 10″