Hardware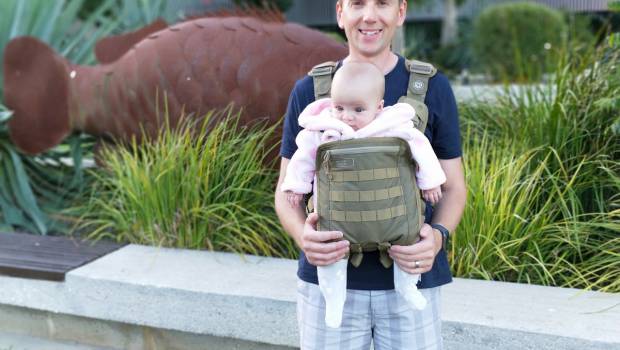 Published on March 21st, 2018 | by Admin
Mission Critical Baby Carrier Review
Summary: The Mission Critical Baby Carrier is the perfect carrier and provides everything you need for your real-world baby missions (aka... accessing the real world)
Being a father of twin girls who are almost 7-months old and from a male perspective as a new dad, the majority of baby stores definitely lean toward the mother… not that there is anything wrong with this. Sure there are products which are unisex but there is definitely a gap in the market.
This is where the Mission Critical Baby Carrier comes into play that has been designed for dads and more importantly, they come with some very useful additional accessories that include a diaper bag, backpack and daypack. So when you're away from home base, you can rest assured that your little ones will be well looked after during your outings…
Welcome to the Mission Critical Baby Carrier…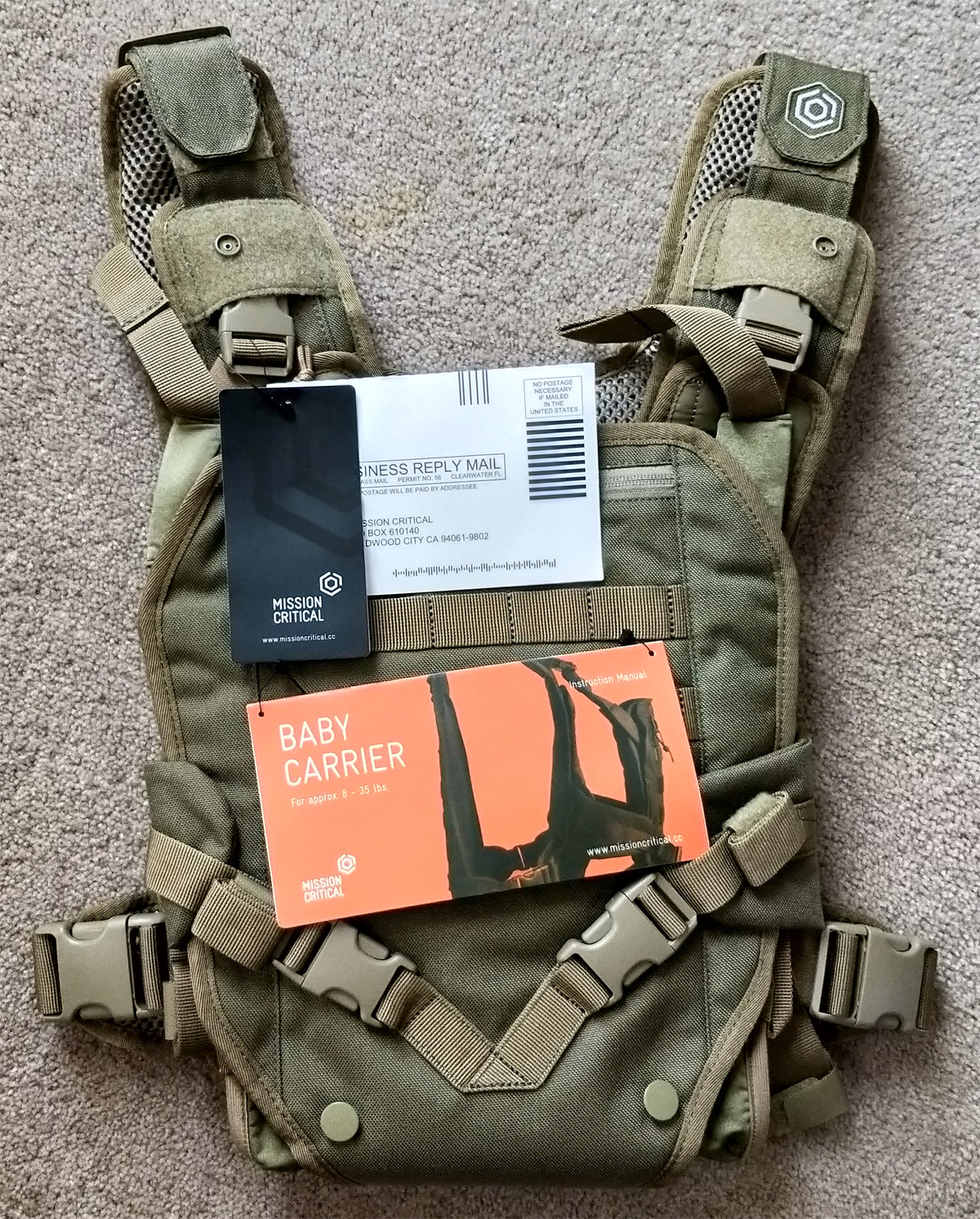 The first thing that we noticed about the Mission Critical Baby Carrier was its sturdy design which although channels that 'military' appearance, it's actually a very well built product that not only feels strong but is constructed of MIL-spec 1000D nylon to ensure an additional level of protection and security.
Add in high quality stitching, clips and other material used to build the Baby Carrier and this is a well-made product. To support your 'baby' missions, the carrier comes with removable and washable liners and even a hood to protect your baby should the weather change.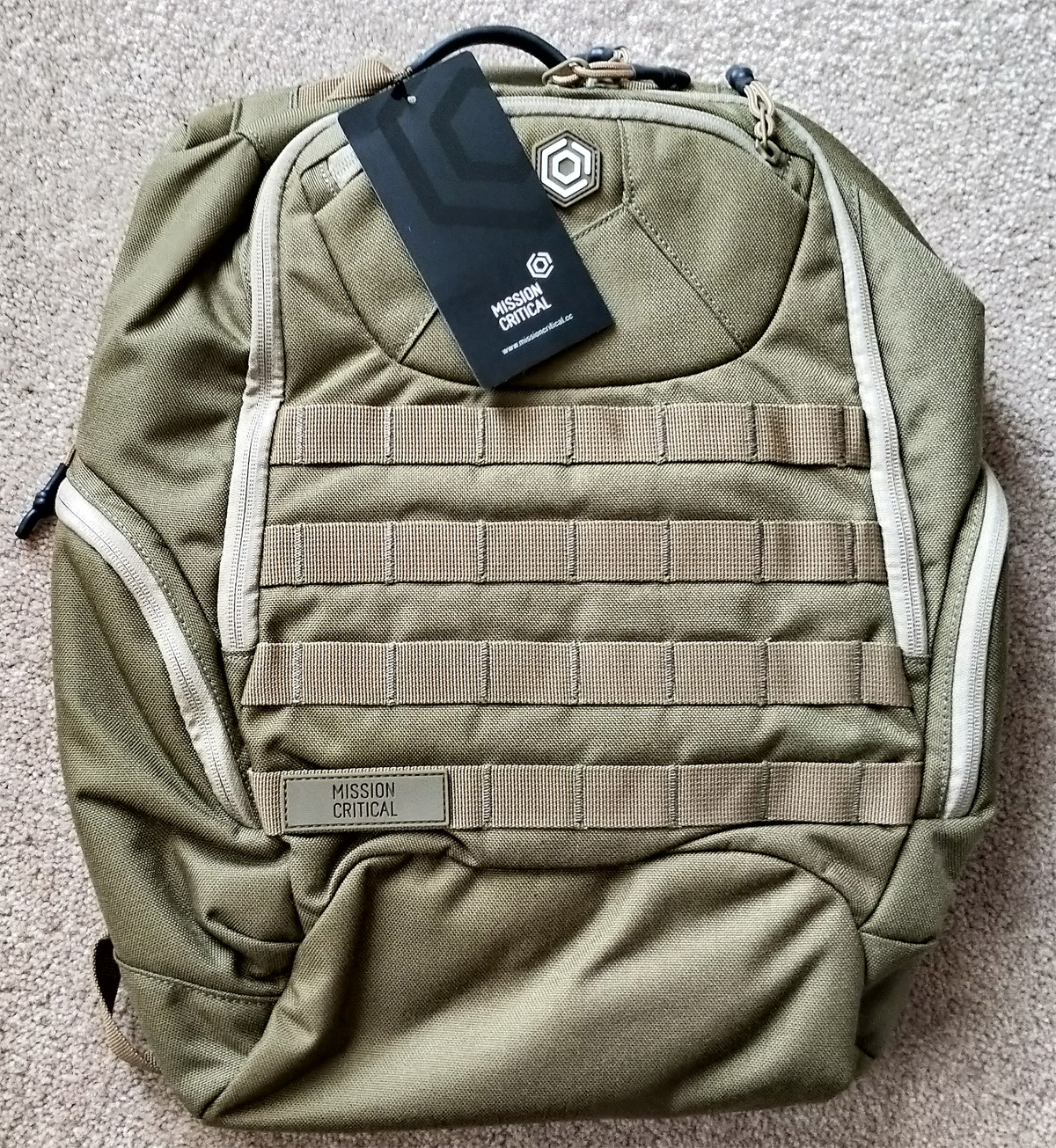 Then you have the modular elements of this useful item which increases the overall scope of the product such as easily attaching the Daypack to the back of the Mission Critical Baby Carrier that allows you to carry everything you may need (plus more) for your baby, babies or family. Like the carrier, the Daypack is another well-made item which is extremely lightweight. These items come in three different colours that include grey, black and coyote (reviewed) and are all machine washable.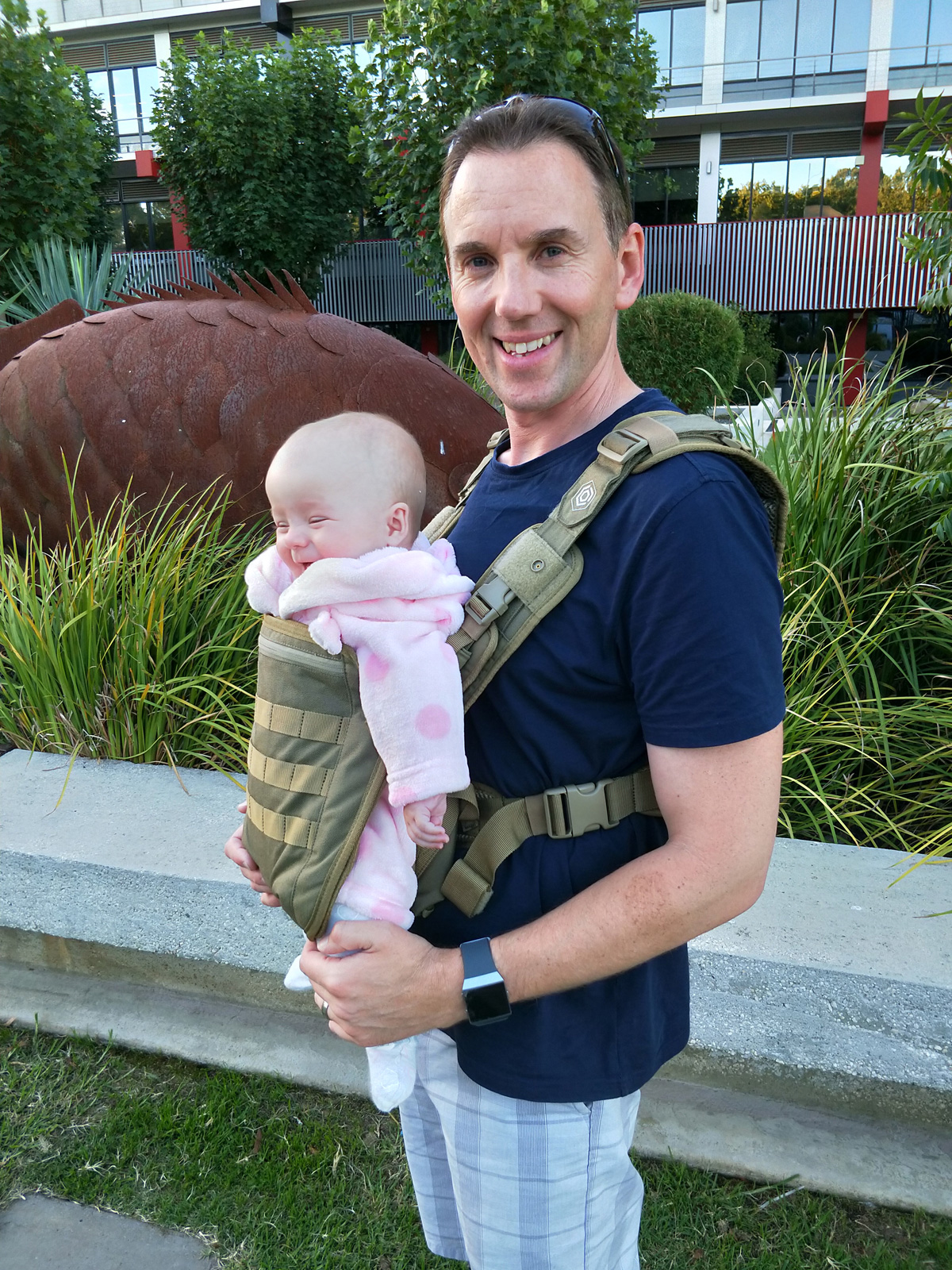 Another important aspect about the Mission Critical Baby Carrier is just how easy it is to wear and adjust the straps to ensure that your baby is well secured. As it feels like a vest, the weight of your baby is well positioned and to wear it, you simply put it over your head and then connect the two clips on the side which can be adjusted. It's simplicity at its best.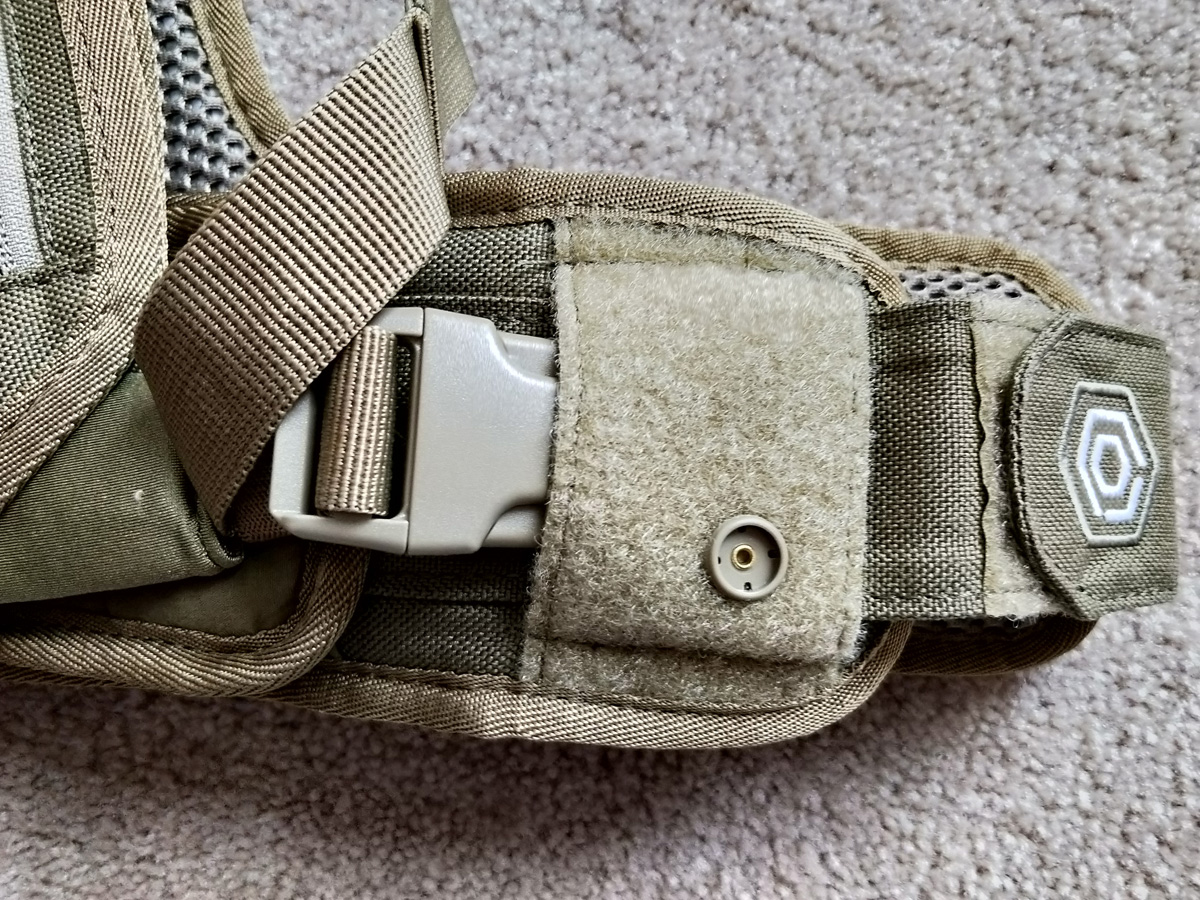 Furthermore, all straps and clips are quite accessible, so you don't need another person or a mirror to put this carrier on.
The front part of the Baby Carrier also folds down and you place your baby in this area, either forward or rear facing, fold it back up and then attach the two clips. It's very easy! Another highlight is how lightweight this product is at just 1034 grams or 36.5 ounces. So while your baby puts on weight and to help with the wearers comfort, the Daypack acts as a counter weight which is quite clever.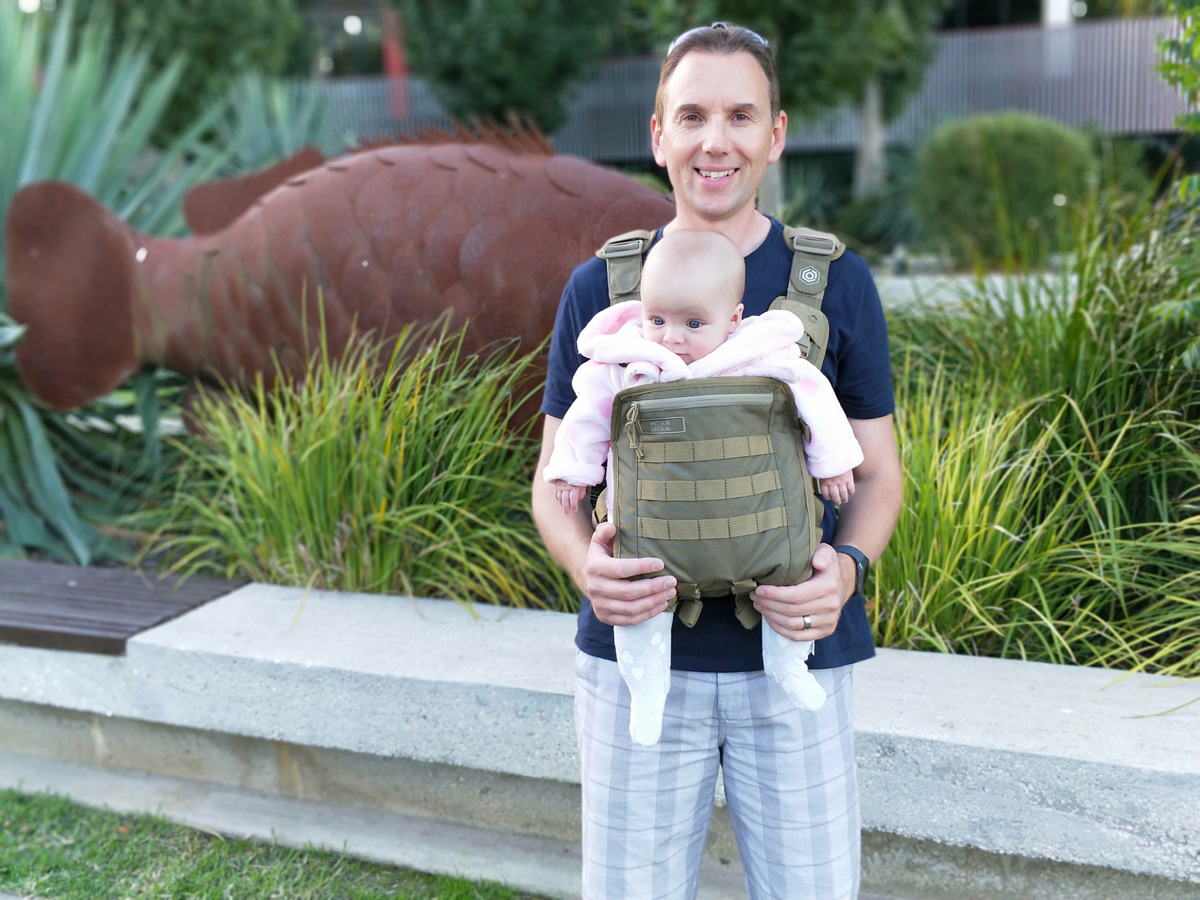 As this is an American product, it is JMPA certified and exceeds the regulations required for baby carriers in this country.
Having used other baby carries before and as our twins continue to grow, these products did add additional strain on my shoulders. However this was not the case with the Mission Critical Baby Carrier which was not only easier to setup but was extremely comfortable thanks to the padded straps.
Both our twins, Maisie and Madison also seemed quite comfortable in the Mission Critical Baby Carrier with no complaints from them and they really loved facing outwards. Furthermore, the front of the carrier has a very large pocket to add additional items.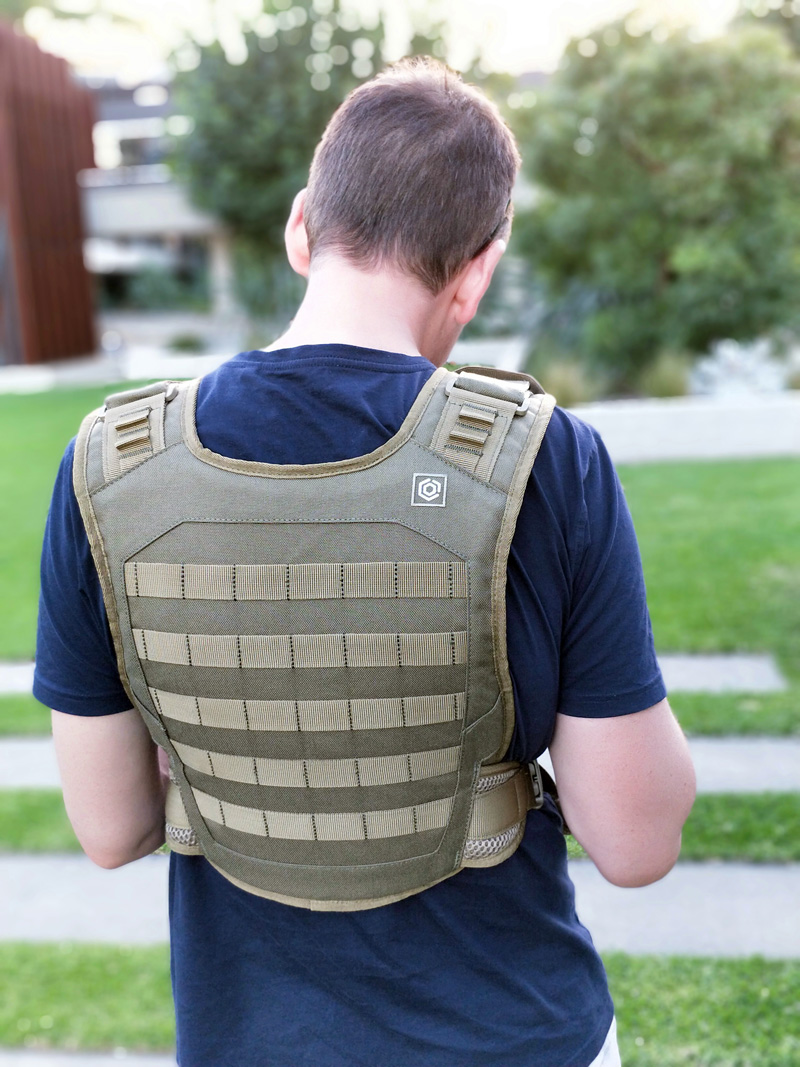 With that additional Daypack, this just clips onto the carrier thanks to the MOLLE system which stands for Modular Lightweight Load-Carrying Equipment. The Daypack can also be used as a standalone backpack with lots of space for accessories.
We tested the Daypack at the Melbourne Zoo and it allowed us to carry our snacks and of course baby food, nappies (aka diapers), wipes and nappy bags which worked well.  Given that, the Daypack weighs 822 gram or 29oz and has a volume of 20 litres. Add in easy access hanging pads plus stowable shoulder straps and you have everything you need in this well-made backpack.
Final Thoughts?
The only slight negative of the Missions Critical Baby Carrier which is almost a moot point is that the manual could be a bit more in depth but nonetheless, it still gets the desired job done. All in all, both the Mission Critical Baby Carrier and the Daypack are great products that not only look 'super' cool but is a must have for dads!
Recommended!
For more information, please visit www.MissionCritical.cc
Features
1000D nylon military grade fabric and construction
YKK zippers
MOLLE webbing for accessory attachments
Meets ASTM F2236-14 regulations for Baby Carriers
Sewn in and storable Sun Shield
Fits children approx 8 – 35 lbs
Weighs only 36.5oz
Lifetime Warranty