Events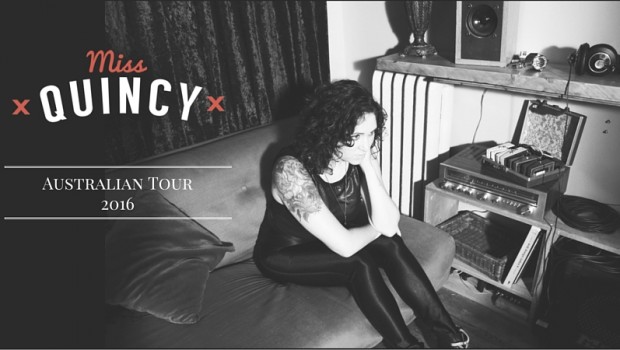 Published on February 8th, 2016 | by admin
Miss Quincy (CAN) – Australian Tour Announcement
MISS QUINCY ANNOUNCES SECOND AUSTRALIAN TOUR AND NEW SINGLE "REMIND ME OF MYSELF"
Canadian bluesy, boozy rock 'n' roll singer/guitar player Miss Quincy is returning for her second national Australian tour in Autumn 2016. Backed by her smokin' hot Aussie rhythm section, the band intends to pick up where they left off last year – playing 18 festivals on 3 different continents and setting audiences on fire with their infectious upbeat songs and down & dirty grooves. Miss Quincy will be returning with a brand new single and live video to be released MARCH 4th, 2016.  "Remind Me of Myself" brings Quincy's songwriting to a new level and showcases her powerhouse vocals that sit comfortably in the timeless space between vintage soul and cutting edge pop hooks. Quincy is releasing the single with a live in-studio video clip that lets the music do the talking. "Nothing translates this song, the feel and lyrics like the three of us playing it live."
The single is being released on the heels of Miss Quincy's recent full length album, Roadside Recovery, which received critical acclaim and charted on radio throughout Canada; also receiving airplay on Triple J, Triple R and ABC Radio in Australia. It's hard to pin Quincy down to one locale, and her penchant for movement is a recurring theme in her music. Constantly seeking out the most exciting cities in the world, you may see the band live in Vancouver, Toronto, Los Angeles or Melbourne – and everywhere in between.  Regardless of where they are in the world, this is a band to experience.
"The song "Remind Me of Myself" was written by everyone I meet. I just wrote the words down and started singing them at the top of my lungs. I'm always amazed to learn over and over that the human experience transcends borders and boundaries. This song is about living and feeling and getting by."
-Miss Quincy on "Remind Me of Myself".
Tour Dates
Saturday, 27th February
Arnhem Club, Nhulunbuy, NT
Tuesdays: 1,8,15,22 March
Retreat Hotel Residency, Melbourne, VIC
Sunday, 6th March
Murchison Tomato Festa – Melbourne Food & Wine Festival, Melbourne, VIC
Friday, 11th March
Motor City Music Festival, Geelong, VIC
Saturday, 12th March
Chill Out Festival, Hepburn Springs, VIC
Thursday, 17th March
Lazybones Lounge, Sydney, NSW
Friday, 18th March
The Junkyard – Grand Junction Hotel, Maitland, NSW
Saturday, 19th March
Kincumber Hotel, Kincumber, NSW
Wednesday, 23rd March
Queen Victoria Market, Melbourne, VIC
Friday, 1st April
Bridge Hotel, Castlemaine, VIC
Saturday, 2nd April
Wheatsheaf Hotel, Adelaide, SA
Sunday, 3rd April
Semephore Workers Club, Semaphore, SA
Thursday, 21st April
Shebeen, Melbourne, VIC
Friday, 22nd April
Sutton's House of Music, Ballarat, VIC
Saturday, 23rd April
BAHA, Rye, VIC