Films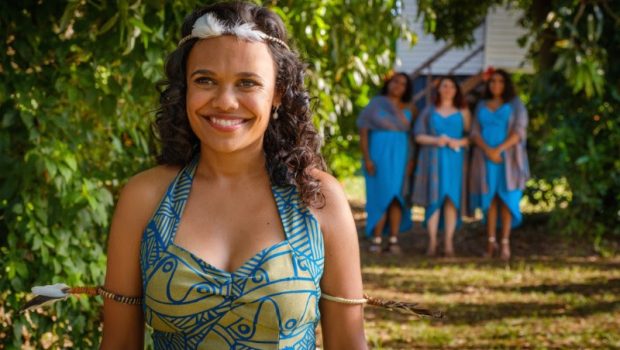 Published on December 3rd, 2018 | by Damien Straker
Miranda Tapsell and Director Wayne Blair's TOP END WEDDING to have its World Premiere at Sundance
Entertainment One (eOne) is proud to announce that TOP END WEDDING, a feature film directed by Wayne Blair (The Sapphires, Cleverman), and co-written by and starring Miranda Tapsell (The Sapphires, Love Child), will have its World Premiere at the 2019 Sundance Film Festival.
The Sundance Film Festival is one of the most revered film festivals in the world. TOP END WEDDING has not only been invited to screen at the festival, but has also been selected to screen in its PREMIERES section – which showcases world premieres of some of the most highly anticipated feature films of the coming year.
The talented and creative partnership of Miranda Tapsell, director Wayne Blair, and producers Rosemary Blight and Kylie du Fresne, has enjoyed previous festival success. Their 2012 feature The Sapphires, was selected to screen at the 2012 Cannes Film Festival, and went on to become one of Australia's biggest box office sensations.
Of TOP END WEDDING being selected to premiere at Sundance, Wayne Blair said, "To have TOP END WEDDING receive this recognition from Sundance is special and humbling. We are thrilled to be unveiling our film at Park City, and excited not only by the possibilities this experience may bring, but also to be able to showcase TOP END WEDDING to an international audience and share with them a story we are all proud of."
TOP END WEDDING tells the story of successful Sydney lawyer Lauren, played by Miranda Tapsell and her fiancée Ned, played by British actor Gwilym Lee (Bohemian Rhapsody, Jamestown). It also features a stellar ensemble cast including; Shari Sebbens (Thor: Ragnarok, The Sapphires, Redfern Now), Kerry Fox (Bright Star, Cloud Street) and Ursula Yovich (The Code, Around The Block, Australia).
Engaged and in love, Lauren and Ned have just ten days to find Lauren's mother who has gone AWOL somewhere in the Northern Territory, reunite her parents, and pull off their dream Top End wedding. As the couple travel through Australia's Top End including; Darwin, Katherine, Kakadu and the Tiwi Islands, they find fulfilment for their own personal journeys through both the wild beauty of the Northern Territory landscapes, and the unbeatable charm of the characters they meet along the way.
TOP END WEDDING was co-written by Joshua Tyler (Plonk), and produced by Goalpost Pictures' Rosemary Blight and Kylie du Fresne, and Kojo Entertainment's Kate Croser – with Executive Producers, Glen Condie and Ben Grant.
TOP END WEDDING is a Goalpost Pictures Australia production in association with Tapsell, Tyler & Condie and Kojo Entertainment. Principal production investment from Screen Australia. Financed with support from South Australian Film Corporation with Adelaide Film Festival. Supported by Tourism NT.
Entertainment One will release the film in Australian and New Zealand cinemas in 2019, with international sales by Berlin-based Films Boutique.
The 2019 Sundance Film Festival runs from January 24 to February 3.