Hardware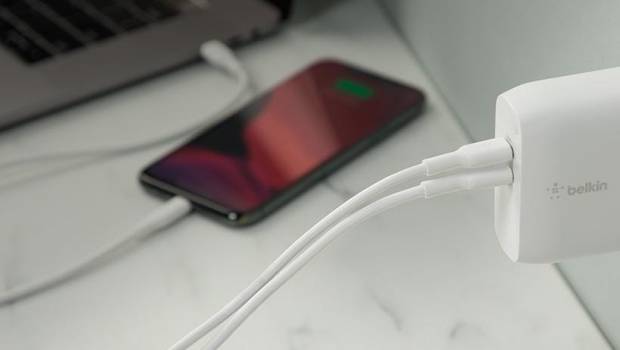 Published on September 21st, 2020 | by Adrian Gunning
Mini but Mighty – Belkin Takes Charge With New GaN Technology
Belkin, the connected things division within the Belkin International and Foxconn Interconnect Technology (FIT) (HK: 6088) entity, today announced the local availability of several new products delivering efficient and effective power delivery utilising gallium nitride (GaN) technology. First announced at CES 2020, Belkin's GaN technology allows for efficient fast charging in smaller, more compact designs than traditional chargers, and launches in Australia with 30W and 68W wall chargers. Both are compatible with the new iPad Air announced last week.
The new lineup of GaN wall chargers are designed to efficiently charge a wide range of devices, including smartphones and laptops, with the fast charging offering consumers are now used to, but with significantly reduced size when compared with other chargers on the market.
One of the first major brands to incorporate GaN technology into its products, this alternative manufacturing process delivers powerful charging at high wattage through an even smaller form factor than usual.  It is a high-performance alternative to the traditional silicon used in charging devices. GaN transistors produce less heat, allowing components to be closer together, which means the charger produced is much smaller despite its power.
In particular the highly integrated GaN chipsets  with high power density and magnetic components found in the new Belkin solutions convert power much faster than silicon, leading to smaller, lighter and faster charger designs.
The Belkin GaN range also features built-in overcurrent and overvoltage protection, to keep both the charger and connected devices safe, while providing peace of mind.
"The introduction of these new fast-charging options with GaN technology epitomises our commitment to deliver people inspired products, and informs everything that we do, from design and quality to our user testing and prototyping process, strict adherence to regulatory compliance, manufacturing, and warranty programs," says Jamie Laing-Reece, Head of Product Management for Belkin ANZ.
"We are keeping people powered throughout their day and making their lives easier with our innovation, and GaN technology is one of many ways we continue to bring this to life, especially as one of the first to offer this to Australian consumers."
BOOST CHARGE USB-C GaN Wall Charger 30W
The BOOST CHARGE USB-C GaN Wall Charger 30W offers fast charging for devices in an exceptionally compact and convenient size. USB-C PD enabled devices will enjoy fast charging, for example, a MacBook Air will charge from 0-50% in just 70 minutes*, or fast charge an iPhone 8 or later from 0-50% in 30 minutes**.
AUD RRP: $64.95
NZD RRP: $74.95 
*USB-C PD technology charges MacBook Air from 0-50% in 70 minutes when paired with a USB-C to USB-C Cable
**USB-C PD technology charges iPhone 8 or later from 0-50% in 30 minutes when paired with a USB-C cable with Lightning connector. 
BOOST CHARGE Dual USB-C GaN Wall Charger 68W 
The BOOST CHARGE Dual USB-C GaN Wall Charger 68W offers two USB-C ports which feature Intelligent Power Sharing, enabling the charger to identify when either port is in use and either direct complete power to one or split between both for the most efficient charge to the devices plugged in. Charge a USB-C device with a single port and get up to 60W of power, or charge a laptop or tablet up to 50W with one port and as smartphone up to 18W with the other.This device offers the same fast charging rates for USB-C PD-enabled devices as the 30W variant.
AUD RRP: $89.95
NZD RRP: $99.95