Games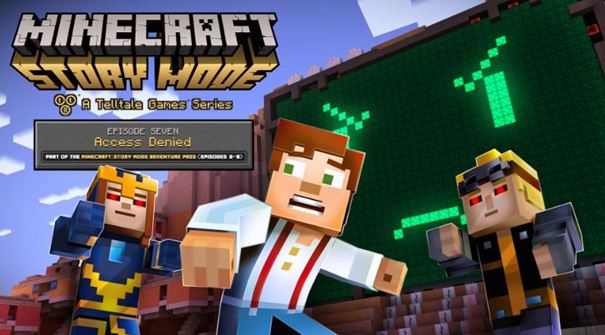 Published on July 27th, 2016 | by admin
Minecraft: Story Mode – A Telltale Games Series Episode 7 – 'Access Denied'
SAN RAFAEL, Calif., and STOCKHOLM, Sweden, Jun. 7th, 2016 — Leading and award-winning developer and publisher of digital entertainment Telltale Games, and world-renowned game developer Mojang, today released the seventh episode in Minecraft: Story Mode – A Telltale Games Series.
The second of three episodes in the 'Adventure Pass' add-on series, Episode 7: 'Access Denied' is available digitally worldwide starting today on PC and Mac from the Telltale Online Store, Steam, and other digital distribution services, on the PlayStation®Network for PlayStation 4 and PlayStation 3, on the Xbox Games Store for Xbox One® and Xbox 360®, for compatible iOS devices via the App Store, and for compatible Android-based devices via Google Play and the Amazon Appstore. The episode will also be coming to the Windows Store.
This episode may be purchased digitally as part of the Adventure Pass for $14.99 USD or equivalent, which includes access to Episodes 6, 7, and 8 as they release. The episode will also be available individually for $4.99 USD or equivalent. Players need to own at least Episode 1 in the series, or the season pass disc, in order to purchase Episodes 6, 7, and 8.
In Episode 7: 'Access Denied', continuing their portal journey in search of home, Jesse and crew land in a world entirely controlled by PAMA – a sinister "thinking machine" determined to command everyone and everything in pursuit of optimal usefulness and efficiency. Forced on the run to avoid capture and assimilation, you'll need to work with a new ally to defeat the corrupted computer and free the population it has enslaved.
The all-star cast gets another new addition for this episode, with Yvette Nicole Brown (Community) as Harper, PAMA's creator in hiding.
Minecraft: Story Mode – A Telltale Games Series – Episode 7: 'Access Denied' is rated 'E10+' (Everyone 10+) for Violent References and Mild Language by the ESRB. Future content in the season is yet to be rated by the ESRB. The series is published by Telltale Games in partnership with Mojang.