Games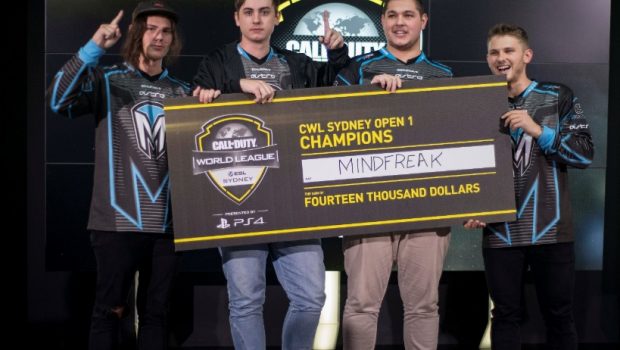 Published on March 7th, 2017 | by Admin
MINDFREAK WINS CALL OF DUTY WORLD LEAGUE PRESENTED BY PLAYSTATION 4, SYDNEY OPEN 1
SYDNEY, Australia – 7 March, 2017 –The road to the 2017 Championship of the Call of Duty World League Presented by PlayStation®4 (CWL) has taken another big step with Mindfreak winning the CWL Sydney Open 1. The three-day tournament hosted at the ESL Studios in Sydney saw some of the most intense competition yet as more than 30 teams competed.  While Team Mindfreak took home top honors, teams Tainted Minds and Validate Black rounded out the top three placements.
The first day of competition saw Tainted Minds take the lead spot, and they hoped to maintain that early lead throughout the weekend. Ultimately it came down to Tainted Minds and Mindfreak who battled it out in a thrilling final match. In addition to the lion's share of the cash prize purse and all-important CWL Pro Points, with the win, team Mindfreak move one step closer to qualification in the CWL Global Pro League, beginning on April 20.
"After MLG Atlanta we knew we were able to hang with the best and the pro point situation was our only hurdle which we had to overcome, now we have done that, we feel like we can do anything."
– Mitchell "Buzzo" Mader, captain of Mindfreak.
Here are the final rankings for the CWL Sydney Open 1:
1st – Mindfreak
2nd – Tainted Minds
3rd – Validate Black
For teams down under that don't make the cut following the CWL Sydney Open 1, they'll still have one final chance at CWL Sydney Open 2 (May 12-14), where they can attempt to earn enough CWL Pro Points for a chance to qualify for the second stage of the CWL Global Pro League, as well as the CWL Championship in August. In order to be eligible for the first stage of the CWL Global Pro League, teams must register for the CWL Dallas Open happening March 17 – 19. Teams can register for passes here: https://store.majorleaguegaming.com/collections/cwl-dallas-team-pass
Call of Duty World League Presented by PlayStation®4 is proud to partner with Major League Gaming Corp. (MLG) as North American tournament operator and broadcast partner for the upcoming season.  Through MLG's proven live streaming capabilities and technology, MLG.tv will help to deliver the CWL events across a number of platforms including in-game via Call of Duty: Infinite Warfare, on the PlayStation®4 console through the in-game video player and mlg.tv/callofduty.

For the latest intel on the Call of Duty World League Presented by PlayStation®4 and for live broadcasts check out: http://www.callofduty.com/cwl, Mlg.tv/callofduty, www.youtube.com/majorleaguegaming, or follow @CODWorldLeague and @Call of Duty_ANZ on Twitter, Instagram and Facebook.