Apps & Tech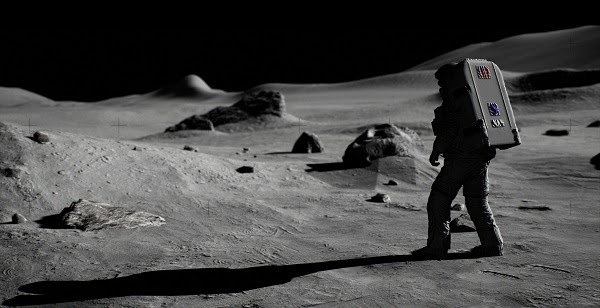 Published on December 28th, 2018 | by Damien Straker
Mind-Blowing Multi-Player Lunar VR Experience Opens at Scienceworks
Scienceworks has opened an astronomical new virtual reality experience that will boggle the minds of both young and old. Visitors can fully immerse themselves in a lunar environment, before falling in love with the stunning Museum of the Moon installation. 
Following recent work for NASA building astronaut training programs, Melbourne-based VR company Opaque Space have created a truly unforgettable VR experience. Halfway between gaming and space exploration, six players collaborate in real time to journey through a lunar craft, and take a moonwalk. Earthlight: Lunar Hub was recently recognised at the Australian Game Developer Awards as "a game beyond entertainment".
Available to the public for the first time, the 40-minute experience, featuring 20 minutes in-game, uses headsets and backpack PCs, allowing players to move freely around the 7x10m play space. Earthlight: Lunar Hub takes standard virtual reality to the next level.
Jonathan Shearer, General Manager of Scienceworks said the experience follows a highly successful run at Scienceworks of Earthlight: Spacewalk; the award-winning first iteration of the Earthlight series. Shearer said, "Earthlight: Lunar Hub is one small step for visitors, but one giant leap in the virtual reality arena. The graphics are so highly realistic, I felt like I really was walking on the moon. Visitors are going to be awe-struck by this experience," Shearer said.
Opaque Space's Mitchell Manganaro said of this collaboration, "We want to bring space to everyone, so we're thrilled to be able to do that again at Scienceworks this summer, with the first public deployment ofLunar Hub. People have found this complete immersion in the moon environment an emotionally moving experience, and it's wonderful to see the inspiring effect it has."
After the spine-tingling experience of walking on the moon, visitors can immerse themselves in a more contemplative experience involving this alluring celestial body. Museum of the Moon, by UK artist Luke Jerram, has toured the world, collecting stories and audio as it travels. It is already proving a huge attraction to Scienceworks. The 7-metre, internally lit sculpture of the moon majestically dominates its minimal environment. At an approximate scale of 1:500,000, Jerram has painstakingly re-created the shape and surface of the moon utilising NASA-produced high-resolution imagery of the moon's surface.
There is something for everybody at Scienceworks this summer. Bring the little kids to explore Ground Up: Building Big Ideas Together. Or the bigger kids and teens to be immersed in the wonders of unseen science with Beyond Perception: Seeing the Unseen.  Adults and children alike will be wowed by Museum of the Moon or Earthlight: Lunar Hub.
Earthlight: Lunar Hub + Museum of the Moon
Open now – until 28 April
Scienceworks: 2 Booker St, Spotswood VIC
Earthlight: Lunar Hub: Adults $22 + Scienceworks entry | Members $20 + Scienceworks entry
Museum of the Moon: Free with Scienceworks entry
**Earthlight: Lunar Hub** strictly for 13+ only**