Comics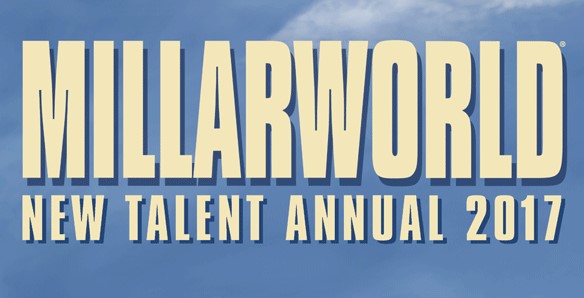 Published on September 21st, 2017 | by Dana Folkard
MILLARWORLD: NEW TALENT ANNUAL 2017 REVIEW
Summary: The Millarworld Annual is back!
After an international hunt for the world's top new comic talent, The Millarworld Annual is back! Features six short-stories from Kick-Ass, Empress, Nemesis, Superior, Supercrooks and Huck, the annual aims to help launch the comic-book careers of thirteen new rising talents. These tales will both amuse and entertain you, leaving you craving more from this new crop of creators.
In this annual we get to delve into six different stories, all focusing on one of Mark Millar's hit characters. The first story, Kick-Ass: Trick or Cheat, follows Dave Lizewski, a.k.a. Kick-Ass, as he goes on the hunt for an imposter who has been impersonating him whilst committing crimes. It's Halloween, so Dave steps out as a dandy pirate (minus the parrot), as he tries to track down this phony Kick-Ass, however, things don't go quite to plan. The second story, Empress: Rulebook, explores Emporia's life before escaping the tyrannical King Morax. Emporia and her ever-faithful bodyguard, Captain Havelock, pore over a book, outlining the rules on how to be a successful Queen. With mounting pressure to fulfill the expectations of her position, the monotonous routine and suffocating restrictions it all begins to take its toll on Emporia, causing her to do unexpected and dramatic things.Third on the list is Nemesis: We are Nemesis, a story that delves into a brief but horrific tale, focusing on the daughter of Nemesis. A heartbreaking incident leaves her devastated and traumatised, with her life changed for the worse. We then segue onto the next story, Superior: Symptoms, where we see Simon Pooni and his parents lamenting over his recent diagnosed with MS. We see Simon struggling with the symptoms of his disease, juxtaposed alongside panels of him in his Superior form. The fifth story, Supercrooks: The Anniversary, tells the story of how Johnny Bolt gives his girl the ultimate anniversary gift, involving a heist-like setup executed only by the very best in the business. The final story, Huck: Home Sweet Huck, tells the heart-warming story of one of Huck's good deeds, where he rebuilds the home for a family in need. Friendships are formed and bonds made, as Huck gives them the ultimate gift.
Each of these stories has been penned by one of the talent competitions winners. Emma Sayle, Simon James, Martin Renard, Steve Lawrence Stephanie Cook and William Mclaren spin these tales, all of whom create a short, yet compelling narrative. I'm familiar with each of these characters, so the first thing I was looking for was whether these writers were able to capture the true tone and vibe of what makes the original comics special. Thankfully, each story felt genuine, easily fitting into each of these worlds, feeling like an interesting side-story. Each writer explores a fresh and original idea, that is both clever, engaging and sometimes funny. I enjoyed reading all of them, and it actually makes me want to read more from these guys, to see what other tales they can spin.
The art for all six of these stories greatly differ from one another, bringing a whole new and fresh dynamic to each of these characters. Alex Aguilar, Luana Vecchio, Marcelo Salaza, Edgy Ziane, Jake Elphick and Robert Carey are the talented new artists that lend their skills at reimagining these characters that we've all come to know and love. It was great to see each of these artists interpret these short-stories in their own unique styles, bringing a different viewpoint and new aesthetic. Whilst, I love the originals and I always will, I found that the new art brings a new sense of energy to these worlds. The colouring in each story varies, but serves the purpose of establishing the overall tone and mood. From beautiful and vibrant watercolours, to gritty and intense tones, each colour palette heightens the shifting ambience that flows from one story to the next.
Overall, I believe this is another successful Millarworld Annual, and I enjoyed delving into each of these six-engaging short-stories. Each story in their own right holds true to the original feel and vibe of the characters they are emulating, with each delivering an interesting take on each of these Mark Millar creations. I always love seeing new names added to the list of comic creators grow each year, and I'll be sure to keep an eye out for any new work coming from these guys in the future. Congrats to all the winners and good luck on your newfound careers!
I should also mention that the profits made from this book will go to the Hero Initiative Charity, an organisation that helps creators in need. So, on that note, do your good deed for the day and grab a copy ASAP!
I'm giving this annual 4.5 out of 5 stars!
---
COMIC DETAILS
CREATIVE TEAM: Emma Sayle, Martin Renard, Simon James, Stephanie Cooke, Steve Lawrence, William Mclaren, Alex Aguilar, Edgy Ziane, Jake Elphick, Luana Vecchio, Marcelo Salaza and Robert Carey
PUBLISHER: Dark Horse Comics
PUBLICATION DATE: September 20, 2017
REVIEWER: Dana Folkard