Events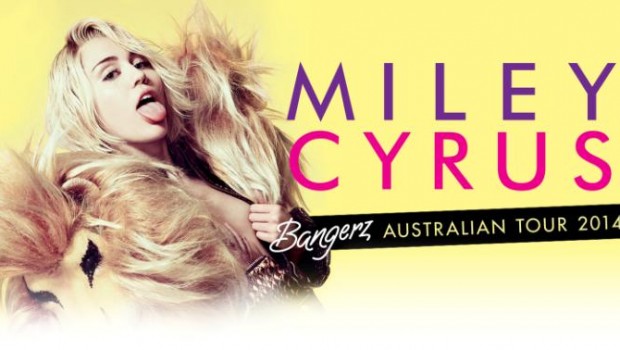 Published on October 27th, 2014 | by Admin
MILEY CYRUS' ACCLAIMED BANGERZ EXTRAVAGANZA ENDS WITH A BANG AND 14,000 ADORING FANS AT PERTH ARENA!
Global superstar Miley Cyrus ended her Bangerz Tour in Perth on Friday night to a packed house of more than 14,000 fans.  The Bangerz Tour was an enormous success which saw the most talked about artist on the planet play sold out arena shows across Australia in Melbourne, Brisbane, Sydney, Adelaide and Perth. 
Promoter Paul Dainty said "Miley is one of the greatest entertainers in the world, her recent Australian shows were over the top with incredible production and staging, she has shown us all what a phenomenal talent she is with her Bangerz extravaganza." 
The critics were raving: 
"…a brilliantly bonkers and wildly creative pop concert – easily one of the year's most interesting." Herald Sun
"Her ballads, including the sublime Wrecking Ball and Adore You, showcase a voice that puts her fellow pop starlets to shame…." The Age 
"Miley Cyrus is one if the best entertainers in the biz right now, and her show in Sydney was irrefutable proof." Famous 
"With her tongue firmly poked out of her mouth, Miley Cyrus brought her crazy kaleidoscopic pop extravanganza to Sydney" Daily Telegraph 
"As a pop show, it doesn't really get better than this." Sydney Morning Herald 
"Lady Gaga could take some lessons on how to mount a surrealist, unpretentious pop extravaganza that is both fun and shocking, as well as being able to belt every song with no hint of a backing track."  The West Australian 
"Forget Kiss. Forget Timberlake. Forget Kanye West and his fake mountains and his weird fake Jesus. Miley's stage show has to be the most ambitious arena tour around, mixing meme culture and high-budget spectacle into a performance that has the trashy delight of a John Waters film, the attention span of a Tim & Eric sketch, and a scale that would make Spinal Tap weep." FasterLouder 
And that's a wrap.