Games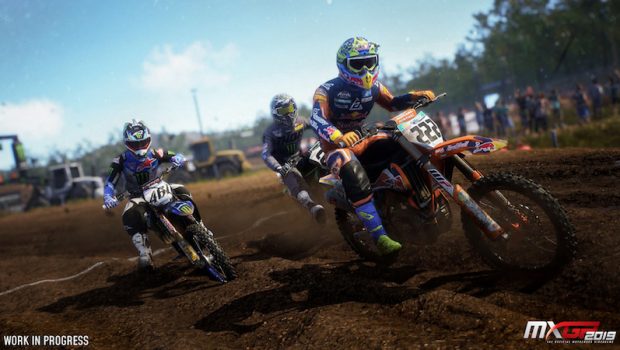 Published on August 28th, 2019 | by Admin
MILESTONE LAUNCHES MXGP 2019
Milestone is proud to announce the launch MXGP 2019, new release of the beloved series of the official FIM Motocross World Championship, now available from on PlayStation®4, Xbox One and Windows PC®/STEAM.
For the first time in the series, MXGP 2019 will allow players to step into a professional rider's boots in the current MXGP season, to race in the Championship with all riders, bike and teams of the 2019 seasons. All 3D models of bikes and riders have been accurately recreated in any single detail thanks to the latest scanning technologies that ensure an unrivaled realism.
The current season it's not the only new feature in MXGP 2019; for the first-time in the franchise history, players will have a Track Editor to create their favourite track fully customised with specific Motocross modules. But that's not all! They can also select different environments where to set the track, all with different features like woods, desert, riviera and other available after launch. Tracks created by players, can be shared with the community to compete with them!
Milestone introduces in MXGP 2019 a brand-new game mode, The Waypoint. Set inside the new Playground, where players can roam freely, it will allow players to design their own off-road path, putting checkpoints on the ground, to race them across to set the best lap. Then, players can share their creation to challenge the Community.
Together with the new Waypoint game mode, the new Playground has been packed with a lot of activities that enable players to earn special rewards:
Gotta Go Faster: Go fast around the checkpoints before the time runs out
Catch'em All: Gather the collectibles before the time runs out
Ace In The Hole: Go through a narrow path and gather points
Magnum Opus: Face the ultimate challenge combining the above ones.
As per every MXGP game, there will be endless riders' customisation possibilities, with many licensed accessories players can unlock. Bike can be customised both in aesthetic and mechanic, to race with your own style and to find always the right riding feeling.
MXGP 2019 is available on PlayStation®4, Xbox One at $99.95 and Windows PC®/STEAM at $69.95.  For more information: mxgpvideogame.com