Games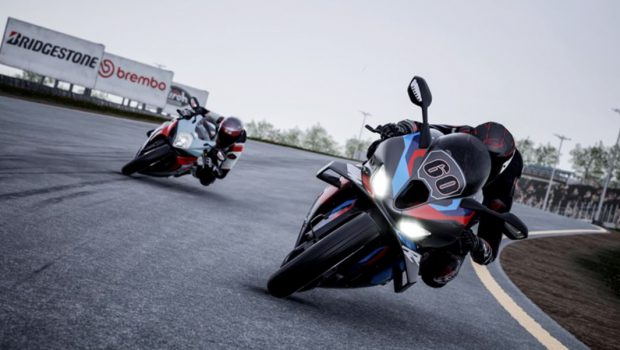 Published on August 25th, 2023 | by Adrian Gunning
MILESTONE ANNOUNCES THE RELEASE OF RIDE 5  GEAR UP FOR THE JOURNEY OF A LIFETIME
Milestone is pleased to announce the release of RIDE 5, the latest installment of the two-wheel racing game that will take virtual bikers to ride their dream motorbikes on circuits and tracks all around the world. As of today, it is available on PlayStation®5, Xbox Series X|S, Steam, and Epic.
Watch the launch trailer here: https://youtu.be/znsnp5UJU4Y 
Live your own riding journey in the new career mode
With RIDE 5, players will experience the most comprehensive journey in the history of the franchise. They will enjoy a renewed career mode, which for the first time in the series will include a narrator to introduce the over 200 playable events – ranging from championships to single races or time attacks – as well as the 10 Rivals that will add a competitive dimension to the game mode. Events in the career mode will unfold through two paths, offering a straightforward main progression and a secondary series of events for high-risk, high-reward races. As concerns Rivals, these formidable opponents are the best riders in the game. They will have unique personalities, backgrounds, and aesthetics, and their paths will crucially intersect with the player's progress. Overcoming Rivals will be essential to get to the top of the Leaderboards, a new ranking system that will track players' performance in their ascent to becoming the best rider in the world. Players' efforts in the career mode will also reflect in the evolution of their headquarter, which will become bigger to host more and more mechanics and engineers in line with their global ladder position.
Rooted in bike culture, RIDE 5 also features Endurance races that now support in-race save and rewind features, offering players more control and flexibility. A crucial feature for events ranging from 20 minutes to 24 hours.
Technological advancement to feel the adrenaline of real-life motorcycling
With a range of technological advancements, RIDE 5 takes full advantage of the power of new-gen consoles and high-end PCs, providing the most immersive and authentic riding simulation to date. One notable feature is the brand-new Sky System, which accurately simulates the day-night cycle.
The system includes 3D volumetric clouds that populate the horizons, dynamically shifting shape and interacting with light based on their density, resulting in breathtaking views. Furthermore, the new Dynamic Weather System calculates real-time track and air temperatures, simulating realistic weather changes and adding an element of unpredictability to races.
In addition to providing the highest visual accuracy, RIDE 5 has also undergone significant upgrades in motorbike physics. The game now includes physical and graphical tire degradation, a new simulated interaction between the rider and the bike, and a revised suspension system. These enhancements showcase Milestone's dedication to achieving the highest level of realism in the series. Just like in real life, finding the right bike set-up will be crucial for fully immersing oneself in the ride and connecting with the bike. To cater to individual riding styles, RIDE 5 offers players a variety of settings to adjust according to their preferences.
Emotions know no barriers, and RIDE 5 aims to provide everyone with the opportunity to live their two-wheeled dream. To achieve this, an enhanced set of Riding Aids will assist less experienced players with braking, cornering, steering, throttling, ideal trajectory, and various other parameters. These aids are designed to help master even the most challenging tracks and ensure that players can enjoy the game to its fullest.
An enhanced multiplayer experience
RIDE 5 will also introduce enhanced multiplayer game modes and features. Online, riders can participate in cross-play lobbies on consoles (PlayStation 5 vs. Xbox Series X | S) and on PC (Steam vs. Epic Games Store), fueling their ambition to climb the global leaderboards. In response to community feedback, the game also reintroduces the split-screen mode, enabling side-by-side challenges right from the comfort of the couch.
Express your bike passion
Designed with longevity in mind, RIDE 5 also features the Race Creator, a highly customisable game mode that offers virtual bikers endless entertainment. With this feature, players have the ability to design their own races and championships, controlling every single aspect of the competition, such as the scoring and rule systems, as well as the categories of bikes allowed. Interestingly, customisation extends to AI-controlled riders, enabling players to personalise their bikes, suits, and even hand-pick the opponents they wish to face.
Moreover, RIDE 5 unleashes player creativity through powerful editors for customising bikes, suits, and helmets. The creations can be shared online across different platforms, enabling the community to appreciate and draw inspiration from the best designs.