Comics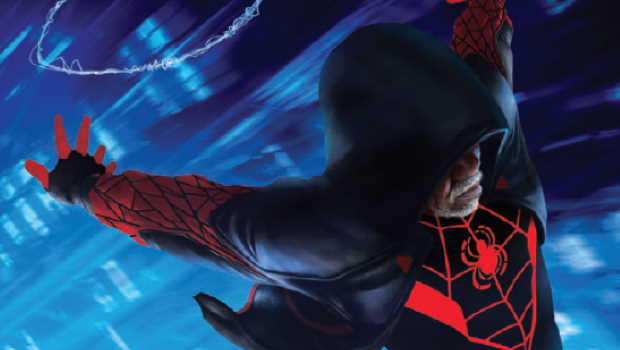 Published on January 16th, 2020 | by Chris O'Connor
Miles Morales The End Comic Review
Summary: Miles Morales leads Brooklyn into the future surrounded by threats, but manages to keep a sense of peace in the "only place strong enough to survive".
In a dystopian future (is there really any other sort in comics?), there is one last bastion of hope and happiness, Brooklyn. Miles Morales is Mayor and he does a fine job of not just protecting the people within it's shielded walls, but he helps to give them hope and a sense of "normalcy". But the threats without are growing and Miles can only hold off the enemies for so long.
Writing
There's no question that this issue is a commentary on the current political climate… so if you are not interested in that, or prone to complaining about "bleeding heart liberals" then this issue is likely not for you (or perhaps it could be for you, but you don't want to hear the message). The whole story does somewhat come across like a Saturday morning cartoon infused with social commentary of the more contemporary type, it's not hidden in overly veiled notions… it's pretty much just plonked into an over the top get up and thrust before you… but perhaps we need to be reminded of these things, maybe it's good to have the whole point of this comic put before us so we don't become jaded and complacent. There's a message that could be read in this story that is along the lines of "please continue to live your lives, enjoy them when and where possible, find time to play… but also, when the time comes, stand up to oppressors, stand up for those who can't stand up for themselves".
Artwork
Much like the story had a tone of Saturday morning cartoons, so to does the artwork. That's either a good thing or a bad thing depending on your aesthetic tastes. For me it reminded me of a lot of the toys you can get now for the younger comic fans, imaginext toys come to mind. Dark scenes of the outside areas are contrast with the bright vistas of Brooklyn. All the characters are drawn in a larger than life manner which perhaps works as a good counterpoint from the fairly serious underlying political commentary. That cover though… beautiful!
Final Thoughts
This won't be to everyone's taste, as mentioned, if you are over the whole political debates and related issues then perhaps this isn't for you. If you like the age old story of fighting for what is right, standing up against the oppressive forces that want to destroy everything, then you just might enjoy this comic.
Comic Details
Publisher: Marvel
Writer: Saladin Ahmed
Artist: Damion Scott
Cover Artist: R Rahzzah
Genre: Superhero
Format: 32pgs, FC, Oneshot
Release Date: 8th January, 2020