Comics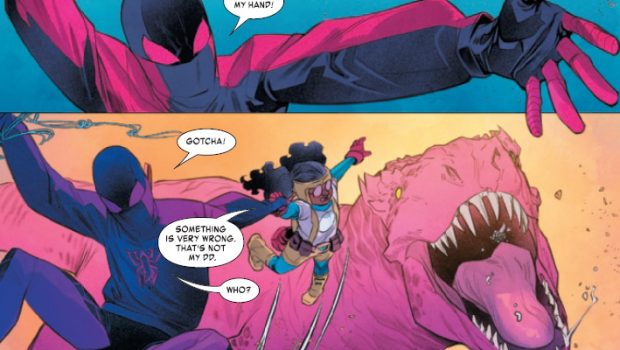 Published on June 27th, 2022 | by Tim Chuma
Miles Morales & Moon Girl #1 (2022) Review
Summary: A great introduction to Moon Girl if you hadn't read any stories with her before. Well worth a look.
When Moon Girl's sidekick Devil Dinosaur is kidnapped, she ends up teaming up with Mile Morales top get to the bottom of it. At the same time she manages to get access to an exclusive school and manages to bump into Miles Morales in civvies and realises who it actually is.
This was a fun story and well worth your time if you like either of these characters. It does seem to be skewed towards younger readers but there is no reason you shouldn't have a look unless you are older if you want to find out more about these characters.
Having Taskmaster and Ant Man as the villains in this was fun, but they did not seem to be the person running the show.
The artwork was nice and bright and it was a nice change to not have as much death and destruction that seems to be the theme of a lot of the Avengers comics of late where the world seems to be ending in every universe.
Well worth your time and I look forward to seeing more stories with Moon Girl teaming up with other characters.
Comic details:
Writer: Mohale Mashigo
Penciler: Ig Guara
Cover Artist: Alitha E. Martinez
Publisher: Marvel
Published: June 22, 2022