Events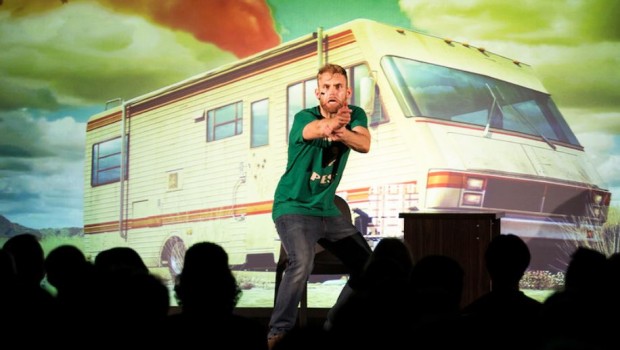 Published on April 9th, 2015 | by Simon Black
Miles Allen – One Man Breaking Bad Review
Miles Allen – One Man Breaking Bad
Event: Melbourne International Comedy Festival
Venue: The Kelvin Club
Reviewer: Simon Black
Walt lives!  In the form of US comedian Miles Allen, that is.
In one of the more ambitious offerings of the 2015 Melbourne International Comedy Festival, the confirmed 'Breaking Badict' sets out to encapsulate in one 60-minute show the entire six season run of the hugely popular AMC series which, as everyone should well know by now, revolved around a terminally ill science teacher who raises money for his cancer treatments by cooking and selling crystal meth.
Though much of the dialogue and set pieces are lifted near-verbatim from the show, a refreshing dose of poetic license is taken, as in one notable sequence in which Skyler effortlessly segueways from a sexual encounter with Walt to a rendition of Sia's hit song 'Chandelier,' replete with a passable version of everyone's favourite dance move The Worm.
In fact, some of the biggest laughs of the night were reserved for Allen's non-Breaking Bad repertoire – even Peter Griffin made an appearance – suggesting a fair number of BB virgins amongst the audience and evincing the fact that Allen's show, whilst certainly tailored for the diehards, has plenty to offer those with only a passing acquaintance.
As his YouTube videos suggest Allen's impersonations are generally strong and several, including Walter Jr and Jessie Pinkman, are dead on.  The show has received rave reviews from the UK to Los Angeles, and features a confident, up-tempo comedian at the height of his game.  Definitely recommended.
Playing until April 19 at the Kelvin Club ballroom, Melbourne Lane.