Comics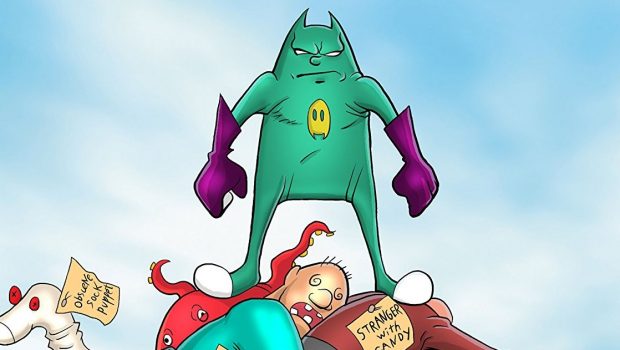 Published on October 15th, 2018 | by Dana Folkard
MIGHTY MITE #1 REVIEW
Summary: Mighty Mite #1 both entertains and amuses, as it breathes new life into an old and little-known character.
Mighty Mite, the Golden Age boy hero from the 1940's has been reimagined in a quirky and satirical new series from AAM-Markosia. Written and illustrated by D.C Johnson, Mighty Mite #1 packs a punch as it both entertains and amuses, breathing new life into this old and little-known character.
The issue begins in Capital City where we see the small, green and stubby Mighty Mite recounting the capture of a baddie to a cop, whilst exaggerating a little and embellishing some of the details in the process. Meanwhile, down the street a raucous is head, alerting the mite to an unfolding drama involving a young girl with exceptionally huge arms called Terrible Tina, and an old lady who won't go down without a fight. Naturally the blundering mite intervenes, creating more mayhem and disorder in the process, as Tina doubles in size and appears to emit steam from her expanding arms and legs. Luckily, ol' granny is on standby with her walking stick to whack some sense into the two of them and put an end to the fracas…yay granny!
With his pride a little hurt, the mite then decides to head to the local superhero juice bar, naturally, and enjoy some quiet time to wallow in his embarrassment. His alone time is interrupted by the unexpected arrival of his old nemesis, Dr. Dread, and after some choice words and sage advice, the mite decides that he needs a secret identity, thus beginning his next venture. The following day, he steps out into the world, wishing to enter the workforce and embrace his new secret identity. It isn't long, however, before trouble literally comes smashing through the wall, looking for the mite to sucker punch!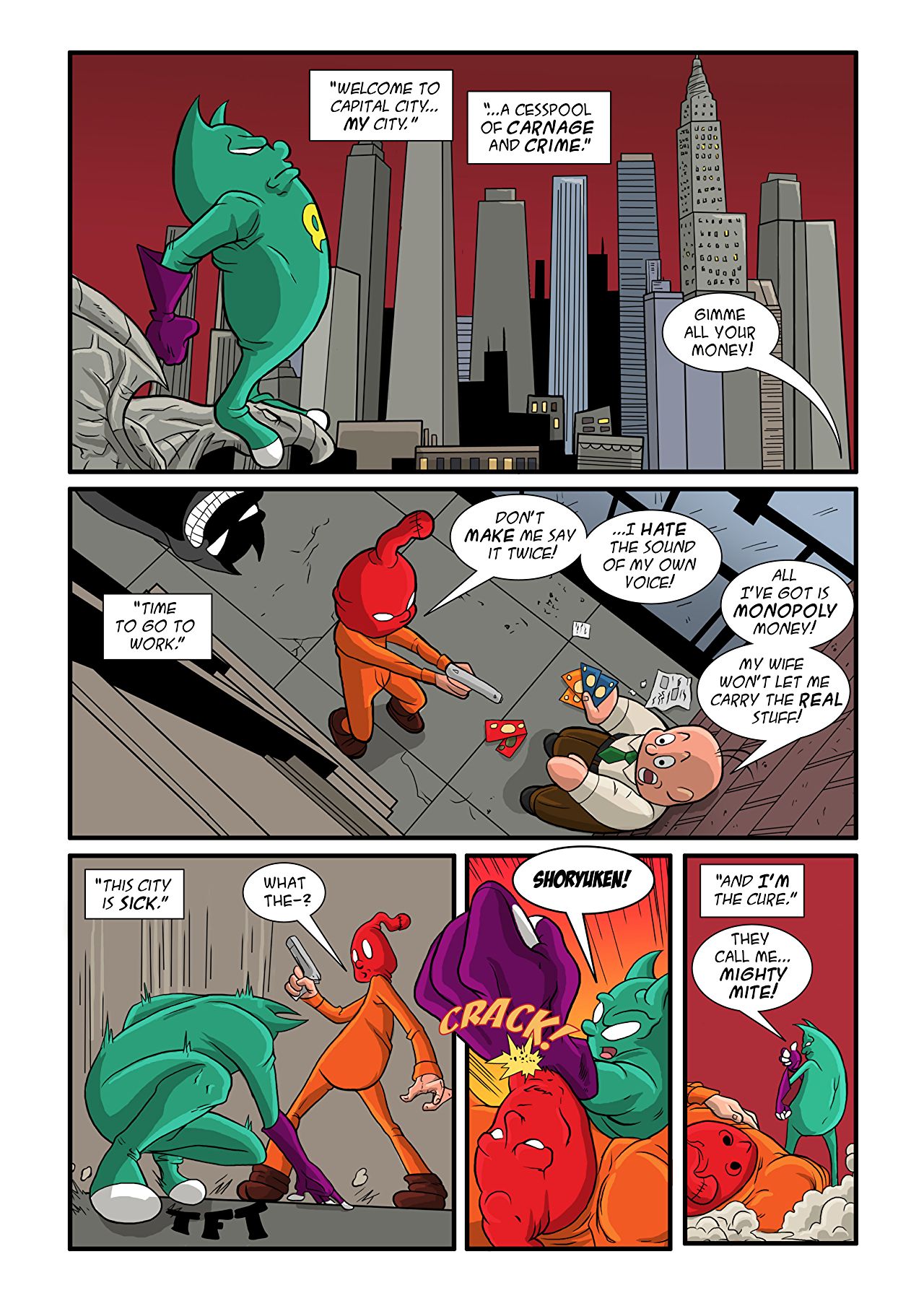 OK, I'm going to admit that I know nothing about the original Golden Age character called The Mighty Mite. In fact, I had never heard of the character before and had to do a little research so I knew who this guy was and what he was about. Now armed with this knowledge, I have to say that I respect D.C. Johnson's bold reimagining of this character, shaping him into something completely fresh and different, whilst making it a jolly hoot at the same time. This is a light-hearted, entertaining and funny read, never taking itself too seriously or trying to be something it's not. It is what it is, a satirical rehashing of a Golden Age character, that pokes fun at the superhero genre in an endearing and clever way. I particularly enjoyed the sharp banter between characters, and how this shapes the overall comical tone of the story.
I found the Mighty Mite himself to not be entirely likeable, however, I believe that's Johnson's intention. He is a blundering "hero" who appears to make more mistakes and cause more problems rather than solving them. In fact, I'd go so far as to say that he's a terrible crime-fighter and actually has no idea what the hell he's doing. Totally cringe worthy, awkward and anything but elegant, this is a leading character that has a magnetic pull to danger, kinda like a moth to a flame.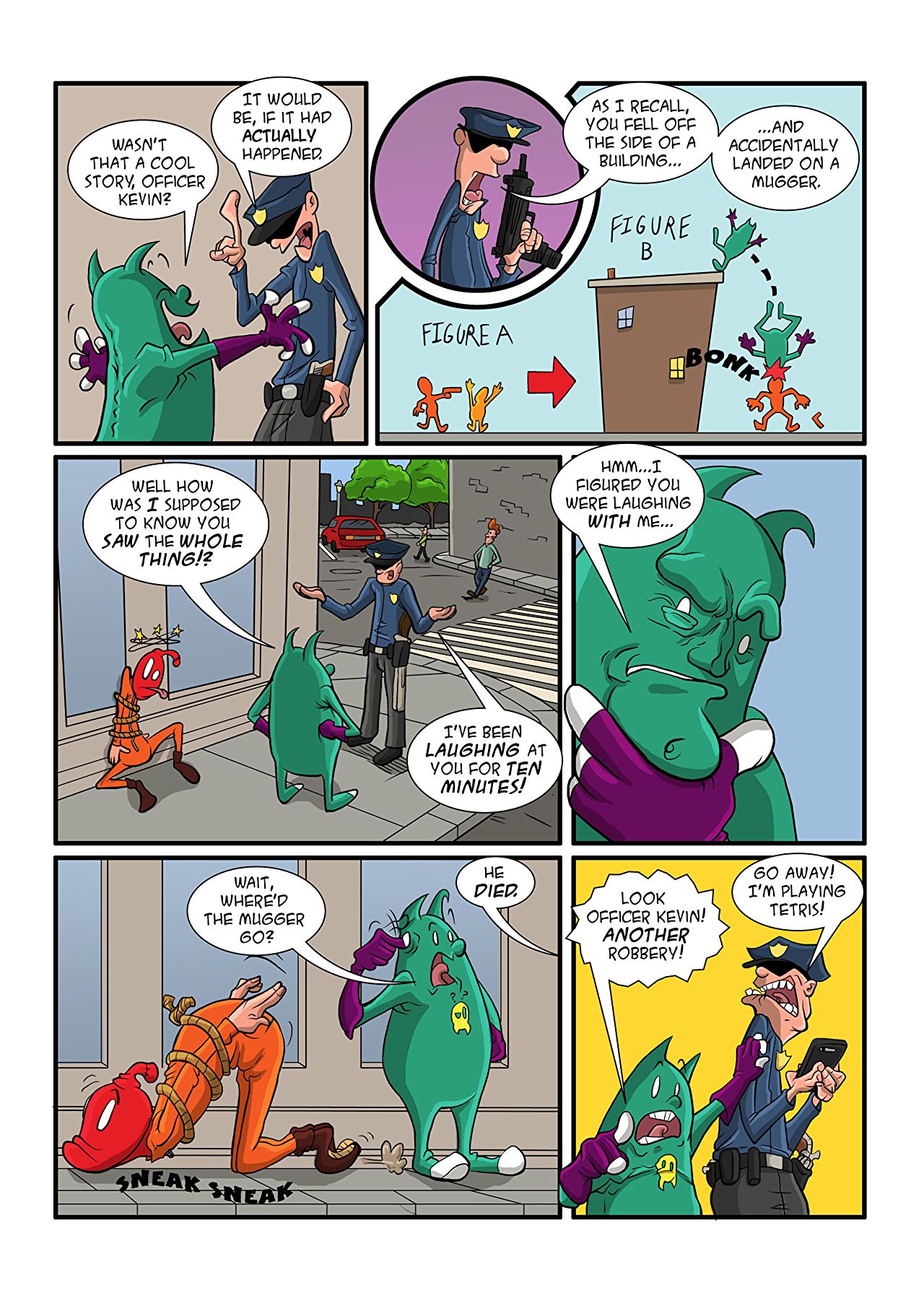 The art is also drawn by Johnson and has a lovely animated and cartoony quality to it that perfectly reflects the light-hearted nature of the story. The overall appearance is simple and a bit basic but I believe that this style works really well with a story such as this. The characters are drawn in a fun and energetic way, looking more like caricatures of superheroes and villains with their wildly exaggerated features and clothing. The colouring is bright, bold and eye-catching, and is in no way dull, with the palette jumping out in a vibrant and pleasant way.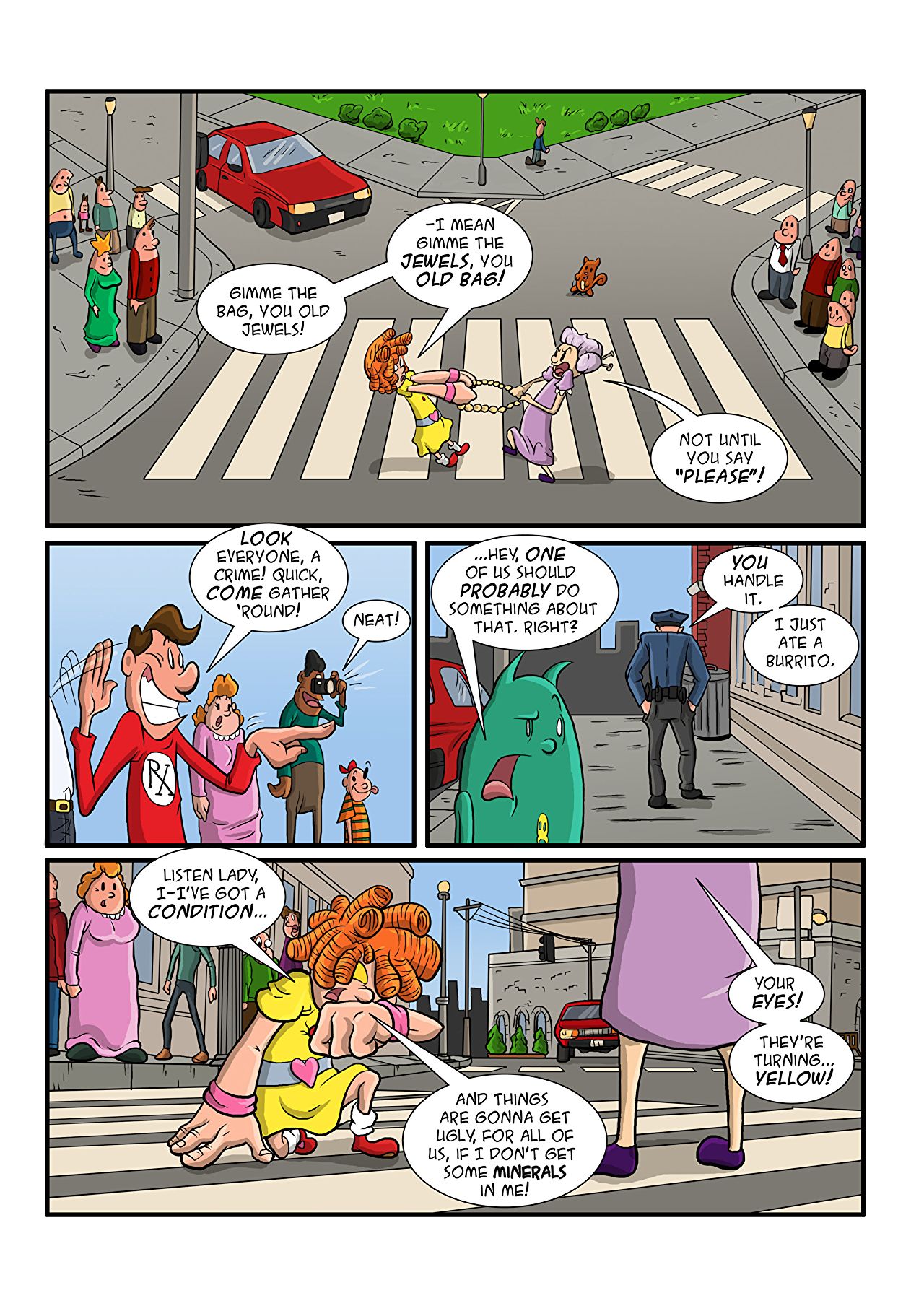 Overall, I thought that this was an enjoyable and amusing jaunt. I liked the funny nature of this comic and enjoyed the interesting and new way that Johnson reimagined the Mighty Mite. Give it a go, it's a lot of fun.
I'm giving this comic 3.8 out of 5 stars!
---
COMIC DETAILS
CREATIVE TEAM: D.C.Johnson
PUBLISHER: AAM-Markosia.
GENRE: Superhero/Satire
PUBLICATION DATE: October 01, 2018
REVIEWER: Dana Folkard