Comics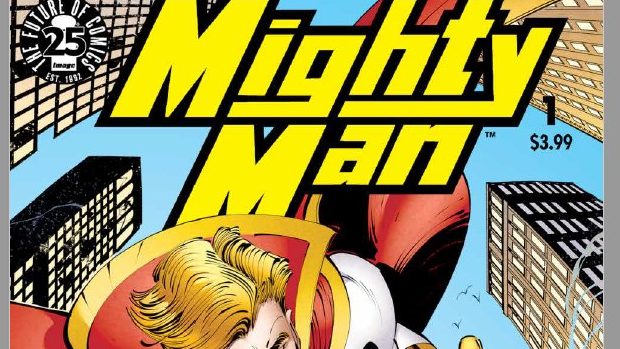 Published on April 23rd, 2017 | by Chris O'Connor
Mighty Man #1 (One Shot) Comic Review
Summary: What happens when a child inherits the ability to become the world's greatest superhero? You train them... that's what!
Mighty Man, the world's greatest superhero has been passed on from one person to the next for some time… but this time the ability to become Mighty Man has been inherited by a 7 year old girl called Betty Bradford. So what do you do when the hands of the Mightiest Man on earth belong to a 7 year old? You train her to use those powers that's what.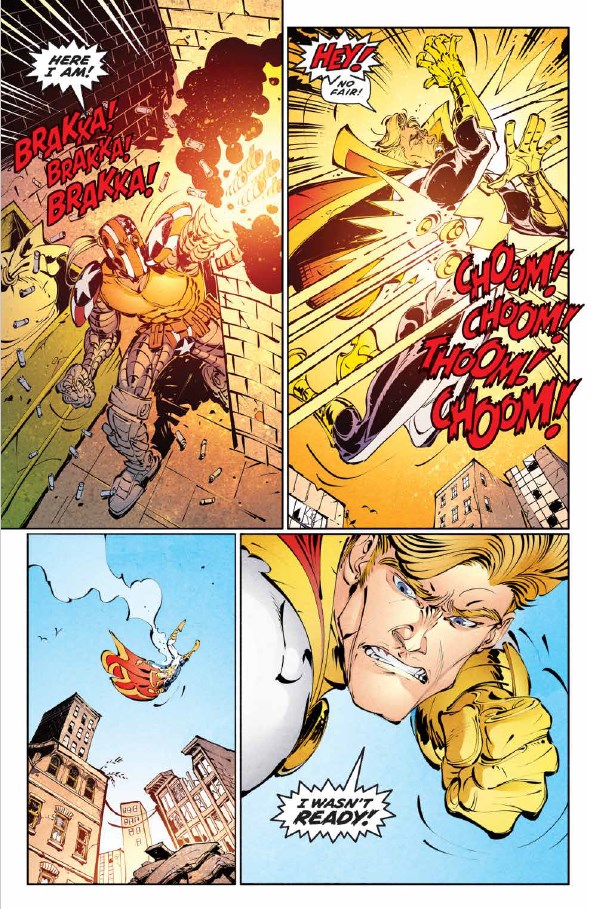 Writing
Erik Larsen puts an interesting spin on the idea of power transference by not only passing the power of Mighty Man to a female (not the first time) but also to that of a child. Adding to that interesting scenario is the fact that Betty inherited the power of Mighty Man from her mother who had obtained the power from the former Mighty Man Bobby Berman who passed it to her on his death bed. It's enough to think that a child might be inhabiting the body of Mighty Man and subject to the consequences of what happens in that body… it's another layer of interest to actually have that child's parent in the story.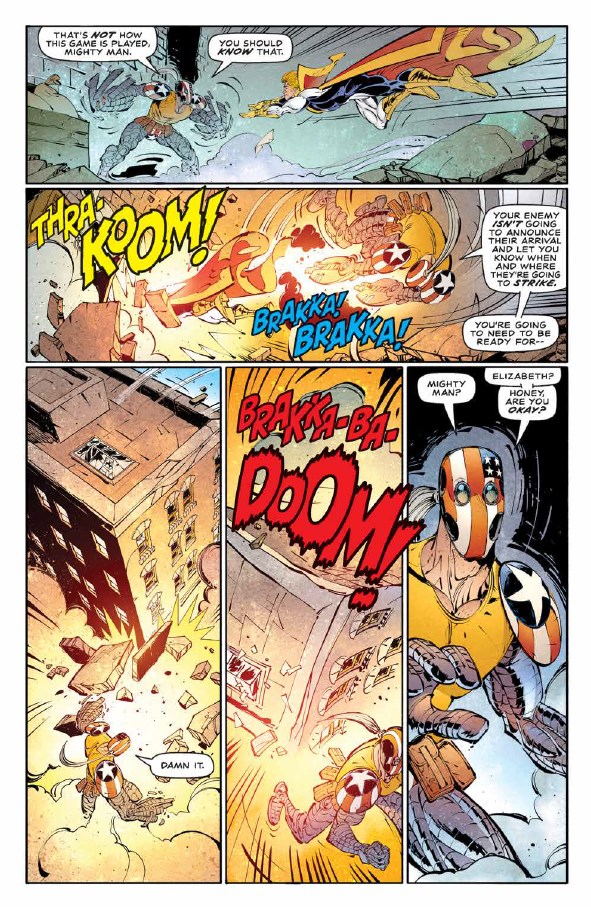 Artwork
Nikos has a wonderful bold strong jaw style of art that really fits the notion of "mighty" heroes. The super characters are all larger than life and full of vitality. There are very few panels without action in them. The clean lines and bright and bold colours really add to the over the top feel of the story.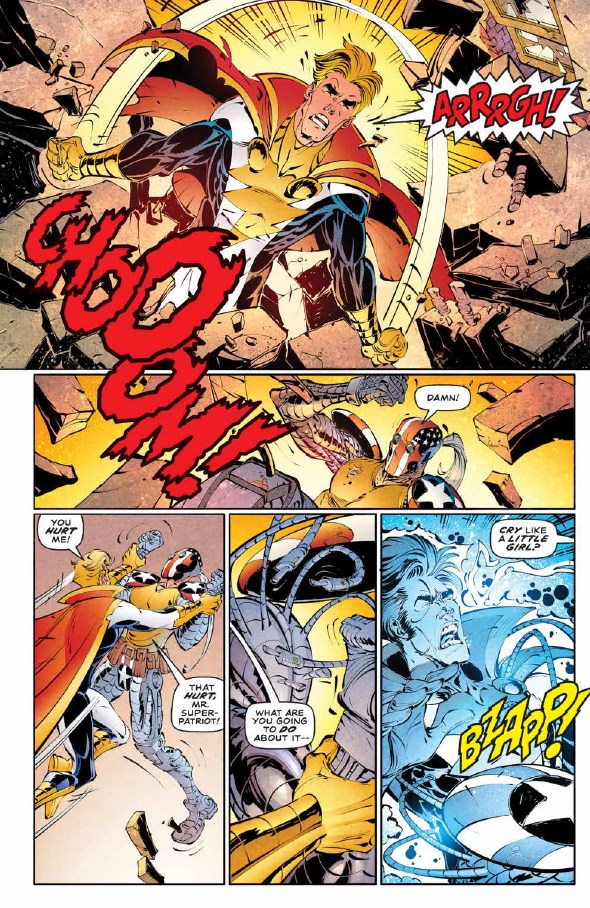 Final Thoughts
I really enjoyed the notion of throwing the weight of this great responsibility onto a mere child. Unlike other young heroes (Spiderman comes to mind), where they tend to be mid to late teens and able to grow into their powers, learning as they go. Mighty Man instantly changes poor Betty instantly into a grown man with immense power… there is no transition stage for her to get used to her new abilities. Having said that, she's not alone and is surrounded by other superheroes who are all too happy to help show her the ropes. The end result is a sort of mature obstacle course, physical challenge to put her (as him) through her paces. I can imagine the fear her mother would feel knowing that to prevent Betty being all she can as Mighty Man would also be to put the world at risk from the evils that lurk waiting to strike… yet every time she transforms into Mighty Man to stop evil, there's a chance she won't come back… not a burden any parent would want. An interesting twist to the usual comic fair and I'm interested to see where it goes from here.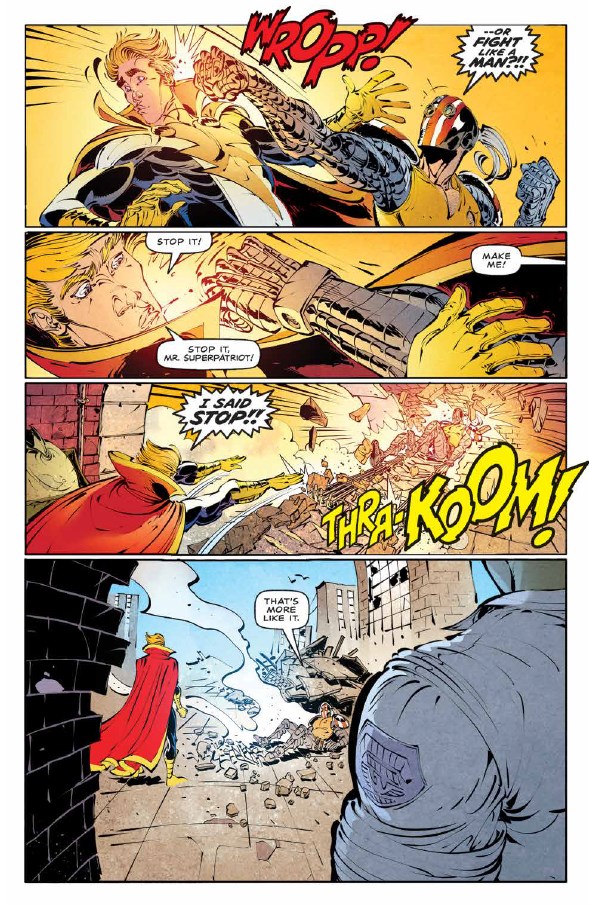 Publisher: Image Comics
Writer: Erik Larsen
Artist: Nikos Koutsis
Cover Artist:Nikos Koutsis
Genre: Superhero
Format: 32 pg, FC, One Shot
Release Date: 5th April, 2017