Games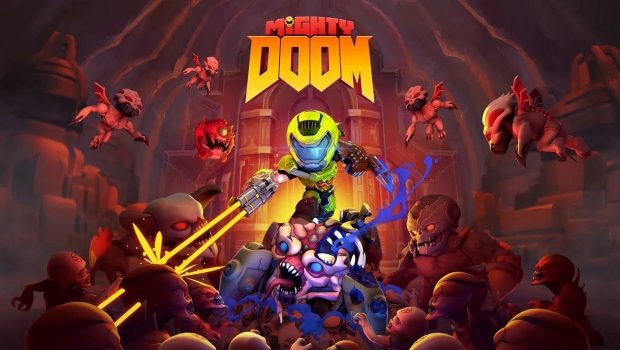 Published on February 25th, 2023 | by Adrian Gunning
Mighty DOOM Launches March 22, 2023 – Pre-Registration Live Now
Alpha Dog Studios' Mighty DOOM, the adorably violent top-down, single-touch action shooter starring the all-new Mini Slayer, is launching on March 22, 2023. Available for pre-registration now, Mighty DOOM is a free-to-play game that challenges players to run and gun their way through hordes of lovably brutal demons, iconic levels, and challenging bosses.
Anyone who plays starting at launch on March 22, 2023 through April 20, 2023 will receive the Mini Slayer's Pack with free gear and exclusive weapon skins, including:
Baron of Hell Heavy Cannon Weapon Skin
Cacodemon Rocket Launcher Weapon Skin
3 Equipment Keys
1 Weapon Key
80 Crystals
Introducing the Mini Slayer – Players take control of the Mini Slayer, an all-new, miniaturised but mighty character based on the iconic DOOM Slayer. When an unknown energy surge rips through a Gibbo toy factory, the Mini Slayer is brought to life and transported to an alternate dimension. The mission? Kill every demon that stands between you and your stolen pet bunny Daisy.
Run & Gun Arcade Action – Unleash the power of the Mini Slayer and slay thousands of demons in this adorably violent and intense top-down shooter. Players will arm themselves with legendary guns, upgraded gear, and powerful skills as they use their reflexes to shoot, dodge, and glory kill their way through the waves of demonic forces.
Rogue-Lite Challenge – If players fall in battle, they can rise again and continue the fight by leveling up, upgrading weapons and gear, and finding new combinations of skills to overwhelm and destroy the demon hordes.
DOOM Animated Universe – Experience the original 'animated DOOM universe,' an alternate reality of the DOOM universe inspired by DOOM Eternal's collectible toys. Adorable gore and violence await players in the never-ending war against Hell and its demons.
For Slayers Club Members – Slayers Club members will receive an exclusive, club-themed Mini Slayer skin in Mighty DOOM upon the game's release. To receive the item, players must log into the game and perform a one-time connection to their Bethesda.net/Slayers Club account.
To learn more about Mighty DOOM, check out this article here.