Games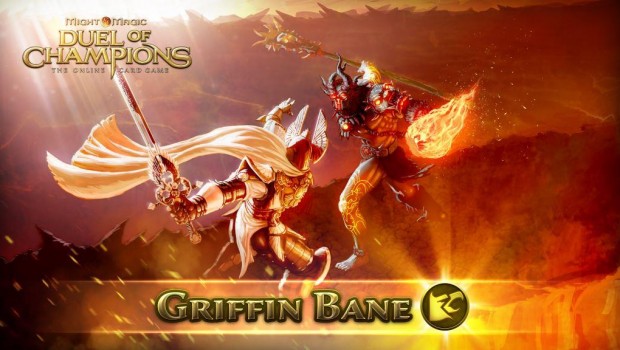 Published on July 11th, 2014 | by Admin
MIGHT & MAGIC® DUEL OF CHAMPIONS ADDS GRIFFIN BANE EXPANSION
100 new cards, six new heroes and new abilities now available   
SYDNEY – July 11, 2014 – Ubisoft® has launched Griffin Bane, the new expansion for the online strategy card game Might & Magic® Duel of Champions. With 100 new cards, including six new heroes and updated gameplay mechanics, this expansion will allow players to acquire cards more quickly from the six different factions. From now on, they will only have to win one quick game against a faction to earn an achievement and unlock the deck of the faction they've beaten as a reward.
Acquiring cards faster
In order to help new players assimilate to the game more quickly, Griffin Bane is removing the pre-made decks of each faction from the shop and instead will give players decks following the completion of game achievements. "We are giving new players access to more decks earlier in the game so they can understand how to play the different factions the game offers," says Samuel Jobin, Producer of Might & Magic Duel of Champions. "It definitely strengthens our game as one of the highest quality free-to-play online card games."
100 new cards, new Stackable ability and Token creatures
The 100 new cards introduced in Griffin Bane bring a bevy of new gameplay possibilities. On top of the six new Heroes and their abilities, a new feature, Stacking, makes its way to the battleground. Creatures with the Stackable ability can now be added on top of each other to increase their attack, retaliation, and health values. In addition to this, Token creatures enter the fray as lesser minions that can spawn on the board instead of being deployed as normal cards.
For more information and to play Might & Magic Duel of Champions please visit: www.duelofchampions.com