Events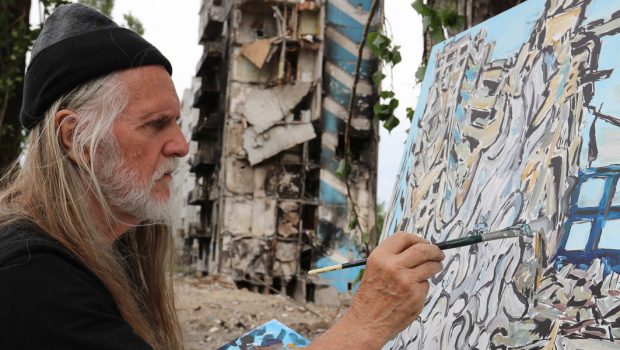 Published on August 13th, 2023 | by Tim Chuma
MIFF 2023: Ukraine Guernica – Artist War Review (2023)
Summary: Hard to watch in places especially the bit with the rescue dogs but an insight into art in a war zone.
Artists George Gittoes and Hellen Rose travel to Ukraine at the outbreak of the war as they feel they cannot have the same impact staying in Australia. Over the course of 2022 they divide their time between there and the Yellow House artist space in Afghanistan that they have purchased and have been welcomed to stay by the Taliban.
This is a split between and artist documentary and a war film and is very harrowing in places especially the flashbacks to the other warzones that George Gittoes has been involved with including Rwanda, Serbia, Somalia, Iraq, Cambodia, Nicaragua and Afghanistan.
There is a scene where George is drawing and gets asked to come and film the authorities digging up the body of a man who was killed by the Russians. They go to the former Russian headquarters in Bucha to find a building with rubbish all around including "Hitman" game on disc, the Punisher skull tags and the smell of methamphetamine. He did not want to be in the place as it still had the stink of evil on it.
I have heard of other artists like Banksy and Molly Crabapple going to Ukraine but they do not end up staying very long. In the case of Banksy they have put alarms and covers over all his artworks as people have tried to steal them. Meanwhile the normal residents are still cutting wood to boil water and provide heat and things have not been fixed.
I was surprised to see people who have had their house destroyed next to the House of Culture in Irpin coming to see George and Helen working on their artworks. I would have thought people would have their own problems to deal with and would not like outsiders.
Hellen Rose's work is even more avant-garde than George's being more performance-art based as it is with a lot of that sort of art. She contributed to the soundtrack of the documentary and there are clips of some of her performances shown.
They do show the works of other artists in Ukraine with an emphasis on Ave Libertatevameamour who ends up working with George Gittoes on a major work that became the "Ukraine Guernica" of the title, a graphic novel and art exhibition that is running concurrently with the film festival in Melbourne.
George said he had to do other things rather than just take photos of conflict to deal with what he is seeing. He says that art should comment on society and politics and a lot of modern art galleries will not show that kind of art these days. Also in Australia artists are seen as "a joke" and not taken seriously when they comment on political issues. He had some words to say about AUKUS after the movie too.
I would recommend this one if you are into artists, art war correspondents and reporting from warzones. I deliberately do not go on Telegram or TikTok to watch all the war videos from the front but I have seen a lot of reporting focussing on the military aspect and not really the cultural or social so it is different from those at least.
Film details:
Featured Subjects: Ave Libertatevameamour, Kate Parunova, Mark Solodchuk, Olga Solodchuk, Viktor Solodchuk, Viktoria Apanasenko, Yevheniya Antonyuk
Director: George Gittoes
Producer: Hellen Rose
Screenwriter: George Gittoes
Cinematographer: George Gittoes
Composers: Corey Wilkes, Hellen Rose, John Martin, Victor Mishalow
Editors: George Gittoes, Khurram Shahzad
Costume Designers: Hellen Rose, Tim Fain
Production Designers: George Gittoes, Hellen Rose
Premiere Status: Victorian Premiere
Origin: Afghanistan, Ukraine (2023)
Language: Pashto, Ukrainian with English subtitles
Genre: Documentary
Viewer Advice: Strong impact themes, poor puppy
Links:
https://www.instagram.com/georgegittoes_studios/
https://www.instagram.com/libertatemaveamor/
https://www.instagram.com/kateparunova/
https://springhousejournal.com/ukraine/solodchuk/
https://www.instagram.com/crystal.viktoria/
Trailer: