Events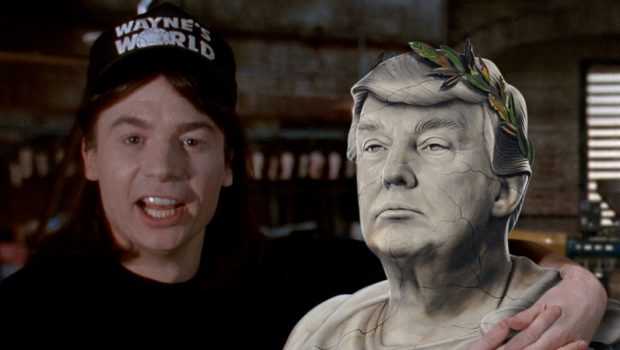 Published on August 6th, 2023 | by Tim Chuma
MIFF 2023: Hello Dankness Review (2022)
Summary: Fair play to Soda Jerk for managing to con their way into the festival with this but I was not really engaged.
Well supposedly this is meant to be an exploration of the rise of Donald Trump through a bunch of movies and other pop culture cut up and stuck together which is usually 100% my jam, but why am I so enraged by this movie in particular?
It's not like they are doing anything original or even something that you cannot do yourself if you have the time. It is just cutting things up and putting other words into people's mouths. I still have the music video for the Cosmic Psychos where I downloaded the media files from the Department of Defence website and put them together in Windows Movie Maker (YEAH BOI!) to make a video for the song Drinking with the SAS as at the time there was not a video for it. I remember I had to send a video disc to Ross as he did not have a computer at the time so he could watch it.
I haven't actually seen a lot of the movies and media they use for the clips so I was just lost and the audience really only seemed to be laughing out of politeness in some parts. There was an entire section that was just still pictures and a voiceover. This is some grade A bullshit along the lines of Trash Humpers, which I must admire them for actually getting this into the festival.
Yes I know there are other artist re-assembled movies like The Clock (24hrs in real time of scenes of clocks at the exact time in a movie) and the Movie Orgy but they at least had artistic or cultural merit. This was just pointing and laughing at one side of politics which we all know just encourages them to think they must be right if people disagree with them. These are people who celebrate their ignorance as a positive character trait and not only close the door to knowledge but also brick it up from the other side.
I had a terrible stomach ache and wanted to go the toilet after but also got stuck there for the Q&A with the filmmakers since people blocked the row and I could not get out. They did not really say anything that enlightening to be honest.
They did list all the sources they used clips from and all the sound effects with the actual name of the files they used so they are aware of the law. I believe that if it was screened in the USA it is the law it would not be allowed to be screened for profit which seems to not be the case in Australia?
Even though I found the entire thing annoying and distasteful especially the shit memes and on the nose part about the police (that joke is way too obvious and should have gone into the bin) you may like it but who could say? This movie is the exact reason why people hate progressive ideas in politics and it makes me not want to book things at the last minute any more.
Film details:
Director: Soda Jerk
Producer: Soda Jerk
Screenwriter: Soda Jerk
Editor: Soda Jerk
Origin: Australia (2022)
Australian Films, Experimentations | Feature
Language: English
Genre: Experimental
Trailer: