Events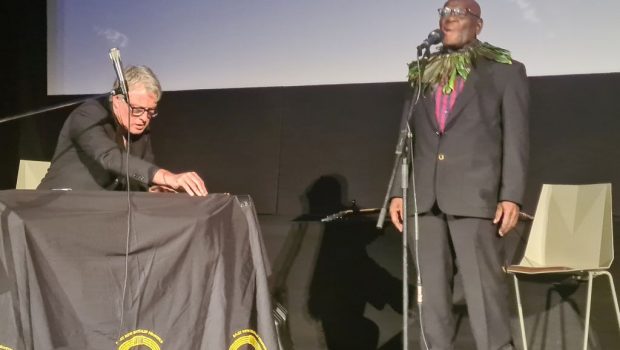 Published on August 14th, 2023 | by Tim Chuma
MIFF 2023: Abebe – Butterfly Song Review (2023)
Summary: A story of a deep kinship between two men and it was enough to convince me to buy the artists music to listen to on the way home which is quite something.
WORLD PREMIERE
In 1986 on a holiday from the group Not Drowning, Waving a 24 year old David Bridie visited Papua New Guinea and encountered the music of George Telek and happened to meet the head of the recording studio in Rabaul where it was recorded who invited him to a BBQ and meet the artist. They ended up getting on so well that he decided to get his band to travel back with them and record an album with George and other local musicians.
Almost 40 years later and after two other bands including My Friend the Chocolate Cake, starting a new label called Wantok Musik, David Bridie and George Telek's friendship endures and he David has been initiated into the local culture of Rabaul.
I have to admit that I did not really know who this artist was despite having seen David Bridie before and knowing of his involvement with RRR FM for his famous Christmas day fill-in slot for many years. I was surprised to see a gig poster for the Caravan Music Club which is one gig I did not end up going to as I was too tired that week since it was Carnival of Suburbia month and I had just been to Sydney. I would have gone if I knew who that was at the time.
The footage is a mixture of archival material shot during various visits to Papua New Guinea and as the bands were doing tours and some newer material. David Bridie said he would always be filming stuff but is not the best cinematographer. The actual documentary started out as being about David Bridie and Not Drowning, Waving about 20 years ago and naturally developed to be about George Telek and David working with him.
There are some talking heads in this but they are not really as important as George Telek himself performing or telling his own story. The history of Papua New Guinea also gets a quick explanation including the USSR complaining in the United Nations that Australia still had a colony being one of the main reasons they gave PNG independence.
Anyone who claims music is not political is wrong as it is used as an instrument of political change all the time as is with the case for the Free West Papua movement that is also covered in the documentary including the free concert David Bridie put on to promote the cause.
As with any life it has its ups and downs and I kept wondering why George's mouth seemed a lot smaller in the newer footage. They do eventually end up showing why but it is related to his lifelong chewing of the betel nut that is popular in Papua New Guinea. Luckily he had friends able to help him and there is footage of the concert (I did not move back to Melbourne until a month later.)
After the documentary there was a short Q&A and then a performance from the man himself for a few songs with the main one being on the 19th of August after the second screening of the documentary.
I even ended up buying one of George Telek's albums to listen to on the train going home so it definitely sold his music to me and hopefully more people will hear about him now and grow his fan base.
Well worth watching even if you do not know who this artist is as I did not and still enjoyed it. It does not really matter as much he sings in Tolai as the music and the singing is done so well.
Film details:
Featured Subjects: David Bridie, George Telek, Helen Mountford, John Phillips, Martin Flanagan, Namila Benson, Patrick McCluskey, Paulie Stewart, Phil Wales, Pius Wasi, Tania Nugent
Director: Rosie Jones
Producers: Jake Coombes, Jason Byrne, Michael Agar
Cinematographers: Joey Knox, Nathan Guy
Composers: David Bridie, George Telek
Editor: Sara Edwards
Distributor: Label
Origin: Australia, Papua New Guinea (2023)
Australian Films, Documentaries, Music on Film | Feature
Language: English, Tok Pisin with English subtitles
Genre: Documentary
Links:
https://www.facebook.com/georgetelek/
Bonus gallery from the night: