Events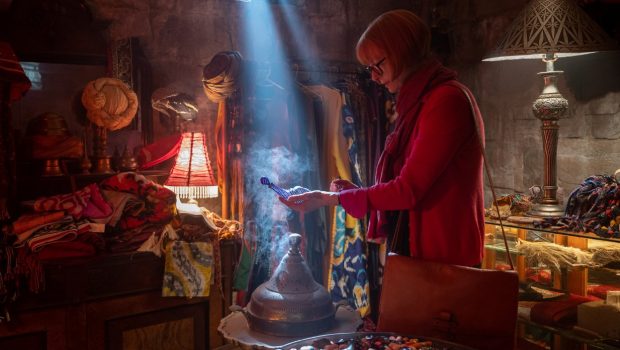 Published on August 14th, 2022 | by Tim Chuma
MIFF 2022: Three Thousand Years of Longing (2022) Review
Summary: While not likely to set the box office on fire like a Mad Max movie would this movie is funny, surprising, romantic and well worth your time.
Alithea (Tilda Swinton) is a withdrawn, bookish type whose work as narratologist takes her all over the world. Although she is alone she is content in her solitude and not in want of anything. Lately she has been having incidents where her "imagination gets the better of her" the latest being at a conference in Istanbul where she was speaking. Something strange also happened at the airport on her arrival.
Later in the Grand Bazar she finds a strange bottle in a pile of other trinkets and is compelled to have it even though it looks like it has partially melted in a fire. Cleaning the bottle with her electric toothbrush releases a Djinn (Idris Elba) who lays down the three wishes' guidelines and starts telling her his story when they reach an impasse as she knows what happens to people who get to wish their heart's desire, there is not one of these stories that does not end badly.
Luxuriant is not the word for it although as close as I could describe what this movie feels like to watch. It does cover a long time in history and also solves the issue of the two main characters not being able to understand each other in that Alithea could speak Greek and the Djinn knew Ancient Greek and then picked up the English language through radio waves (they explain it in the movie.)
There are characters from history but the stories are different to the accepted history, but are still just that, stories. As one of the characters specialises in the history of storytelling and the other was actually there at the time of the events the stories do differ.
The budget seems to quite small for the amount of different settings and time periods involved. Historical epic dramas usually do not come cheap and there are a large amount of different costumes and sets involved with only a few of the larger ones seeming to be computer generated mainly on the exteriors.
It also has quite a diverse cast of the sort that you do not usually see on screen at all and this is the only movie they have been in. Not only that a lot of the cast do not seem to be on the internet at all as either they have a really good casting agent or George Miller has called in a bunch of favours to get people to work on this movie. Something that you would normally expect at the start of your career not after you have made blockbusters. To be a fly on the wall when he explained to the actor what she was required to do in Sugar Lump's big scene.
I did try and go find some of these extras, I could find exactly none of them for good reason. I am not going to explain you will understand when you see the movie.
It is patently obvious that this movie is not going to do Mad Max or Babe box office but it is good that George Miller gets to do films like this as the studio will give him what he wants while he is still working on the new Mad Max movies and can get to do more interesting projects that wouldn't be able to get up before.
This is a fantasy movie but not what you would call "high fantasy" with dragons and monsters and such. There is a Djinn in it but they are explained as beings that have existed alongside humans for thousands of years but their relevance has faded due to scientific reasoning as people do not need the old stories to explain their world.
I did enjoy the different cultures represented in the movie and it does seem avoid the problems in the past there have been with Anglo directors depicting other cultures as it is done respect and meets people at their own level. There is power and meaning to the characters and their stories and getting them on screen seems to be paramount in this case.
I would recommend this movie if you would like to see a good story with a lot of surprising things and do not expect it to be something like Mad Max or Babe.
Film details:
Director: George Miller
Writer: George Miller, Augusta Gore
Based on the short story "The Djinn in the Nightingale's Eye" by A.S. Byatt
Starring: Tilda Swinton, Idris Elba, Pia Thunderbolt, Berk Ozturk, Anthony Moisset, Alyla Browne, Sage Mcconnell, Abel Bond, Agani Gecmez, Ayantu Usman, Peter Bertoni, Lianne Mackessy, Harlan Norris, Leslie Krahner, George Zammit, Feride Eralp, Khoury Matthew, Burwaiss Ahmed, Anna Betty Adams, Michelotti Edoardo, Ronny Mouawad, Prakash Paul, Sabrina Dhowre Elba
Origin: Australia (2022)
Language: English
Genre: Comedy, Drama, Fantasy, Romance
Length: 108 min
Trailer: