Events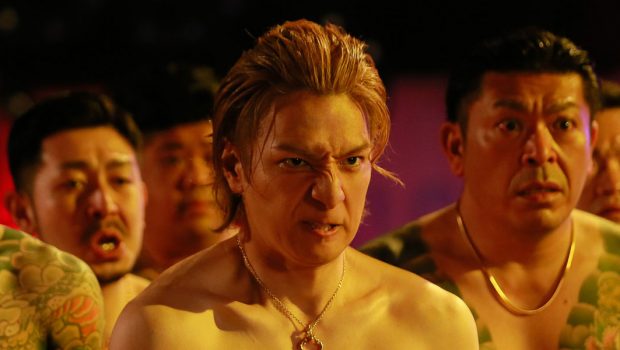 Published on August 9th, 2022 | by Tim Chuma
MIFF 2022: The Mole Song – Final (2021) Review
Summary: Takashi Miike you so crazy! While not as deranged as some his previous works it is still pretty funny and more than out there enough for some people.
When a film begins with a closeup shot of a seagull biting a nipple you know what sort of ride you are in for. Added to that Reiji Kikukawa (Tôma Ikuta) the world's greatest undercover "mole" is tied to a cross frame with a pot of cheese on his penis and if he fails to stay erect all the seagulls will peck him to death in the most painful part of his anatomy.
How he got to this point is somewhat explained during the movie but you don't really need to know what happened in the previous two movies of this series as there is a recap. He is told once again that he just has to arrest the main Yakuza boss after he completes the deal and he will finally get to go back to being a normal police officer again. How he gets to that point is another thing entirely.
Takashi Miike is not a director known for subtlety, but this is somewhat more cartoonish than stuff like Dead or Alive or Ichi the Killer as it was a TV movie first and they don't really feel the need to show everything at this point.
It is true like one of the characters says "only the funny or cool Yakuza are allowed to survive" and there are plenty of those on display here. If I was explain things to you would not believe me and it is not as fun unless you see it yourself but this is more live action Anime than serious Yakuza movie even by Takashi Miike's standards. I did see Great Yokai War previously and it is a bit more violent than that but still cartoonish.
I would almost recommend this to a more general audience if it wasn't for the sex stuff, although less full-on than Dead or Alive (Thank SATAN! Some of that movie was rough). The main character is a renowned pervert and was regarded as the worst police officer on the force with the most complaints before he was sent to work undercover.
This movie is heaps of fun and if you like crime, action and comedy you are sure to have a good time even if you are not big into Yakuza films.
Film details:
Director: Takashi Miike
Writer: Kankurô Kudô
Cast: Tôma Ikuta, Paolo Andrea Di Pietro, Ken'ichi Endô, Mitsuru Fukikoshi, Kôichi Iwaki, Sarutoki Minagawa, Riisa Naka, Nanao, Nihi, Takashi Okamura, Ryohei Suzuki, Karen Takizawa, Shin'ichi Tsutsumi
Origin: Japan (2021)
Asia Pacific, International | Feature
Language: Japanese with English subtitles
Genre: Action, Comedy, Crime, Fantasy
Trailer