Events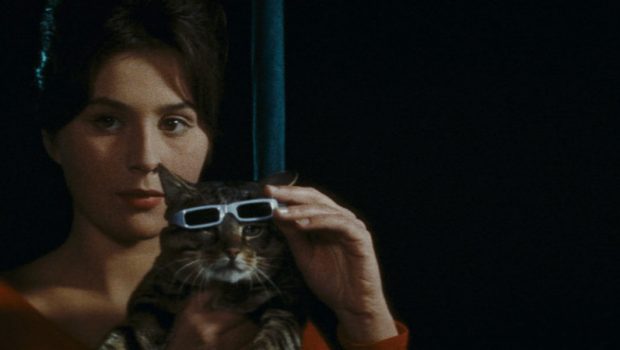 Published on August 9th, 2022 | by Tim Chuma
MIFF 2022: The Cassandra Cat (1963) Review
Summary: Not only a Czech art film classic but it also has a cat in it, that's the real reason why you want to see it, don't lie!
The town bear Mr Oliver sits in his clocktower and passes judgement on the townsfolk and recounts the tale of a famous cat that could pass judgement on the content of people's character just by looking at them.
It does go into the story but it is not really clear if he is telling the story or actually going through it for real as it is a fairy tale made real. The famous cat comes to town with a travelling circus and when its' graze falls on people they change to the colour that best shows their true intentions. This causes chaos amongst the townsfolk and some people want to kill the cat.
There is a moral lesson here but it is also an artistic comment about living under communism. There was a lot of censorship back in the day but the film makers were creative in how they got around it. The people changing colours was done with lighting and it is great they have restored the movie so you can see it is in the bright colours that the film makers originally intended.
Despite some of the serious themes involved this is a bright and happy movie with a lot of music and dancing. The kids are so cute in this and also their artworks and paintings of the cat that they plaster all over the town when the cat goes missing.
I have wanted to see this movie for ages but there wasn't any screenings available and this version was only restored last year so hopefully there will be a Blu-ray release down the line.
The screening at MIFF was sold out, some suggested that it was because this film was a Czech art film classic, but think it was more because it had a cat in it.
This really is something you have to see for yourself and experience it. Just talking about what happens in the film makes it sound a lot more boring than it is. The part where the kids are carrying around the cat casting harsh moral judgement on the townsfolk was one of my favourite parts of the movie.
Well worth tracking down if you can find a screening for it or a release.
Film details:
Director: Vojtěch Jasný
Screenwriters: Jan Werich, Jiří Brdečka, Vojtěch Jasný
Cinematographer: Jaroslav Kučera
Composer: Svatopluk Havelka
Starring: Emília Vášáryová, Jan Werich, Jiřina Bohdalová, Jiří Sovák, Karel Effa, Vladimír Menšík, Vlasta Chramostová, Vlastimil Brodský
Origin: Czechoslovakia (1963)
Restorations | Feature
Language: Czech with English subtitles
Genre: Drama, Fantasy, Period
Trailer