Events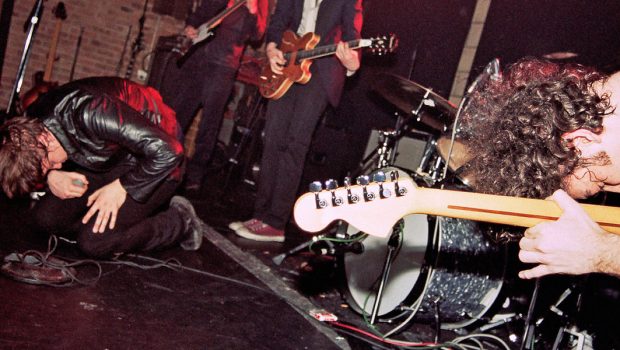 Published on August 21st, 2022 | by Tim Chuma
MIFF 2022: Meet Me in the Bathroom (2022) Review
Summary: It's hard to believe just over 20 years ago seems like a long time ago now but here we are. Worth a look even if you are not super into these bands.
Swinging the leg over the fence at the start of the century where the New York band scene was pretty much non-existent after the time of Warhol and CCGBs some new bands just started playing around town to their friends to see what would happen. The 9/11 attacks forced a lot of people to move out of the city to Williamsburg that eventually led to that area becoming more expensive but it was their own bands becoming more popular that encouraged this. It does finish some indetermined time after the start but as it was based on a book released in 2017 it is safe to say it was before the mid-2010s.
The film does start in 1999 with the Moldy Peaches in what seems to be them recording one of their songs in the form that it was actually released. I don't know why there were people recording them at that time but it is welcomed or else you would not have seen it. A lot of the footage is not really what you would call high quality, but more appreciated for the fact that it exists and the person filming knows the subjects enough that they are comfortable around them and say and do stuff they would not usually for a serious crew.
The really big bands that are covered in this documentary include the Strokes, Interpol, LCD Soundsystem and Yeah Yeah Yeahs. There was already a documentary by the same director about the LCD Soundsystem's last concert called Shut Up and Play the Hits about ten years ago.
While the pop-culture references might come off as a bit too cutesy, they do help ground the film to show what was happening at the time. They do show the 9/11 attacks and the huge impact they had on the bands at the time.
I was not super into any of these bands when they went big even though I knew about them and people who liked them and went to see them when they toured Australia. I do appreciate being able to find out their early days and how they got to be where they are now or evolved into what most people know them to be now.
Ryan Adams does cement his reputation of being a douchelord with his interactions with the Strokes during this documentary.
Not sure if this film was meant to be as funny as people seemed to find it in the screening. In particular the parts with James when they were showing the origins of LCD Soundsystem, he is really not a person you would think would be in a successful or popular band at all. When he had to play a gig he had to get people within ten days, one of those was "my drinking buddy Nancy". The funniest scene would have to be James replying to a nasty post on a website forum. I do not even know if it exists now and there are "social media managers" that have that role these days.
I did not remember Karen O falling off the stage at her show in Sydney during 2003 at all. If it was in Melbourne there definitely would have been people I knew at that show. The impact of the Yeah Yeah Yeahs is such that there is still a show on one of the community radio stations called MAPS (Hi Fee B-Squared!)
There is a bunch of music in this and you will most likely know all the songs unless you really did not listen to anything at all in the past 20 years or was super into a scene where you listened to nothing outside of it like Jazz.
Not sure if this is going to get that many screenings except for on streaming but I did appreciate getting to see it on the big screen. The Yeah Yeah Yeahs have now sold out shows downstairs at the Forum Theatre and upstairs there, something that most people do not manage.
Well worth your time even if you are not super into many of these bands, should do well on general release.
Film details:
Directors: Dylan Southern, Will Lovelace
Featuring: Interpol, James Murphy / LCD Soundsystem, The Moldy Peaches, The Strokes, Tunde Adebimpe / TV on the Radio, Yeah Yeahs Yeahs
Origin: UK (2022)
Language: English
Genre: Documentary, Music
Bonus music videos from bands in the film:
The Strokes
Interpol
The Rapture
TV on the Radio