Events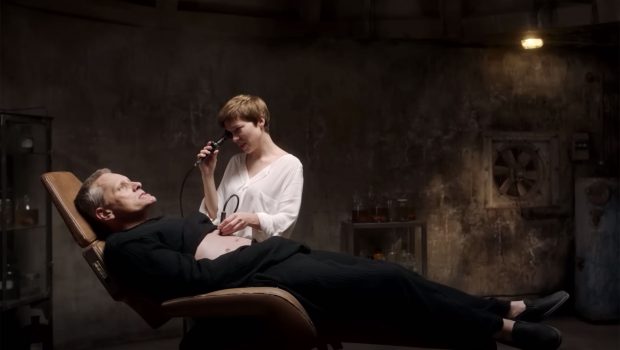 Published on August 14th, 2022 | by Tim Chuma
MIFF 2022: Crimes of the Future (2022) Review
Summary: No Kristen Stewart, don't stick your fingers into Viggo Mortensen's mouth, grody!
Set at some unspecified point in the future after an un-named global catastrophe that has resulted in people getting a high pain tolerance and the absence of infections, Saul Tensor (Viggo Mortensen) and his performance partner Caprice (Léa Seydoux) remove the mysterious organs that keep growing inside of Saul as a performance art piece. Illegal surgery and a cult of plastic eaters are also involved in the story as is the National Organ Register with strange officials Timlin (Kristen Stewart) and Whippet (Don McKellar) and the New Vice becoming involved.
"Surgery is the new sex" is the tagline of the movie and there was a warning before the movie about graphic surgery scenes. I did not care as much as it just cutting up meat when it all comes down to it. The scenes where Saul and Caprice lie on the table and let a machine cut them however… The more gross parts were Kristen Stewart sticking her fingers in Viggo Mortensen's mouth and when Caprice sticks her tongue in Saul Tensor's zipper. That is not a metaphor, he actually gets a zipper in his torso at one point.
I had already known that Croneburg's features have the reputation of being very obtuse and cold but this just seemed to take ages to get to the point and did not help you out at all setting up the world or what was going on. I know a lot of people like to work things out for themselves but it also means you are second guessing yourself the whole time and will base the story on the wrong assumptions about the plot and characters.
There is already a self-surgery and body-modification subculture in BDSM. As they are not licensed medically it has to be done without pain medications so it is the more extreme end of the subculture.
No doubt this will go down well with his fans but I was left cold with it especially since to see it I went to a late screening and did not end up getting home to very late. Not really something I could recommend at all or if you want to watch it know that you are the one doing most of the work to understand what is going on.
Film details:
Director: David Cronenberg
Writer: David Cronenberg
Starring: Viggo Mortensen, Lihi Kornowski, Léa Seydoux, Scott Speedman, Kristen Stewart, Don McKellar, Nadia Litz, Tanaya Beatty, Mihalis Valasoglou, Welket Bungué, Tassos Karahalios, Ephie Kantza, Yorgos Pirpassopoulos, Jason Bitter, Denise Capezza, Penelope Tsilika
Origin: Canada, France, Greece, UK (2022)
Language: English
Genre: Comedy, Crime, Drama, Fantasy, Horror, Sci-Fi
Length: 107 min
Trailer