Comics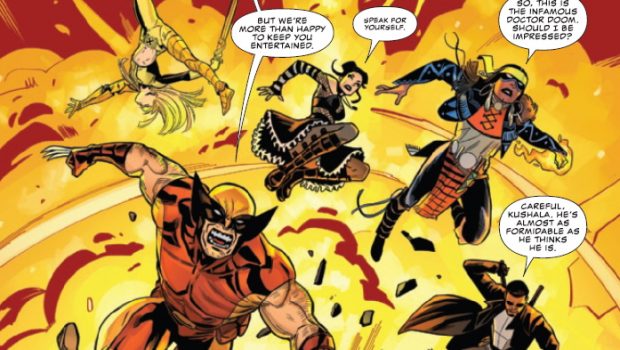 Published on October 24th, 2022 | by Tim Chuma
Midnight Suns #2 (2022) Review
Summary: More than enough action to make up for the confusion as to what is going on. Looks like it is going to be an interesting series.
The Midnight Suns – Magik, Wolverine, Blade, Spirit Rider, And Nico Minoru are going up against Doctor Doom who has seen a vision that one of the Strange Academy students will be responsible for an apocalypse and they are determined to protect her even if they saw the vision also.
It does cut backwards and forwards to where the student is at the moment and the origin of the curse involving Agatha Harkness and a demon lord named Valtorr and the true cost of magic.
While this is one that I would recommend you have already have been following the story before you go into it there is more than enough action going into it that you can kind of understand without having to know absolutely everything before you go into it.
A bit strange having Wolverine involved fighting magic users as he doesn't really have any defence against it as he has never been a magic user at all.
Seems like this is going to be an interesting one at least as they do switch it up a bit and the main "big bad" is not who you think it is going to be.
Worth a look if you are into these characters of have been following the Strange Academy storyline.
Comic details:
Writer: Ethan Sacks
Penciler: Luigi Zagaria
Cover Artist: David Nakayama
Publisher: Marvel
Published: October 19, 2022